Industry Outlook
"Growing application of butyl acrylate is likely to propel the market in upcoming years"
The global acrylate market is segmented based on product types into butyl acrylate, ethyl acrylate, methyl acrylate and 2- ethyl hexyl acrylate. Butyl acrylate is widely used in the production of acrylic polymers, paints, inks, polyethylene, textiles, adhesive and papers. Adhesives, coatings and textile are the major contributor for the growing demand of butyl acrylate across the globe.
"Paints & Coatings industry expected to register highest CAGR in upcoming years"
The global acrylate market segmented based on application into adhesives & sealants, paints & coatings, plastic additives, chemical synthesis, textiles and others (leather processing, paper & pulp, , etc.).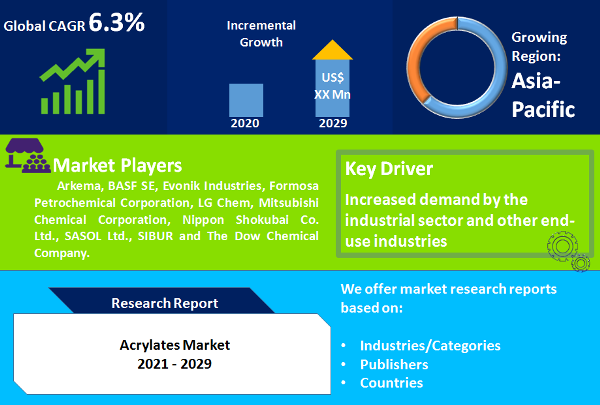 Packaging end-use industry dominated the global acrylates market in 2020
For the purpose of the study, global acrylates market segmented into packaging, consumer goods, building & construction, automotive and others. Among the considered segments, packaging dominated the market in terms of revenue contribution, followed by chemical synthesis and plastic additives. In addition, packaging segment expected to record significant CAGR during the forecast period.
"Asia Pacific dominated the global acrylate market and expected to maintain its pole position in upcoming years"
In base year 2020, Asia Pacific was observed as the largest market for Acrylate. In 2020, the total market for Asia Pacific was more than 30% and expected to maintain its dominance in forecast period from 2021 to 2029. Furthermore, owing to the presence of developing countries such as China & India, Asia Pacific expected to register the highest growth rate as compared to other regions.
"Highly fragmented market owing to presence of various large and small scale companies"
Global acrylate market is highly fragmented owing to the presence of various large and small companies. Arkema, BASF SE, Evonik Industries, Formosa Petrochemical Corporation, LG Chem, Mitsubishi Chemical Corporation, Nippon Shokubai Co. Ltd., SASOL Ltd., SIBUR and The Dow Chemical Company are few key players operating in the global acrylate market.
Historical & Forecast Period
This study report represents analysis of each segment from 2021 to 2031 considering 2022 as the base year. Compounded Annual Growth Rate (CAGR) for each of the respective segments estimated for the forecast period of 2022 to 2031.
The current report comprises of quantitative market estimations for each micro market for every geographical region and qualitative market analysis such as micro and macro environment analysis, market trends, competitive intelligence, segment analysis, porters five force model, top winning strategies, top investment markets, emerging trends and technological analysis, case studies, strategic conclusions and recommendations and other key market insights.
Research Methodology
The complete research study was conducted in three phases, namely: secondary research, primary research, and expert panel review. key data point that enables the estimation of Acrylates market are as follows:
Research and development budgets of manufacturers and government spending
Revenues of key companies in the market segment
Number of end users and consumption volume, price and value.
Geographical revenues generate by countries considered in the report
Micro and macro environment factors that are currently influencing the Acrylates market and their expected impact during the forecast period.
Market forecast was performed through proprietary software that analyzes various qualitative and quantitative factors. Growth rate and CAGR were estimated through intensive secondary and primary research. Data triangulation across various data points provides accuracy across various analyzed market segments in the report. Application of both top down and bottom-up approach for validation of market estimation assures logical, methodical and mathematical consistency of the quantitative data.
ATTRIBUTE
DETAILS
Research Period
2021-2031
Base Year
2022
Forecast Period
2023-2031
Historical Year
2021
Unit
USD Million
Segmentation
Product


Butyl Acrylate
Ethyl Acrylate
Methyl Acrylate
2- Ethyl Hexyl Acrylate



Application


Paints & Coatings
Adhesives & Sealants
Chemical Synthesis
Plastic Additives
Textiles
Others (Paper & Pulp, Leather Processing, etc.)



End-use Industry


Packaging
Consumer Goods
Building & Construction
Automotive
Others




Region Segment (2021–2031; US$ Million)

North America

U.S.
Canada
Rest of North America

UK and European Union

UK
Germany
Spain
Italy
France
Rest of Europe

Asia Pacific

China
Japan
India
Australia
South Korea
Rest of Asia Pacific

Latin America

Brazil
Mexico
Rest of Latin America

Middle East and Africa

GCC
Africa
Rest of Middle East and Africa
Key questions answered in this report
What are the key micro and macro environmental factors that are impacting the growth of Acrylates market?
What are the key investment pockets with respect to product segments and geographies currently and during the forecast period?
Estimated forecast and market projections up to 2031.
Which segment accounts for the fastest CAGR during the forecast period?
Which market segment holds a larger market share and why?
Are low and middle-income economies investing in the Acrylates market?
Which is the largest regional market for Acrylates market?
What are the market trends and dynamics in emerging markets such as Asia Pacific, Latin America, and Middle East & Africa?
Which are the key trends driving Acrylates market growth?
Who are the key competitors and what are their key strategies to enhance their market presence in the Acrylates market worldwide?