Adipic Acid Market is an organic compound which is most commonly used to produce industrial fibers. It is a synthetic dicarboxylic acid produced from oxidation of various fats. It is majorly used as a raw material for manufacturing of nylon. It is also used in the chemical industry as a raw material for manufacturing of coatings, detergents and also as a plasticizer.
The ever growing auto industry is one of the major factors driving the demand for adipic acid. It is also used by the electronic and electrical industry. For the last decade the world has seen an increasing in spending on infrastructure and thus a rising demand for paints and coating and consequently an increase in the demand of adipic acid. Apart from this derivatives of adipic acids are also used as vehicle for administering drugs that is it helps to deliver the drug to your body.
India and China are expected to be both leading producers and consumers of the adipic acid owing to the fact that they receive high demands from automotive manufacturing industry and have relatively less stringent regulations. Africa and Middle East areas are also expected to show significant growth.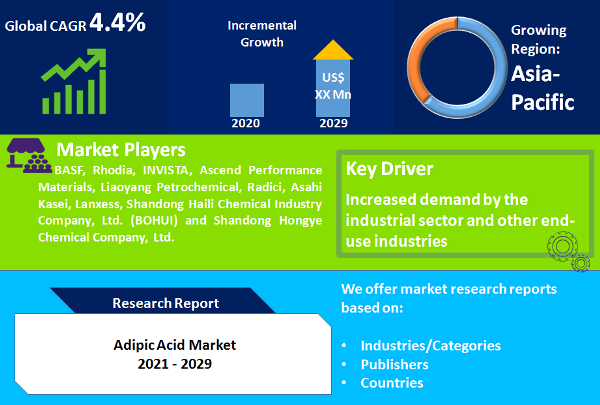 Manufacturing of adipic acid produces nitrous oxide, a greenhouse gas that causes ozone depletion thus raising concern towards adverse environmental impact. This will hinder its market growth and force industries to shift to other viable greener alternatives.
The report titled "Global Adipic Acid Market- Growth, Share, Opportunities and Competitive Analysis, 2021 – 2029" offers strategic insights into the global adipic acid market along with the market size and estimates for the duration 2020 to 2029. The said research study covers in-depth analysis of multiple market segments based on applications and cross-sectional study across different geographies. The study covers the comparative analysis of different segments for the years 2020 & 2029. The report also provides a prolific view on market dynamics such as market drivers, restraints and opportunities.
In order to help the strategic decision makers, the report also includes profiles of the leading adipic acid manufacturers, their SCOT (Strength, Challenges, Opportunities and Weaknesses) analysis and key developments. The major players profiled in the report are BASF, Rhodia, INVISTA, Ascend Performance Materials, Liaoyang Petrochemical, Radici, Asahi Kasei, Lanxess, Shandong Haili Chemical Industry Company, Ltd. (BOHUI) and Shandong Hongye Chemical Company, Ltd. Further, the report also covers market positioning of the key players operating in the adipic acid market. Other in-depth analysis provided in the report includes:
Current and future market trends to justify the forthcoming attractive markets within the adipic acid industry
Market fuelers, market impediments, and their impact on the market growth
In-depth competitive environment analysis
SRC (Segment-Region-Country) Analysis
Overall, the research study provides a holistic view of the global adipic acid market, offering market size and estimates for the period from 2021 to 2029, keeping in mind the above mentioned factors.
Adipic Acid Market By Application
Production of nylon is the main application of adipic acid. These materials are generally used in the manufacture of automobile components. Adipic acid also finds application in other sectors such as paints, food & plastic additives, low-temperature lubricants, coatings, and synthetic fibers.
The nylon 66 fibers and engineering plastics (nylon 66 resin) together accounted for than 75% share of the market pie in 2020. Engineering plastics was the largest application segment and accounted for 1,027.20 kilo tons of the total volume in 2020. Rising demand from automotive industry is projected to drive this application segment demand.
Nylon 66 fibers are projected to grow at a CAGR of 2.3% from 2021 to 2029 in terms of volume. Increasing fibers demand from textile filament and industrial filament is projected to drive the demand for this application segment. Polyurethane is projected to be the fastest growing application with an estimated CAGR of 4.9 % from 2021 to 2029 in terms of revenue.
Asia Pacific is projected to be the largest and fastest growing market for adipic acid. In terms of revenue, in 2020 the market accounted for 34.10% share of the total market pie. Growing demand from the end user industries such as automotive, electronics and food are the major factor propelling the market growth. India and China are the chief contributors towards the market growth due to socio economic development. RoW regions such as Brazil, Middle East, and Africa offers huge market potential. Growing automobile industry is the key factor contributing towards the market growth in these regions. RoW regions is projected to grow at an estimated CAGR of 4.6% from 2021 to 2029 in terms of revenue.
Europe accounted for 23.10% of the total market pie in terms of volume in 2020. Due to rising environmental concerns and stringent government regulation the market is projected to shift towards bio based adipic acid. North American market is projected to witness steady growth due to saturation in the end user industries. The U.S represents more than 80% of total regional consumption, with stagnant growth projected during the forecast period.
Historical & Forecast Period
This study report represents analysis of each segment from 2021 to 2031 considering 2022 as the base year. Compounded Annual Growth Rate (CAGR) for each of the respective segments estimated for the forecast period of 2022 to 2031.
The current report comprises of quantitative market estimations for each micro market for every geographical region and qualitative market analysis such as micro and macro environment analysis, market trends, competitive intelligence, segment analysis, porters five force model, top winning strategies, top investment markets, emerging trends and technological analysis, case studies, strategic conclusions and recommendations and other key market insights.
Research Methodology
The complete research study was conducted in three phases, namely: secondary research, primary research, and expert panel review. key data point that enables the estimation of Adipic Acid market are as follows:
Research and development budgets of manufacturers and government spending
Revenues of key companies in the market segment
Number of end users and consumption volume, price and value.
Geographical revenues generate by countries considered in the report
Micro and macro environment factors that are currently influencing the Adipic Acid market and their expected impact during the forecast period.
Market forecast was performed through proprietary software that analyzes various qualitative and quantitative factors. Growth rate and CAGR were estimated through intensive secondary and primary research. Data triangulation across various data points provides accuracy across various analyzed market segments in the report. Application of both top down and bottom-up approach for validation of market estimation assures logical, methodical and mathematical consistency of the quantitative data.
ATTRIBUTE
DETAILS
Research Period
2021-2031
Base Year
2022
Forecast Period
2023-2031
Historical Year
2021
Unit
USD Million
Segmentation
Application Type


Nylon 66 fibers
Engineering plastics (Nylon 66 Resin)
Polyurethanes
Adipic/Adipate Esters (Plasticizers)
Other




Region Segment (2021–2031; US$ Million)

North America

U.S.
Canada
Rest of North America

UK and European Union

UK
Germany
Spain
Italy
France
Rest of Europe

Asia Pacific

China
Japan
India
Australia
South Korea
Rest of Asia Pacific

Latin America

Brazil
Mexico
Rest of Latin America

Middle East and Africa

GCC
Africa
Rest of Middle East and Africa
Key questions answered in this report
What are the key micro and macro environmental factors that are impacting the growth of Adipic Acid market?
What are the key investment pockets with respect to product segments and geographies currently and during the forecast period?
Estimated forecast and market projections up to 2031.
Which segment accounts for the fastest CAGR during the forecast period?
Which market segment holds a larger market share and why?
Are low and middle-income economies investing in the Adipic Acid market?
Which is the largest regional market for Adipic Acid market?
What are the market trends and dynamics in emerging markets such as Asia Pacific, Latin America, and Middle East & Africa?
Which are the key trends driving Adipic Acid market growth?
Who are the key competitors and what are their key strategies to enhance their market presence in the Adipic Acid market worldwide?