The global automated guided vehicle market is estimated to develop at a CAGR of 10.2% from 2020 to 2030. AGV systems move and carry products in factories, warehouses, and distribution centers without a permanent conveying system or manual interaction. It optimizes storage, selection, and transfer in premium space by following programmable guidelines.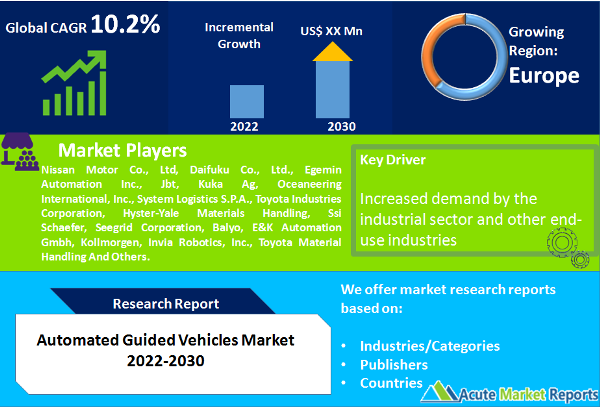 Automated guided vehicles (AGVs), also called autonomous guided vehicles or self-directed vehicles, are driverless vehicles used in warehouses, manufacturing facilities, and distribution centers. AGVs deliver raw materials or finished goods, perform labor in progress, and lift and handle objects. These systems move and carry products in factories, warehouses, and distribution centers without a permanent conveying system or manual interaction. It optimizes storage, selection, and transfer in premium space by following programmable guidelines.
Factors driving AGVs
AGVs are widely used because they minimize labor expenses, and product damage, boost productivity, and facilitate automated processes. These benefits encourage transportation and logistics companies to use AGVs to enhance efficiency. Retail and commerce companies are deploying collaborative robots in warehouses and acquiring large-scale robot providers. Logistics, automotive, healthcare, manufacturing, food & drinks, and others employ AGVs. Industrial equipment is needed for increased production and lower labor expenses. Industrial automation will increase demand for AGVs. Increasing industrialization requires tailored material handling and transport systems for efficiency.
AGVs have revolutionized the material movement
AGVs have revolutionized material movement in manufacturing and distribution operations. These vehicles allow a predictable and consistent transfer of raw materials and processed goods from one place to another within the facility, avoiding any potential production disturbance. These cars can operate securely around structures, machinery, and employees since they have accessories like camera vision and LiDAR sensors to recognize junctions, identify floor signs, and prevent collisions.
Several manufacturers are using the companies' AGV systems to automate their facilities and create connected technologies. Increased usage of Industry 4.0 will boost the AGV market. Several factories and warehouses employ material handling equipment to locate inventories, pick orders, and move goods. Transportation and logistics companies are deploying this equipment to increase the efficiency of their operations to meet increased demand. In February 2021, Scott (Transbotics Corporation), an AGV solution supplier, joined with German robot manufacturer KUKA AG to integrate industrial robots into material handling systems. The warehouse team could build, pack, weld, store, and ship with these robots. Material handling solutions boost transportation efficiency, reduce material damage, and limit employee overhead.
Cost benefits increase AGV adoption
AGVs can replace human labor, which is a cost-benefit for any business. Replacing pre-existing workers or not employing new ones both reduce costs, as finding and training new personnel costs more. According to the BLS, laborer earnings and salaries rose 1.2% while benefit costs rose 1.8%. Every existing employee anticipates a pay and benefit rise with experience, which increases labor costs every year. Profits from AGV projects are pure profit, minus maintenance and power. AGVs can sometimes operate fixed systems like conveyors. Fixed automation systems are expensive and sometimes impede workflow. Several automation systems can stop another facility's operation, reducing production. AGVs are less expensive and don't affect other facilities' operations. Fixed automation systems are expensive and hard to relocate, whereas AGVs may be reprogrammed for new jobs and better capabilities.
Growing demand for AGVs in Europe & opportunities in APAC
Europe is predicted to have the biggest market revenue share. The region's high labor expenses are driving expansion. This encourages regional operators to switch to AGVs. Due to Asia-growing Pacific's e-commerce business, industrial sector, and planned AGV facilities in China and India, the AGV market is predicted to rise steadily. As a result of the new coronavirus sweeping the region, hospitals are increasingly using AGVs to deliver medicines to patients. Homagama Base Hospital in Sri Lanka explored using AVG to treat COVID-19 patients in March 2020.
The high initial investment cost is a challenge
High initial investment costs and lack of flexibility hinder the AGV market's growth. Integration of Industry 4.0 is likely to boost the autonomous guided vehicle market. Implementing and maintaining AGVs is expensive. These expenditures include the initial equipment investment, integration, maintenance, re-orienting the warehouse architecture, and purchasing tech solutions to collect data and track activities. AGVs are complicated, multisensory machines. Technical damage might hinder their operation or cause catastrophic failure. Highly tailored and specialized units may take longer to identify and fix problems, reducing productivity. Long-unused units hurt production and profits. Sensor and software faults might be difficult to identify and remedy.
Limited energy density and longevity of batteries are constraints for AGVs
Limited energy density and longevity of batteries can limit the operation of these automated vehicles, acting as a major constraint for the expansion of the automated guided vehicle market.
Growth in the tow vehicles segment has been significant
Tow vehicles account for 41% of 2020 revenue. This is due to improved lifestyles in emerging nations, a growing middle class, and urbanization. As disposable money rises, more people drive their cars instead of carpooling. These variables influence tow vehicle growth. The unit load carrier segment will grow by 15.5% per year. Unit load carriers offer improved weather protection and faster cargo loading and unloading.
Lasers segment grew in terms of market revenue
In 2021, lasers had the most market revenue. Multiple reflector targets in poles, walls, and columns interact with an AGV's navigation device to make it more effective. Reflectors are reflecting tapes whose center must be level with the navigation device. The gadget rotates lasers 360 degrees. The reflector sends the navigation signal back. At least three signal feedbacks are needed to calculate vehicle placement. Laser navigation is one of the most used AGV navigation technologies. Their accuracy makes them ideal for warehouse racking and stacking.
Magnetic segment revenue should expand steadily
Magnetic sensors on AGVs follow a magnetic taped path. Magnetic tape is put on the floor, and vehicle sensors detect the tape's magnetic field to drive it in a specified direction. Easy-to-install magnetic sensors. They're affordable and accurate compared to other navigation methods. It's not influenced by noise or dust, generating income growth prospects in the coming years.
North America leads the AGV market in terms of revenue
North America led the worldwide AGV market in revenue in 2020. The U.S. has North America's strongest economy. This region's manufacturing industry produces AGVs. Automation allows small businesses or local market players to compete with global market players. The U.S. is a prominent global automaker. Thus, U.S. demand for AGVs contributes to regional growth.
Europe has the most AGVs
Europe dominates the AGV market. This is due to widespread industrial automation and rising quality demands. Consumer desire for smart devices and doorstep delivery drives demand for delivery drones and warehousing cobots.
APAC market is an opportunity for the AGVs
Asia-Pacific is expected to be the most opportune segment. Asia-Pacific retail, especially e-commerce, is rising faster. The use of AGVs in e-commerce is rising rapidly, which is driving the Asia-Pacific market. The online business industry is booming in China and India. A deluge in the Internet business industry is encouraging some online businesses to enter local markets. Highly fragmented markets in the APAC region make automation services affordable, and rising auto production boosts AGV demand in this region. Rapid urbanization and rising industrial activity have boosted the region's transportation sector.
Switching from lead-acid to lithium-ion batteries in AGVs has boosted the market for companies
AGVs are switching from lead-acid to lithium-ion batteries. Lithium-ion batteries are better than lead-acid. Lighter and smaller. Faster charging, longer runtimes, and more charge cycles. Lithium-ion batteries don't need to be recharged during shifts or in 24x7 conditions, making them perfect for AGVs. They also offer higher round-trip efficiency. In March 2021, Nissan Motor Co., Ltd, a major auto, bus, and truck manufacturer, said they employ lithium-ion batteries to power its autonomous guided vehicles, which no longer need a worker to remove and plug in the battery. These batteries extend AGVs' lifespan and improve their warehouse.
Historical & Forecast Period
This study report represents analysis of each segment from 2021 to 2031 considering 2022 as the base year. Compounded Annual Growth Rate (CAGR) for each of the respective segments estimated for the forecast period of 2023 to 2031.
The current report comprises of quantitative market estimations for each micro market for every geographical region and qualitative market analysis such as micro and macro environment analysis, market trends, competitive intelligence, segment analysis, porters five force model, top winning strategies, top investment markets, emerging trends and technological analysis, case studies, strategic conclusions and recommendations and other key market insights.
Research Methodology
The complete research study was conducted in three phases, namely: secondary research, primary research, and expert panel review. key data point that enables the estimation of Automated Guided Vehicles market are as follows:
Research and development budgets of manufacturers and government spending
Revenues of key companies in the market segment
Number of end users and consumption volume, price and value.
Geographical revenues generate by countries considered in the report
Micro and macro environment factors that are currently influencing the Automated Guided Vehicles market and their expected impact during the forecast period.
Market forecast was performed through proprietary software that analyzes various qualitative and quantitative factors. Growth rate and CAGR were estimated through intensive secondary and primary research. Data triangulation across various data points provides accuracy across various analyzed market segments in the report. Application of both top down and bottom-up approach for validation of market estimation assures logical, methodical and mathematical consistency of the quantitative data.
ATTRIBUTE
DETAILS
Research Period
2021-2031
Base Year
2022
Forecast Period
2023-2031
Historical Year
2021
Unit
USD Million
Segmentation
Type


Tow Vehicle
Unit Load Carrier
Pallet Truck
Forklift Truck
Hybrid Vehicles
Assembly Line Vehicles
Others



Technology


Laser Guidance
Magnetic Guidance
Vision Guidance
Inductive Guidance
Natural Navigation
Others



Application


Logistics and Warehousing

Transportation
Cold Storage
Wholesale & Distribution
Cross-docking

Assembly
Packaging
Trailer Loading and Unloading
Raw Material Handling
Others



End-use


Manufacturing Sector

Food & Beverage
Automotive
Manufacturing
Retail
Logistics
Others
Aerospace
Electronics
Chemical
Pharmaceuticals
Plastics
Defense
FMCG
Tissue

Wholesale and Distribution Sector

E-commerce
Retail Chains/Conveyance Stores
Grocery Stores
Hotels and Restaurants



Component


Hardware
Software
Services



Battery Type


Lead Battery
Lithium-Ion Battery
Nickel-based Battery
Others




Region Segment (2021-2031; US$ Million)

North America

U.S.
Canada
Rest of North America

UK and European Union

UK
Germany
Spain
Italy
France
Rest of Europe

Asia Pacific

China
Japan
India
Australia
South Korea
Rest of Asia Pacific

Latin America

Brazil
Mexico
Rest of Latin America

Middle East and Africa

GCC
Africa
Rest of Middle East and Africa
Key questions answered in this report
What are the key micro and macro environmental factors that are impacting the growth of Automated Guided Vehicles market?
What are the key investment pockets with respect to product segments and geographies currently and during the forecast period?
Estimated forecast and market projections up to 2031.
Which segment accounts for the fastest CAGR during the forecast period?
Which market segment holds a larger market share and why?
Are low and middle-income economies investing in the Automated Guided Vehicles market?
Which is the largest regional market for Automated Guided Vehicles market?
What are the market trends and dynamics in emerging markets such as Asia Pacific, Latin America, and Middle East & Africa?
Which are the key trends driving Automated Guided Vehicles market growth?
Who are the key competitors and what are their key strategies to enhance their market presence in the Automated Guided Vehicles market worldwide?