Adhesives have resistance to humidity, salt, solvents, oil and gasoline. Therefore, these are widely deployed among automotive industry. Adhesives are used to join composites and plastic materials, which forms the major part of vehicle body. Moreover, these adhesives are also used to replace fasteners. Adhesives improve stress distribution and in turn lead to easy joining of dissimilar substrates throughout the vehicle. On the basis of resin type, the global automotive adhesive market is segmented into polyurethane, epoxy, acrylic, silicone, silyl modified polymer, polyamide and others (phenolic and others).
The growth of the market is significantly driven due to underlying strength in vehicle sales, advancements in manufacturing technologies of automobiles, as well as rising adoption of smart cars. Metallic components of a vehicle are being increasingly substituted with composite materials to achieve light weight and improve overall vehicle efficiency. These composite materials require adhesives, which is further driving the market growth. Additionally, adhesives significantly reduces the noise, vibration, and harshness in vehicles, thus, surging the market growth. Miniaturization and weight reduction are expected to be the key factors affecting the changing technology trends in the market. Automotive adhesives play a vital role in commercial vehicles as they are used in multiple operations such as trash collection, emergency services, etc. In heavy commercial vehicles, these adhesives are being used to avoid water intrusions and leaks. These are used to bond trailer bed and interior bracket to frame. Apart from this, automotive adhesives aid in achieving consistency and integrity throughout the body parts, assembly process, paint line and trim. Thus, automotive adhesives are witnessing rapid adoption owing to its excellent durability coupled with high bond strength which makes it ideal under adverse environmental conditions. However, fluctuating prices of raw material is expected to deter the market to some extent.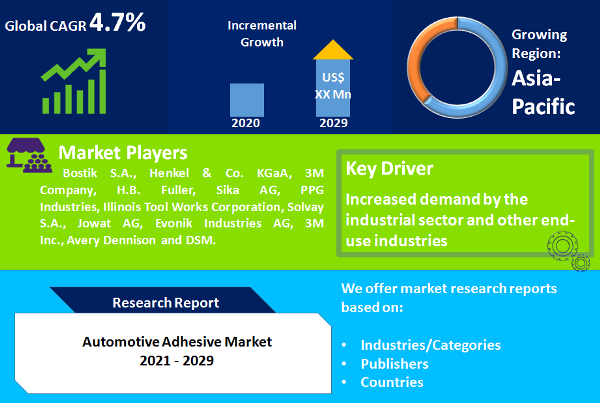 In 2020, polyurethane segment accounted for the largest share of more than 35% of the total automotive adhesive market by volume. Growth in industrialization and growing automotive industry coupled with the need of assembling the rubber, glass, metal and plastics together is supplementing the market growth. Furthermore, growing demand for lightweight and low carbon emitting vehicles is further expected to stimulate the demand for adhesives in automotive industry.
The global automotive adhesive market is segmented by geography into North America, Europe, Asia Pacific, Latin America and Middle East & Africa. In 2020, Asia-Pacific was observed as the largest market for automotive adhesive. It contributed about more than 40% to the total demand of the automotive adhesive during year 2020. The automotive adhesives market of Asia Pacific is expected to account for the highest growth rate during the forecast period. This growth is majorly due to the rapid expansion of manufacturing base in these regions, particularly from economies such as Japan, China and India.
Bostik S.A., Henkel & Co. KGaA, 3M Company, H.B. Fuller, Sika AG, PPG Industries, Illinois Tool Works Corporation, Solvay S.A., Jowat AG, Evonik Industries AG, 3M Inc., Avery Dennison and DSM are few key manufacturers in Automotive Adhesive market.
Polyurethane is expected to accounts for the major share in 2021. Polyurethane based adhesives are widely accepted in end-use applications owing to its flexibility and excellent adhesion. In addition, these adhesives are preferred over their counterparts as they act as fast moisture curing adhesive which leads to reduction in weight of vehicle as well as sound and vibration deadening. In 2020, SMP adhesives segment accounted for the significant share of the total automotive adhesive market by volume. Rapid rise in manufacturing industry coupled with increased consumer demand for light weight vehicles is expected to cater to the market growth in the coming years. In addition, adhesives have efficiently removed the need for the welding and mechanical rivets in order to bond the different substrates of metal. This has further supplemented the market growth. In addition, certain superior properties of SMP adhesives such as UV and thermal stability has further enhanced the safety standards for automobile manufacturers which in turn is expected to fuel the market in near future.
Hot melt adhesives are extremely utilized in the auto manufacturing industry as it leads to strong bonding and flexibility of the parts of vehicle in extreme temperature conditions and repeated abrasive motion. Hot melt based adhesives possess superior strength and extreme durability which makes it ideal for use in engine, transmission, batteries and radiators. Since, the body of the car is made up of multiple panels, the manufacturers use high performance hot melt adhesive in order to attach the panels in a safe, flexible, and durable fashion which in turn help to retain the beauty and curves of the vehicle. Therefore, hot melt adhesive segment is expected to grow at a rapid pace approximately a CAGR of 5.3% over the forecast period and is also expected to lead the market till 2029 owing to its property of providing the excellent adhesion with little or no emissions of VOCs. Therefore, the aforementioned factors are expected to augment the overall market growth during the forecast years.
Automotive manufacturers in a bid to build lighter vehicles with more fuel efficient engines to reduce fleet consumption in accordance with legal requirements has led to the utilization of adhesives such as polyurethane and epoxy based adhesives. These adhesive improve crash performance and long term durability of the light as well as heavy commercial vehicles. Passenger cars are expected to grow, at the CAGR of 4.2% owing to the rising sales of passenger cars coupled with development of per capita income of developing countries such as India, China and Brazil. Moreover, medium and heavy duty trucks are used for purposes such as freight movement, towing and off road purposes and therefore require at least 1.2 billion gallons of adhesives so as to bond light weight composites in place of aluminum. This rate of adoption of adhesives is expected to grow rapidly owing to increase in fuel economy regulation which has led to use of more composite and mixed material assemblies, thereby driving the consumption of adhesive per unit of vehicle body.
Automotive adhesives exhibit ideal bonding strength along with reliability primarily for light vehicles that utilize composites. Demand for adhesives have surged as these are being used to join steel to aluminum, steel to fiber panels and sheet molding compound to aluminum. The automotive body contains 40 percent of the weight of the vehicle. The recent trend of deploying adhesives to bond plastics to metal in vehicles have subsequently optimized corrosion resistant, adhesion properties and vibration dampening property of vehicles. Therefore, automotive adhesives find enhanced usage in body in white (BIW) applications as it is the initial stage in vehicle manufacturing in which the main frame of the body vehicle is developed. Moreover, the fuel economy standards set by OEM's has further lead to the demand of lightweight components such as aluminum, carbon fiber-reinforced polymer in body-in white instead of steel elements owing to which the use of automotive adhesives is gaining traction. Body-in white, segment is therefore, expected to account for approximately half of the market and is expected to maintain its dominance during the forecast period. Furthermore, multiple efforts by industry players to deter the risk of corrosion in underbody of vehicles as an attempt to provide soundless drive these adhesives are mixed with automotive paints & coatings is further surging the automotive adhesives market growth.
In 2020, Asia-Pacific was the largest market owing to rapid industrialization, growth in automobile production, rising disposable income and high population. It contributed about more than 45% to the total demand of the automotive adhesive during year 2020. It is also projected to be the fastest growing region. The global shift in production capacity from developed markets to this region stimulates the market growth. In addition, rising purchasing power and economic growth rate of countries such as China and India has supplemented the sales of automotive in this region, consequently driving the automotive adhesives market growth. As per OICA, industry players have adopted a recent trend of selling vehicles at lesser prices for grabbing large pool of customers. This has motivated manufactures such as Toyota Motor Corporation and Honda Motors to shift their production facilities to countries such as China for cheap labor and easy availability of raw materials in order to reduce their production cost. This is further driving the demand for automotive adhesives in this region. Latin America and Middle East & Africa regions are projected to witness below average growth rate during the forecast period of 2021 to 2029.
North America and Europe are expected to witness decent growth rate from 2021 to 2029. Due to economic downturn coupled with the growing utilization of bio-based adhesives majorly in North American and European region has surged the cost of these adhesives. Therefore, fluctuation in prices is expected to deter the market growth to some extent. Also, strict regulations in North America and Europe pertaining to the utilization of hazardous chemicals in manufacturing of adhesives is hampering the overall market growth to some extent.
Historical & Forecast Period
This study report represents analysis of each segment from 2021 to 2031 considering 2022 as the base year. Compounded Annual Growth Rate (CAGR) for each of the respective segments estimated for the forecast period of 2023 to 2031.
The current report comprises of quantitative market estimations for each micro market for every geographical region and qualitative market analysis such as micro and macro environment analysis, market trends, competitive intelligence, segment analysis, porters five force model, top winning strategies, top investment markets, emerging trends and technological analysis, case studies, strategic conclusions and recommendations and other key market insights.
Research Methodology
The complete research study was conducted in three phases, namely: secondary research, primary research, and expert panel review. key data point that enables the estimation of Automotive Adhesive market are as follows:
Research and development budgets of manufacturers and government spending
Revenues of key companies in the market segment
Number of end users and consumption volume, price and value.
Geographical revenues generate by countries considered in the report
Micro and macro environment factors that are currently influencing the Automotive Adhesive market and their expected impact during the forecast period.
Market forecast was performed through proprietary software that analyzes various qualitative and quantitative factors. Growth rate and CAGR were estimated through intensive secondary and primary research. Data triangulation across various data points provides accuracy across various analyzed market segments in the report. Application of both top down and bottom-up approach for validation of market estimation assures logical, methodical and mathematical consistency of the quantitative data.
ATTRIBUTE
DETAILS
Research Period
2021-2031
Base Year
2022
Forecast Period
2023-2031
Historical Year
2021
Unit
USD Million
Segmentation
Resin


Polyurethane
Epoxy
Acrylic
Silicone
Silyl Modified Polymer (SMP)
Polyamide
Others (Phenolic , Rubber)



Technology


Holt Melt
Solvent Based
Water Based
Pressure Sensitive
Others (Reactive and Thermosetting)



Vehicle


Passenger Cars
Light Commercial Vehicle
Heavy Commercial Vehicle



Application


Body in White
Power Train
Paint Shop
Assembly




Region Segment (2021-2031; US$ Million)

North America

U.S.
Canada
Rest of North America

UK and European Union

UK
Germany
Spain
Italy
France
Rest of Europe

Asia Pacific

China
Japan
India
Australia
South Korea
Rest of Asia Pacific

Latin America

Brazil
Mexico
Rest of Latin America

Middle East and Africa

GCC
Africa
Rest of Middle East and Africa
Key questions answered in this report
What are the key micro and macro environmental factors that are impacting the growth of Automotive Adhesive market?
What are the key investment pockets with respect to product segments and geographies currently and during the forecast period?
Estimated forecast and market projections up to 2031.
Which segment accounts for the fastest CAGR during the forecast period?
Which market segment holds a larger market share and why?
Are low and middle-income economies investing in the Automotive Adhesive market?
Which is the largest regional market for Automotive Adhesive market?
What are the market trends and dynamics in emerging markets such as Asia Pacific, Latin America, and Middle East & Africa?
Which are the key trends driving Automotive Adhesive market growth?
Who are the key competitors and what are their key strategies to enhance their market presence in the Automotive Adhesive market worldwide?