Automotive bumpers are integral components of vehicles, designed to protect the vehicle's front and rear ends from damage in the event of collisions. They also contribute to the vehicle's aesthetics and play a role in aerodynamics. The Automotive Bumper Market offers a variety of bumper types and materials to cater to the diverse needs of automakers and consumers. The automotive bumper marketis expected to witness a CAGR of 3.1% during the forecast period of 2023 to 2031, driven by safety standards, consumer customization preferences, and Lightweighting initiatives. Cost-effective material selection remains a challenge but drives innovation. The forecast period from 2023 to 2031 is expected to witness sustained growth as automakers continue to invest in advanced bumper technologies that enhance safety, aesthetics, and fuel efficiency in vehicles.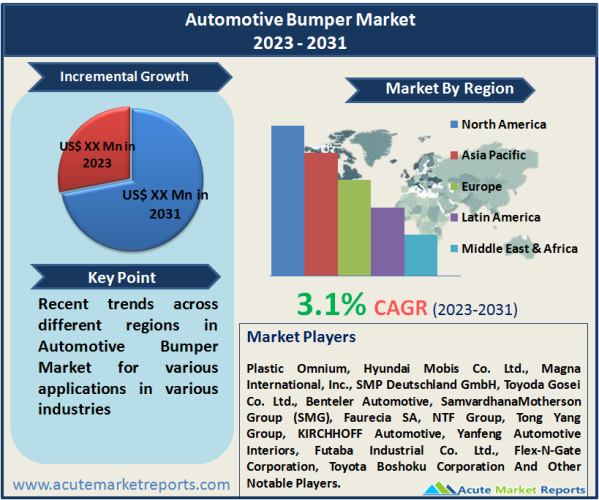 Safety and Crash Protection Standards
Automotive bumper market growth is driven by the stringent safety and crash protection standards imposed by regulatory authorities worldwide. Governments and safety organizations mandate that vehicles meet specific safety criteria, including impact resistance. This has led automakers to invest in advanced bumper technologies and materials that enhance crash protection. Evidence supporting this driver includes regulatory guidelines, such as Euro NCAP and NHTSA safety standards, which continuously evolve, compelling automakers to incorporate robust bumper systems.
Aesthetic Customization and Brand Differentiation
Consumer preferences for customized and aesthetically appealing vehicles have driven the demand for diverse bumper types and styles. Automakers seek to differentiate their brands by offering unique bumper designs that resonate with consumers. Customization options like deep drop (cowboy) bumpers, tube bumpers, and roll pan bumpers have gained popularity, especially in the pickup truck and SUV segments. Evidence includes market trends in vehicle customization and automaker marketing strategies emphasizing unique bumper designs.
Lightweighting and Fuel Efficiency Goals
Automakers are under constant pressure to reduce vehicle weight to improve fuel efficiency and meet emission standards. This has led to the adoption of lightweight materials in bumper construction, such as aluminum, plastic, and fiberglass. Lightweight bumpers contribute to overall vehicle weight reduction without compromising safety and performance. Evidence includes automaker announcements regarding lightweighting initiatives and materials selection for bumpers.
Cost and Material Selection Challenges
A significant restraint in the automotive bumper market is the challenge of balancing cost-effective production with the selection of appropriate materials. High-quality materials like advanced plastics, fiberglass, or aluminum can be expensive. Automakers must strike a balance between material cost, production efficiency, and meeting safety standards. Evidence includes reports on material selection challenges and the cost implications of using advanced materials.
Standard Bumper Dominates the Market by Type
In 2022, standard bumper segment typically holds the highest revenue. Standard bumpers are the most common type of bumpers used in passenger cars and certain vehicles. They are designed to provide basic protection in the event of low-speed collisions and are often integrated into the vehicle's design. Due to their widespread use in the automotive industry, standard bumpers generate a significant portion of the overall revenue in the bumper market. Standard bumpers are common in the passenger car segment, while deep drop bumpers are popular in the pickup truck and SUV segments.
Plastic Dominates the Market by Material
In 2022, plastic segment typically holds the highest revenue. Plastic bumpers are widely used in the automotive industry due to their lightweight nature, design flexibility, and cost-effectiveness. These bumpers are commonly found on various types of vehicles, including passenger cars and light trucks. Plastic bumpers have gained popularity as automakers seek to reduce vehicle weight for improved fuel efficiency without compromising safety and aesthetics. The cost-effectiveness and versatility of plastic materials contribute to their higher revenue generation in the bumper market.
North America will Lead the Market in terms of Revenue
In terms of geographic trends, North America is expected to exhibit the highest CAGR during the forecast period, driven by a strong automotive industry and consumer demand for customized vehicles with unique bumper designs. North America boasts a robust automotive industry, with numerous automakers and manufacturers operating in the region. This industrial strength positions North America as a significant contributor to the growth of the automotive bumper market. North American consumers often place a premium on vehicle customization and personalization. They seek unique designs and features, including bumper variations, to make their vehicles stand out. This inclination toward customization has fueled demand for various bumper types, including deep drop bumpers, tube bumpers, and roll pan bumpers, which often exhibit higher CAGR. However, Asia-Pacific is expected to lead in terms of revenue percentage due to its vast automotive market and the adoption of lightweight materials for fuel efficiency.
Competitive Landscape
The automotive bumper market features several key players, including Plastic Omnium, Hyundai Mobis Co. Ltd., Magna International, Inc., SMP Deutschland GmbH, Toyoda Gosei Co. Ltd., Benteler Automotive, SamvardhanaMotherson Group (SMG), Faurecia SA, NTF Group, Tong Yang Group, KIRCHHOFF Automotive, Yanfeng Automotive Interiors, Futaba Industrial Co. Ltd., Flex-N-Gate Corporation, and Toyota Boshoku Corporation. These companies have adopted strategies such as design innovation, material research and development, and collaboration with automakers to offer a wide range of bumper options. They are expected to continue focusing on customization, lightweighting, and safety enhancements to meet evolving consumer and regulatory requirements.
Historical & Forecast Period
This study report represents analysis of each segment from 2021 to 2031 considering 2022 as the base year. Compounded Annual Growth Rate (CAGR) for each of the respective segments estimated for the forecast period of 2023 to 2031.
The current report comprises of quantitative market estimations for each micro market for every geographical region and qualitative market analysis such as micro and macro environment analysis, market trends, competitive intelligence, segment analysis, porters five force model, top winning strategies, top investment markets, emerging trends and technological analysis, case studies, strategic conclusions and recommendations and other key market insights.
Research Methodology
The complete research study was conducted in three phases, namely: secondary research, primary research, and expert panel review. key data point that enables the estimation of Automotive Bumper market are as follows:
Research and development budgets of manufacturers and government spending
Revenues of key companies in the market segment
Number of end users and consumption volume, price and value.
Geographical revenues generate by countries considered in the report
Micro and macro environment factors that are currently influencing the Automotive Bumper market and their expected impact during the forecast period.
Market forecast was performed through proprietary software that analyzes various qualitative and quantitative factors. Growth rate and CAGR were estimated through intensive secondary and primary research. Data triangulation across various data points provides accuracy across various analyzed market segments in the report. Application of both top down and bottom-up approach for validation of market estimation assures logical, methodical and mathematical consistency of the quantitative data.
ATTRIBUTE
DETAILS
Research Period
2021-2031
Base Year
2022
Forecast Period
2023-2031
Historical Year
2021
Unit
USD Million
Segmentation
Type


Standard Bumper
Deep Drop / Cowboy Bumper
Roll Pan Bumper
Step Bumper
Tube Bumper



Material


Steel
Aluminum
Rubber
Plastic

Polypropylene (PP)
HDPE (High-Density Polyethylene)
Polycarbonate
Thermoplastic Polyolefins (TPOs)
Carbon Fiber

Fiberglass



Positioning


Vehicle Type


Passenger Cars

Hatchbacks
Sedans
Utility Vehicles (SUVs & MPVs)

Light Commercial Vehicles
Heavy Duty Trucks
Buses and Coaches
Off- Highway Vehicles

Agriculture Tractors & Equipment
Construction & Mining Equipment
Industrial Vehicles (Forklift, AGV, Etc.)



Sales Channel



Region Segment (2021-2031; US$ Million)

North America

U.S.
Canada
Rest of North America

UK and European Union

UK
Germany
Spain
Italy
France
Rest of Europe

Asia Pacific

China
Japan
India
Australia
South Korea
Rest of Asia Pacific

Latin America

Brazil
Mexico
Rest of Latin America

Middle East and Africa

GCC
Africa
Rest of Middle East and Africa
Key questions answered in this report
What are the key micro and macro environmental factors that are impacting the growth of Automotive Bumper market?
What are the key investment pockets with respect to product segments and geographies currently and during the forecast period?
Estimated forecast and market projections up to 2031.
Which segment accounts for the fastest CAGR during the forecast period?
Which market segment holds a larger market share and why?
Are low and middle-income economies investing in the Automotive Bumper market?
Which is the largest regional market for Automotive Bumper market?
What are the market trends and dynamics in emerging markets such as Asia Pacific, Latin America, and Middle East & Africa?
Which are the key trends driving Automotive Bumper market growth?
Who are the key competitors and what are their key strategies to enhance their market presence in the Automotive Bumper market worldwide?