The market for automotive semiconductor advanced packaging market is expected to grow at a CAGR of 12% during the forecast period of 2022 to 2030. The wide range of temperature fluctuations that can occur both inside and outside of a vehicle are the primary cause of problems for the electronics that are installed in automotive. If chips do not receive a suitable amount of cooling, they are more likely to age prematurely, their signals may fluctuate, and in certain situations, the chips may stop functioning properly. Nevertheless, cooling adds complexity, cost, and another probable point of failure, making this a challenging decision for both chip designers and automobile manufacturers. Because of this reason, electro-thermal co-simulation is becoming increasingly significant in the automobile industry due to the requirements for reliability. During the last phase of the semiconductor manufacturing process, advanced packaging is used to protect silicon wafers, logic units, and memory from being harmed by physical damage and corrosion. Advanced packaging is a supporting case. Integrated circuits may now be linked to circuit boards thanks to advances in packaging technology. Additionally, it involves the grouping of a range of diverse techniques, such as fan-out-wafer-level packaging, system-in-package, and 2.5D packaging, among others.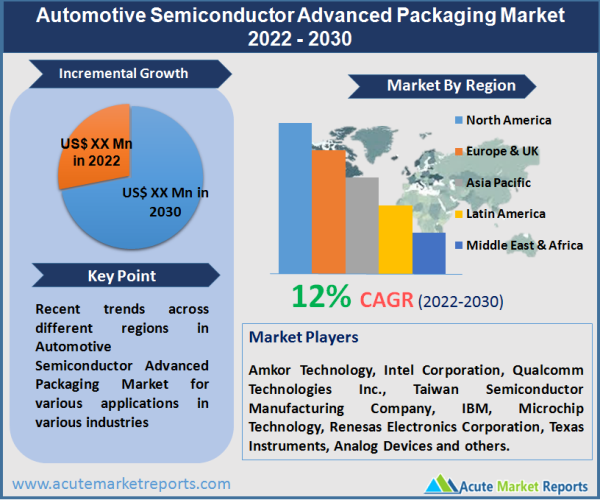 Enhanced System Performances and Advancements Are the Need of the Hour in Automotive Segment
In order to design chips for the future generation, the semiconductor packaging industry is producing increasingly sophisticated integrated circuit packages. The industry of integrated circuits has historically relied on creative architectures for new device designs in addition to typical chip scaling. In addition, there are multi-chip packages present in each and every phone, data centre, consumer electronic device, and network. This is one of the primary factors driving the expansion of advanced packaging because it contributes to system optimization. Because it makes it possible to couple together a wide variety of processing components and memories utilising very high-speed interconnects, advanced packaging encourages the use of artificial intelligence (AI), machine learning (ML), and deep learning (DL). Therefore, increased operation capabilities and precise processing is essential in automotive.
Enabling Capabilities, However Price is the Cause of Concern
A rise in the demand for the miniaturisation of electronic devices, as well as improvements in system performances and the optimization of advanced packaging, are among the major drivers that are having a significant impact on the expansion of the advanced packaging market. However, the expense of utilising sophisticated packaging is a significant barrier to its widespread utilisation. On the other hand, newly developing trends in fan-out wafer level packaging are predicted to present profitable prospects for the advanced packaging market during the period covered by the forecast. Conventional packaging solutions are used in the semiconductor business. At some levels, there is an increase in the expense associated with the development and manufacturing of chips at each succeeding node. In addition, as a result of the intricate nature of the ICs, the expense of producing wafers is significantly higher. The increased total cost of advanced packaging caused by the packing of several chips and integrated circuits with intricate patterning acts as a barrier to the technology's widespread adoption.
The FOWLP Market Segment Commandingthe LargesShare in 2021
The Fan-out wafer-level packaging (FOWLP) product type segment accounted for contributing a substantial market share in 2020 and is predicted to increase significantly throughout the forecast period. It is because of the substantial benefits that it provides, such as lower thermal resistance, substrate-less package, and higher performance. For example, on the 11th of January 2021, Veeco Instruments Inc. made the announcement that National Chiao Tung University (NCTU), which is located in Hsinchu, Taiwan, has chosen Veeco to be an important partner in its initiative to boost the production of semiconductors in Taiwan. NCTU is based in Hsinchu.
China to Dominate the Automotive Semiconductor Advanced Packaging Market
The United States accounts for more than 9.5% of the total market size in the world in the year 2020, while China is projected to witness a CAGR of 9.3% between the years 2022-2030. It is anticipated that China, the second largest economy in the world, would have a market size of and the highest CAGR during the forecast period. Japan and Canada are two additional important geographic markets that are projected to develop at rates of 5% and 6.2% correspondingly during the forecast period 2022-2030. Germany is anticipated to experience growth of roughly 5.5% CAGR.
Know More about Market Competition in Automotive Semiconductor Advanced Packaging Market
The leading market participants in the advanced packaging industry utilise a variety of strategies to influence the growth of the market. These strategies include product introduction, product development, cooperation, partnership, and agreements, amongst others. The report reveals key strategies that are adopted by 1st tier, 2nd tier and 3rd tier companies. Key companies operating in this segment include Amkor Technology, Intel Corporation, Qualcomm Technologies Inc., Taiwan Semiconductor Manufacturing Company, IBM, Microchip Technology, Renesas Electronics Corporation, Texas Instruments, Analog Devices and others.
Historical & Forecast Period
This study report represents analysis of each segment from 2021 to 2031 considering 2022 as the base year. Compounded Annual Growth Rate (CAGR) for each of the respective segments estimated for the forecast period of 2022 to 2031.
The current report comprises of quantitative market estimations for each micro market for every geographical region and qualitative market analysis such as micro and macro environment analysis, market trends, competitive intelligence, segment analysis, porters five force model, top winning strategies, top investment markets, emerging trends and technological analysis, case studies, strategic conclusions and recommendations and other key market insights.
Research Methodology
The complete research study was conducted in three phases, namely: secondary research, primary research, and expert panel review. key data point that enables the estimation of Automotive Semiconductor Advanced Packaging market are as follows:
Research and development budgets of manufacturers and government spending
Revenues of key companies in the market segment
Number of end users and consumption volume, price and value.
Geographical revenues generate by countries considered in the report
Micro and macro environment factors that are currently influencing the Automotive Semiconductor Advanced Packaging market and their expected impact during the forecast period.
Market forecast was performed through proprietary software that analyzes various qualitative and quantitative factors. Growth rate and CAGR were estimated through intensive secondary and primary research. Data triangulation across various data points provides accuracy across various analyzed market segments in the report. Application of both top down and bottom-up approach for validation of market estimation assures logical, methodical and mathematical consistency of the quantitative data.
ATTRIBUTE
DETAILS
Research Period
2021-2031
Base Year
2022
Forecast Period
2023-2031
Historical Year
2021
Unit
USD Million
Segmentation
Product


Flip Chip CSP
Flip-Chip Ball Grid Array
Wafer Level CSP
5D/3D
Fan Out WLP
Others




Region Segment (2021–2031; US$ Million)

North America

U.S.
Canada
Rest of North America

UK and European Union

UK
Germany
Spain
Italy
France
Rest of Europe

Asia Pacific

China
Japan
India
Australia
South Korea
Rest of Asia Pacific

Latin America

Brazil
Mexico
Rest of Latin America

Middle East and Africa

GCC
Africa
Rest of Middle East and Africa
Key questions answered in this report
What are the key micro and macro environmental factors that are impacting the growth of Automotive Semiconductor Advanced Packaging market?
What are the key investment pockets with respect to product segments and geographies currently and during the forecast period?
Estimated forecast and market projections up to 2031.
Which segment accounts for the fastest CAGR during the forecast period?
Which market segment holds a larger market share and why?
Are low and middle-income economies investing in the Automotive Semiconductor Advanced Packaging market?
Which is the largest regional market for Automotive Semiconductor Advanced Packaging market?
What are the market trends and dynamics in emerging markets such as Asia Pacific, Latin America, and Middle East & Africa?
Which are the key trends driving Automotive Semiconductor Advanced Packaging market growth?
Who are the key competitors and what are their key strategies to enhance their market presence in the Automotive Semiconductor Advanced Packaging market worldwide?