The global deburring machine market is anticipated to grow at a CAGR of 6% during the forecast period of 2023 to 2031. The increasing use of automation in industrial processes will drive the expansion of this industry. The market for deburring machines is driven by the increasing demand for precise machining and the requirement for high-quality products. As the production of motor vehicles increases, the use of automated deburring machines in automotive vehicle manufacturing facilities is a significant factor contributing to the expansion of the global deburring machine market. The modern automobile industry is an advanced, highly competitive manufacturing and technology sector that requires periodic revalidations of manufacturing process design for continuous safety and process improvement. Deburring is a necessary step in every manufacturing process. Since the beginning of the American automobile industry, when the Duryea Brothers, Ransom Olds, the Jeffery Company, and Henry Ford began mass-producing automobiles, the automobile manufacturing industry has greatly benefited from the development and improvement of deburring and related technologies.
Expansion of the Automotive Industry to Compel Market Growth
In the coming years, the increasing expansion of the automotive industry as a result of technological progress is likely to stimulate industry expansion. The increasing use of electric vehicles is anticipated to increase demand for deburring machines. This market is growing due to the increasing demand for deburring machines in industries such as metal parts, finishing, the automotive industry, aerospace components, and medical equipment and instruments. According to the 2021 Production Statistics report published by the International Organization of Motor Vehicle Manufacturers (OICA), in 2021 approximately 80 million motor vehicles were manufactured worldwide. Approximately 23 million commercial vehicles and 57 million passenger vehicles will be manufactured in 2021. Therefore, increasing the use of deburring machines in the automotive industry.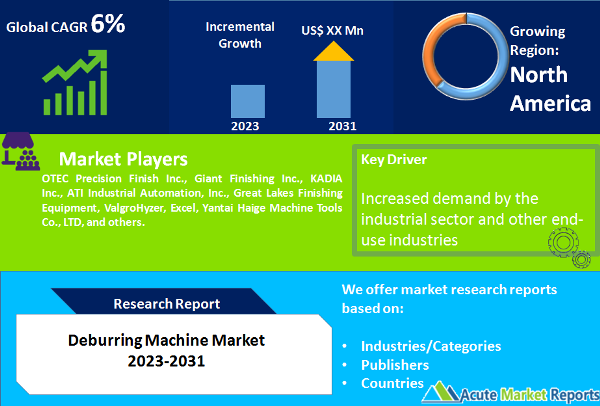 These modern deburring machines are frequently self-contained, permitting the use of coolant throughout the process. And because of the unique nature of this high-volume component production environment, variable-speed brush motors offer optimal process optimization to accommodate a variety of components. In the automobile industry, the actual benefits of deburring include improved product quality decreased process downtime and increased productivity.
Advantages of Deburring Machine to Expand Market Growth
Deburring is a machining technique that improves the final quality of a product by removing burrs, which are raised edges and unwanted material fragments left over from previous machining processes. Due to the aforementioned benefits, deburring also increases the product's lifespan. A deburring machine is extremely popular among the production plant's end users, and the removal of burrs from machine products allows for proper product assembly. Which is also a primary reason for the increase in deburring machine market sales. Compared to the manual deburring of machined products, deburring machines save time by deburring multiple products simultaneously, which increases the production capacity of end users; this benefit has increased the demand from the manufacturing sector. Demand from metalworking products, construction materials such as ceramics, and plastics used in consumer durables, building materials, and industrial components is anticipated to drive market expansion. The aorta of deburring machine sales and use is finishing and polishing products from the above-mentioned end-use industry verticals, which have experienced a healthy growth rate over the past few years.
Superior Operational Efficiency to Increase Deburring Machine Sales
Industrial development in a number of world regions is a key factor in the expansion of numerous supporting industries, such as Production, Construction, shipping, and transportation, among others. Deburring solutions are growing with advancements in production technologies and the industrial sector, and it is anticipated to increase in the forecast period, which has attracted investments for improved and precise production of machine parts and tools, Deburring Machine is one of the prime equipment which made the deburring process easier and quicker, thus it has created a vital scope in various Business plants, which has led to an increase in its demand in various Industries.
Market by Type
Electrochemical deburring machines remove burrs from metal parts through a combination of electrolysis and mechanical abrasion. The machine consists of an electrolytic tank in which to place the components to be deburred and an electrode that is lowered into the tank. When electricity is applied to the electrode, a current has produced those flows through the water in the tank. This current induces electrolysis, which decomposes and removes the metal oxides from the surface of the parts. These particles' mechanical abrasion removes any remaining burrs from the surface of the parts.
110V: The 110V electrochemical deburring machine is a type of electrochemical deburring machine whose operation requires 110 volts. This machine is widely utilized across industries to remove burrs and sharp edges from metal components. 110V is the standard voltage used by the majority of household appliances, such as hair dryers, electric shavers, vacuum cleaners, and other home electronic equipment. It is also utilized in a variety of industrial applications, including arc welding machines and soldering irons. Due to the rising demand for electronic devices around the world, this market's growth rate will be substantial.
220V: The 220V Electrochemical Deburring Machine uses direct current and an electrolyte solution to eliminate burrs from metal surfaces. It is useful for finishing steel, aluminum, titanium, and nickel alloys. The voltage of electricity that can cause burns and death is 220V. The electrochemical deburring machine uses it to remove metal from various surfaces. The 220V electric current eradicates microorganisms but has no effect on human or animal tissue.
380V: The 380V Electrochemical Deburring Machine is a highly effective electrochemical deburring machine that operates on 380 volts. It is more effective than 110V and 220V electrochemical deburring equipment.
Metal Parts De-Burring Application to Lead the Market
The metal parts de-burring application segment accounted for more than 30% of the market in 2022 and is anticipated to grow at a significant rate over the forecast period. The expansion is attributable to rising demand from a variety of industries, including the automotive, aerospace and defense, industrial machinery, medical equipment, and instruments sectors, among others. In addition, electrochemical machines are used to finish metal components that require minimal or no additional machining after welding or cutting. Electrochemical machines are also used in the automobile industry for the assembly of various mechanical components, such as engine block assembly, followed by the final assembly and testing of vehicles on roads and racetracks around the world due to their lightweight properties and high strength-to-weight ratio, which make them an ideal component choice over other conventional materials such as steel alloys and aluminum alloys.
North America Remains as the Global Leader
North America is anticipated to hold a significant market share over the forecast period, owing to the region's increasing industrial production and construction sector, both of which are boosting the growth of the Deburring Machines market. Additionally, the United States is experiencing high growth in the automotive sector, which is the key factor driving demand in the North American region. Europe is anticipated to be another significant market of growth from countries such as Germany, the United Kingdom, Russia, and others with a high index for industrial production growth, and this growth is anticipated to boost the sales growth for the European market.
Asia-Pacific is anticipated to account for a sizable portion of the deburring market as a result of the recent growth in vehicle production. Future market growth in the Asia-Pacific region is anticipated to be stimulated by the growing expansion of the automotive industry as a result of technological development. The expansion of a variety of supporting businesses, including production, construction, shipping, and transportation, is fuelled by regional industrial growth. In comparison to manual deburring machines, automatic deburring machines enable more cost-effective and productive operations, which is likely to fuel market growth in the coming years. Compared to manual deburring, automated deburring machines provide a smoother surface finish and spark-free operation during deburring. In a high-production environment, many automotive parts manufacturers have transitioned from manual deburring processes, in which each part was deburred with a nylon disc brush and manually flipped by an operator, to robotic loading techniques, in which each part is simultaneously brushed on both upper and lower edges with large-diameter radial brushes that approach the spindle-clamped part on two axes.
Business Expansion to Enhance Market Share
Globally, leading manufacturers are concentrating on expanding their manufacturing facilities and sales and distribution networks in emerging markets. In addition, efforts are ongoing to improve the cost and performance parameters for various applications. The key companies in this market include OTEC Precision Finish Inc., Giant Finishing Inc., KADIA Inc., ATI Industrial Automation, Inc., Great Lakes Finishing Equipment, ValgroHyzer, Excel, Yantai Haige Machine Tools Co., LTD, and others.
Historical & Forecast Period
This study report represents analysis of each segment from 2021 to 2031 considering 2022 as the base year. Compounded Annual Growth Rate (CAGR) for each of the respective segments estimated for the forecast period of 2022 to 2031.
The current report comprises of quantitative market estimations for each micro market for every geographical region and qualitative market analysis such as micro and macro environment analysis, market trends, competitive intelligence, segment analysis, porters five force model, top winning strategies, top investment markets, emerging trends and technological analysis, case studies, strategic conclusions and recommendations and other key market insights.
Research Methodology
The complete research study was conducted in three phases, namely: secondary research, primary research, and expert panel review. key data point that enables the estimation of Deburring Machine market are as follows:
Research and development budgets of manufacturers and government spending
Revenues of key companies in the market segment
Number of end users and consumption volume, price and value.
Geographical revenues generate by countries considered in the report
Micro and macro environment factors that are currently influencing the Deburring Machine market and their expected impact during the forecast period.
Market forecast was performed through proprietary software that analyzes various qualitative and quantitative factors. Growth rate and CAGR were estimated through intensive secondary and primary research. Data triangulation across various data points provides accuracy across various analyzed market segments in the report. Application of both top down and bottom-up approach for validation of market estimation assures logical, methodical and mathematical consistency of the quantitative data.
ATTRIBUTE
DETAILS
Research Period
2021-2031
Base Year
2022
Forecast Period
2023-2031
Historical Year
2021
Unit
USD Million
Segmentation
Type


Application


Metal Parts
Finishing
Automobile Industry
Aerospace Parts
Medical Apparatus and Instruments
Other




Region Segment (2021–2031; US$ Million)

North America

U.S.
Canada
Rest of North America

UK and European Union

UK
Germany
Spain
Italy
France
Rest of Europe

Asia Pacific

China
Japan
India
Australia
South Korea
Rest of Asia Pacific

Latin America

Brazil
Mexico
Rest of Latin America

Middle East and Africa

GCC
Africa
Rest of Middle East and Africa
Key questions answered in this report
What are the key micro and macro environmental factors that are impacting the growth of Deburring Machine market?
What are the key investment pockets with respect to product segments and geographies currently and during the forecast period?
Estimated forecast and market projections up to 2031.
Which segment accounts for the fastest CAGR during the forecast period?
Which market segment holds a larger market share and why?
Are low and middle-income economies investing in the Deburring Machine market?
Which is the largest regional market for Deburring Machine market?
What are the market trends and dynamics in emerging markets such as Asia Pacific, Latin America, and Middle East & Africa?
Which are the key trends driving Deburring Machine market growth?
Who are the key competitors and what are their key strategies to enhance their market presence in the Deburring Machine market worldwide?