"Dental amalgam market to exhibit lucrative growth during the forecast period"
The global dental amalgam market is growing significantly, was valued at US$ 358.1 Mn in 2020 and expected to reach US$ 577.8 Mn by 2029. Increasing dental filling procedures, treatment with minimally invasive procedures along with the increasing prevalence of dental infection, tooth fractures, and tooth decay drives the overall dental amalgam market growth. Advanced technological evolution in the material types and new product launch in the dental industry along with outsourcing of dental amalgams and excessive usage in the cosmetic industry would drive the overall market. However, according to numerous dental research studies increase in mercury levels in blood or release of toxic components through dental amalgams is a serious issue falling behind.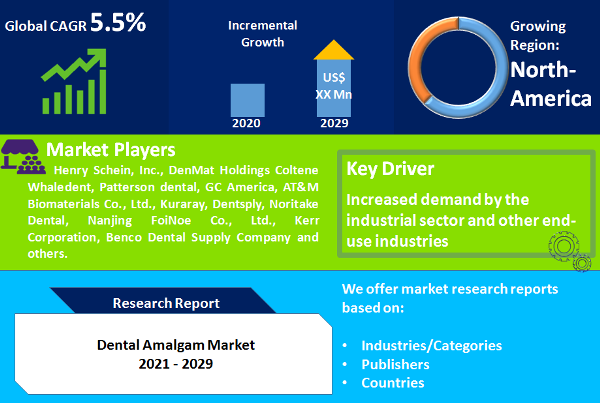 "Composite resin type segment is expected to register higher growth by the end of 2029"
Global sales of dental amalgams will expand significantly, mainly in the U.S. and Europe. The market growth is further fuelled with rising edentulous population that favors dental fillings along with customized dental amalgams. Wide range of dental amalgam types in the market incorporate dental experts to meet the fluctuating demand in the dental industry. Growing popularity of composite resins, smart composites, silver or gold amalgams and other customized fillings are expanding interest globally. Increasing preference for silver and gold in the dental amalgams will also boost the growth. Admixed alloy particles are also preferred on a large scale. The quaternary alloys show lucrative growth during the forecast period.
"The dental clinics segment is expected to register higher growth by the end of 2029"
Steady growth in the dental clinics is expected during the forecast period. The changing dynamics towards dental aesthetics along with growing dental filling procedures in dental clinics is producing maximum revenue share during the forecast period. In addition, expanded use of customized materials, enhanced applications of composite resins and silver amalgams for better results are driving the overall growth of the market. However, higher cost fillings, lack of supplies, and unstructured reimbursement scenario in developing nations are hampering the development of dental amalgam market. Additionally, rising concerns about the toxicity of mercury and uncommon happenings of allergic reactions may hamper the overall growth.
"Increasing demand for customized materials, and the presence of established players holds North America in dominant position"
North America to contribute maximum revenue share in the overall growth of the dental amalgam market. As indicated by American Dental Association, national dental health expenditures in the U.S rose from US$ 114 billion (2014) to 117 billion (2015). Major external factors enhancing the overall dental amalgam industry include, the improved oral care management, high predominance of tooth decay globally, advancements in the dental amalgam industry along with rising dental filling procedures, growing partnerships, dental tourism and demand in the cosmetic dentistry. However, in low economic nations such as Africa, Asia Pacific, and Latin America, availability of dental treatment is inadequate. Deficiency of skilled professionals, less accessibility of advanced product types and high cost along with no or very less reimbursement structure is restraining the growth of the dental amalgam market.
"Dominance of multinational manufacturers with strong product portfolio in the developed regions"
Major players in the dental amalgam market are Henry Schein, Inc., DenMat Holdings Coltene Whaledent, Patterson dental, GC America, AT&M Biomaterials Co., Ltd., Kuraray, Dentsply, Noritake Dental, Nanjing FoiNoe Co., Ltd., Kerr Corporation, Benco Dental Supply Company and others. Top dental manufacturers are implementing growth strategies along with technology advancement in silver amalgams and composite resins. Additionally, new product launch, merger or partnerships with dental clinics or hospitals along with increasing dental filling procedures will further spur revenue growth during the forecast period.
Historical & Forecast Period
This study report represents analysis of each segment from 2020 to 2030 considering 2021 as the base year. Compounded Annual Growth Rate (CAGR) for each of the respective segments estimated for the forecast period of 2022 to 2030.
The current report comprises of quantitative market estimations for each micro market for every geographical region and qualitative market analysis such as micro and macro environment analysis, market trends, competitive intelligence, segment analysis, porters five force model, top winning strategies, top investment markets, emerging trends and technological analysis, case studies, strategic conclusions and recommendations and other key market insights.
Research Methodology
The complete research study was conducted in three phases, namely: secondary research, primary research, and expert panel review. key data point that enables the estimation of Dental Amalgam market are as follows:
Research and development budgets of manufacturers and government spending
Revenues of key companies in the market segment
Number of end users and consumption volume, price and value.
Geographical revenues generate by countries considered in the report
Micro and macro environment factors that are currently influencing the Dental Amalgam market and their expected impact during the forecast period.
Market forecast was performed through proprietary software that analyzes various qualitative and quantitative factors. Growth rate and CAGR were estimated through intensive secondary and primary research. Data triangulation across various data points provides accuracy across various analyzed market segments in the report. Application of both top down and bottom-up approach for validation of market estimation assures logical, methodical and mathematical consistency of the quantitative data.
ATTRIBUTE
DETAILS
Research Period
2020-2030
Base Year
2021
Forecast Period
2022-2030
Historical Year
2020
Unit
USD Million
Segmentation
Type


Glass Ionomer
Silver Amalgam
Composite Resins
Ceramic/Poreclain
Gold



End-user


Hospitals
Dental Clinics
Research Institutions
Dental labs




Region Segment (2020–2030; US$ Million)

North America

U.S.
Canada
Rest of North America

UK and European Union

UK
Germany
Spain
Italy
France
Rest of Europe

Asia Pacific

China
Japan
India
Australia
South Korea
Rest of Asia Pacific

Latin America

Brazil
Mexico
Rest of Latin America

Middle East and Africa

GCC
Africa
Rest of Middle East and Africa

Global Impact of Covid-19 Segment (2020-2021; US$ Million )

Pre Covid-19 situation
Post Covid-19 situation
Key questions answered in this report
What are the key micro and macro environmental factors that are impacting the growth of Dental Amalgam market?
What are the key investment pockets with respect to product segments and geographies currently and during the forecast period?
Estimated forecast and market projections up to 2030.
Which segment accounts for the fastest CAGR during the forecast period?
Which market segment holds a larger market share and why?
Are low and middle-income economies investing in the Dental Amalgam market?
Which is the largest regional market for Dental Amalgam market?
What are the market trends and dynamics in emerging markets such as Asia Pacific, Latin America, and Middle East & Africa?
Which are the key trends driving Dental Amalgam market growth?
Who are the key competitors and what are their key strategies to enhance their market presence in the Dental Amalgam market worldwide?