Eco-friendly Furniture market is expected to witness a CAGR of 8.2% during the forecast period of 2023 to 2031. The Eco-friendly Furniture market, a beacon of conscious consumption and sustainable living, has emerged as a dynamic force within the realm of interior design and furnishings. This market's trajectory is a testament to the growing awareness and commitment to environmental preservation. In this comprehensive discourse, we embark on an exploratory journey through the Eco-friendly Furniture market.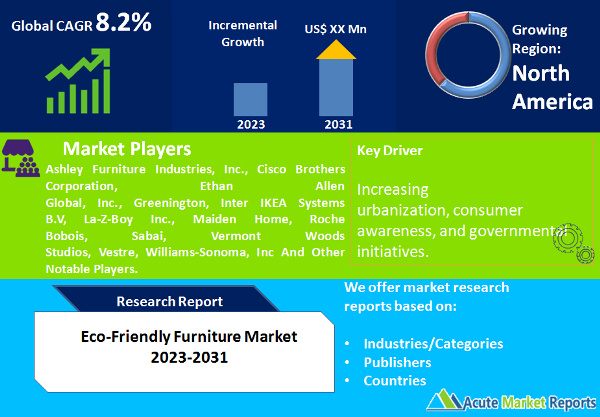 Environmental Consciousness and Ethical Consumerism
The Eco-friendly Furniture market is profoundly influenced by the surge in environmental consciousness and the rise of ethical consumerism. The year 2022 bore witness to an unprecedented global awakening regarding the environmental impact of consumption patterns. Consumers have been increasingly seeking alternatives that align with their values of sustainability and responsible resource utilization. This shift in mindset has acted as a catalyst, prompting individuals to opt for furniture pieces that adhere to eco-friendly standards. As environmental stewardship becomes a pivotal aspect of modern living, the demand for furniture crafted with sustainable materials and production methods is expected to steadily rise from 2023 to 2031.
Regulatory Support and Industry Advocacy
Regulatory initiatives and industry advocacy have been instrumental in fostering the growth of the Eco-friendly Furniture market. Governments and regulatory bodies have introduced measures to incentivize sustainable practices across industries, including furniture manufacturing. The year 2022 marked a significant milestone with increased regulations promoting responsible sourcing of materials, energy efficiency, and reduced carbon footprint in furniture production. Simultaneously, industry associations and advocacy groups have played a pivotal role in driving awareness and promoting sustainable practices. These combined efforts have ignited a positive feedback loop, encouraging manufacturers to embrace sustainable processes, thus fostering the market's growth. As we progress from 2023 to 2031, it is anticipated that the collaboration between regulatory support and industry advocacy will continue to propel the market forward.
Consumer Demand for Quality and Durability
Consumer preferences for quality, durability, and longevity have significantly impacted the Eco-friendly Furniture market. In 2022, consumers displayed a growing inclination toward furniture investments that transcend fleeting trends. Eco-friendly furniture, often crafted from robust materials with an emphasis on craftsmanship, aligns seamlessly with these preferences. Individuals are increasingly recognizing the value in owning pieces that not only contribute to environmental preservation but also stand the test of time. This shift in mindset, from disposability to durability, is projected to remain a strong driver for the Eco-friendly Furniture market's growth, as consumers seek sustainable solutions that cater to their functional and aesthetic needs.
Cost Implications and Accessibility
An intricate restraint facing the Eco-friendly Furniture market pertains to cost implications and accessibility. While the benefits of eco-friendly furniture are undeniable, the price point can be comparatively higher than conventional alternatives due to sustainable materials and responsible manufacturing processes. This cost differential can pose a challenge for price-sensitive consumers. Furthermore, accessibility to a wide range of eco-friendly furniture options can be limited, particularly in regions with underdeveloped sustainable infrastructure. While the market has been making strides in addressing these concerns, ensuring a balance between affordability and sustainability remains an ongoing restraint to be navigated.
Steel and Aluminum Dominates Market by Material Type
The segmentation of the Eco-friendly Furniture market based on material type encompasses a diverse spectrum, including Wood, Bamboo, Steel, Aluminum, and Other Recycled Materials. Among these, Bamboo exhibited the highest Compound Annual Growth Rate (CAGR), owing to its rapid growth and renewability. However, Wood, with its timeless appeal and versatile applications, dominated the market's revenue in 2022. In terms of revenue, Steel and Aluminum also held significant shares, reflecting their prominence in creating sleek and durable designs. As the market advances from 2023 to 2031, the material segmentation is poised to adapt to evolving preferences while striking a balance between CAGR and revenue.
Residential Sector Dominates Market by End-user
The segmentation by end-user spans Residential and Commercial sectors, each with distinct market dynamics. In 2022, the Residential sector commanded a substantial share of the market's revenue, as homeowners increasingly prioritized sustainable choices for their living spaces. As the concept of sustainable living gains momentum, the Residential sector is expected to maintain its revenue leadership. Simultaneously, the Commercial sector, encompassing businesses, offices, and hospitality establishments, displayed a noteworthy CAGR in 2022. The growing emphasis on environmentally responsible business practices is projected to sustain this growth trajectory from 2023 to 2031.
North America Remains as the Global Leader
Geographically, the Eco-friendly Furniture market showcases varying trends that align with regional sustainability consciousness. In 2022, North America led both in terms of revenue and CAGR, owing to its robust awareness of environmental issues and affinity for sustainable living. Europe also demonstrated a significant market presence, driven by the region's stringent regulations and cultural emphasis on eco-friendliness. Looking ahead, the Asia-Pacific region is expected to exhibit the highest CAGR, driven by increasing urbanization, consumer awareness, and governmental initiatives. While North America is projected to maintain its revenue leadership, Asia-Pacific's growth is anticipated to reshape the market's landscape.
Competitive Trends
The Eco-friendly Furniture market's competitive landscape is characterized by a cohort of leading players who have positioned sustainability at the core of their brand identity. Renowned companies such as Ashley Furniture Industries, Inc., Cisco Brothers Corporation, Ethan Allen Global, Inc., Greenington, Inter IKEA Systems B.V, La-Z-Boy Inc., Maiden Home, Roche Bobois, Sabai, Vermont Woods Studios, Vestre, and Williams-Sonoma, Inc. have demonstrated their commitment to eco-friendly practices through innovative materials sourcing, ethical manufacturing, and transparency. These companies have leveraged partnerships with sustainable suppliers, invested in renewable energy, and initiated circular economy models. As of 2022, their revenues reflect their dedication to responsible practices, and their strategies from 2023 to 2031 are expected to revolve around strengthening supply chains, pioneering new sustainable materials, and fostering consumer education.
Historical & Forecast Period
This study report represents analysis of each segment from 2021 to 2031 considering 2022 as the base year. Compounded Annual Growth Rate (CAGR) for each of the respective segments estimated for the forecast period of 2023 to 2031.
The current report comprises of quantitative market estimations for each micro market for every geographical region and qualitative market analysis such as micro and macro environment analysis, market trends, competitive intelligence, segment analysis, porters five force model, top winning strategies, top investment markets, emerging trends and technological analysis, case studies, strategic conclusions and recommendations and other key market insights.
Research Methodology
The complete research study was conducted in three phases, namely: secondary research, primary research, and expert panel review. key data point that enables the estimation of Eco-Friendly Furniture market are as follows:
Research and development budgets of manufacturers and government spending
Revenues of key companies in the market segment
Number of end users and consumption volume, price and value.
Geographical revenues generate by countries considered in the report
Micro and macro environment factors that are currently influencing the Eco-Friendly Furniture market and their expected impact during the forecast period.
Market forecast was performed through proprietary software that analyzes various qualitative and quantitative factors. Growth rate and CAGR were estimated through intensive secondary and primary research. Data triangulation across various data points provides accuracy across various analyzed market segments in the report. Application of both top down and bottom-up approach for validation of market estimation assures logical, methodical and mathematical consistency of the quantitative data.
ATTRIBUTE
DETAILS
Research Period
2021-2031
Base Year
2022
Forecast Period
2023-2031
Historical Year
2021
Unit
USD Million
Segmentation
Product


Chair & Sofa

Adirondack Chair
Arm Chair
Dining Chair
Office Chair
Long Sofa
Single Sofa
Others (Ottoman, etc.)

Table

Dining Table
Dressing Table
Conference Table
Sofa Table / Center Table
Side Table / End Table
Console Table
Work Table
Others (Bar Table, Entryway Table, etc.)

Bed
Cabinet
Wardrobe
Kitchen Island
Bookcase
TV Unit
Others (rack, nightstand, etc.)



Material


Wood
Bamboo
Steel
Aluminum
Other Recycled Materials



Price


End-User


Residential
Commercial

HoReCa
Office
Mall
Others



Distribution Channel



Region Segment (2021-2031; US$ Million)

North America

U.S.
Canada
Rest of North America

UK and European Union

UK
Germany
Spain
Italy
France
Rest of Europe

Asia Pacific

China
Japan
India
Australia
South Korea
Rest of Asia Pacific

Latin America

Brazil
Mexico
Rest of Latin America

Middle East and Africa

GCC
Africa
Rest of Middle East and Africa
Key questions answered in this report
What are the key micro and macro environmental factors that are impacting the growth of Eco-Friendly Furniture market?
What are the key investment pockets with respect to product segments and geographies currently and during the forecast period?
Estimated forecast and market projections up to 2031.
Which segment accounts for the fastest CAGR during the forecast period?
Which market segment holds a larger market share and why?
Are low and middle-income economies investing in the Eco-Friendly Furniture market?
Which is the largest regional market for Eco-Friendly Furniture market?
What are the market trends and dynamics in emerging markets such as Asia Pacific, Latin America, and Middle East & Africa?
Which are the key trends driving Eco-Friendly Furniture market growth?
Who are the key competitors and what are their key strategies to enhance their market presence in the Eco-Friendly Furniture market worldwide?