The electric clothes drying rack market is expected to grow at CAGR of 5.5% during the forecast period of 2023 to 2032. The market has emerged as a convenient and energy-efficient solution for drying clothes indoors. Electric clothes drying racks offer an alternative to traditional outdoor drying methods and provide a practical solution for those living in spaces without access to a dedicated outdoor drying area. The electric Clothes Drying Rack Market is driven by factors such as urban living constraints, energy efficiency, and convenience. Despite the initial cost acting as a restraint, the market is poised for growth due to the benefits these racks offer. Distinct trends in product type, end-use, and geography are expected to shape the market's trajectory from 2023 to 2031. Established players are focused on innovation and expansion to meet the evolving needs of consumers seeking efficient and environmentally friendly drying solutions. As the market gains momentum, electric clothes drying racks are expected to become a staple in modern households and commercial settings, contributing to energy conservation and improved convenience.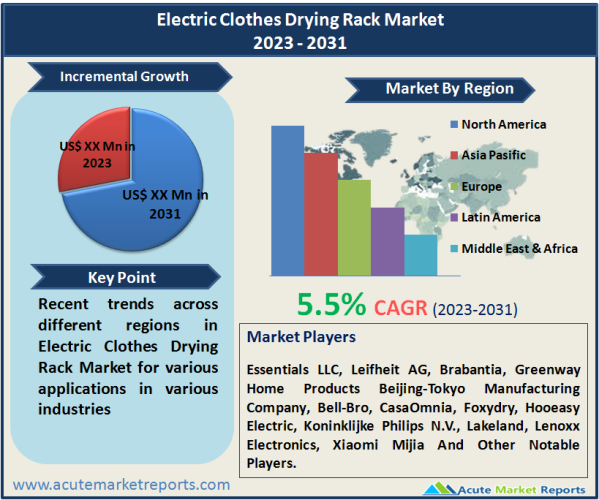 Urban Living and Space Constraints
Urbanization has led to the growth of compact living spaces, where access to outdoor drying areas is limited. This has driven the demand for electric clothes drying racks, especially in apartments and high-rise buildings. Consumers are opting for these racks as they efficiently utilize indoor space to dry clothes, eliminating the need for traditional clotheslines or bulky drying racks. The convenience of being able to dry clothes indoors, regardless of weather conditions, has significantly contributed to the market's growth. As an illustration, a survey conducted by the American Housing Survey reveals that the number of households living in apartments has been increasing, creating a larger target market for electric clothes drying racks.
Energy Efficiency and Environmental Awareness
Electric clothes drying racks are considered energy-efficient alternatives to traditional tumble dryers. Tumble dryers consume a substantial amount of energy, contributing to high electricity bills and carbon emissions. With increasing environmental awareness, consumers are seeking sustainable solutions that reduce their energy consumption and environmental footprint. Electric clothes drying racks provide a greener drying option by using less energy, which aligns with the global push for energy conservation. According to the U.S. Energy Information Administration, clothes dryers account for a significant portion of residential energy consumption, making energy-efficient alternatives an attractive choice for consumers.
Convenience and Time Savings
The fast-paced modern lifestyle demands convenience and electric clothes-drying racks offer just that. These racks accelerate the drying process, enabling users to dry clothes quickly without the wait time required by traditional drying methods. Additionally, many electric racks are equipped with features such as adjustable temperature settings and timers, allowing users to customize the drying process based on fabric types and personal preferences. This convenience resonates with busy individuals who value time savings and efficiency. A report by Statista highlights the increasing preference for appliances that streamline daily tasks, further emphasizing the significance of convenience as a driver in the market.
Upfront Cost
Despite the numerous benefits of electric clothes drying racks, the initial cost can act as a restraint for potential buyers. High-quality electric drying racks equipped with advanced features can be relatively expensive compared to traditional drying methods. While these racks offer long-term savings in terms of reduced energy consumption, the upfront investment might discourage cost-sensitive consumers from adopting this technology. Overcoming this cost barrier requires manufacturers to effectively communicate the long-term benefits and potential savings associated with electric drying racks.
Freestanding Segment Dominates the Market by Product Type
The electric clothes drying rack market is segmented into Freestanding, Hanging, ceiling-mounted, Foldable, and Others. In 2022, the Freestanding segment recorded the highest revenue due to its versatility and ease of installation. However, during the forecast period of 2023 to 2031, the Foldable segment is expected to achieve the highest CAGR. This growth can be attributed to the foldable racks' space-saving design and portability, making them ideal for small living spaces and users who seek a flexible drying solution.
Residential segment Dominates the Market by End-use
The market can be segmented by end-use into Residential and Commercial applications. In 2022, the Residential segment dominated the market in terms of revenue, driven by the demand from households seeking efficient and convenient drying solutions. However, from 2023 to 2031, the Commercial segment is projected to exhibit the highest CAGR. This growth can be attributed to the adoption of electric clothes drying racks in commercial settings such as laundromats, hotels, and fitness centers, where quick and efficient clothes drying is essential to customer satisfaction.
North America Remains as the Global Leader
In terms of geographic trends, North America accounted for the highest revenue share in 2022, driven by the region's inclination towards energy-efficient solutions and the increasing adoption of modern appliances. However, the Asia-Pacific region is expected to exhibit the highest CAGR during the forecast period. This growth can be attributed to the region's rapid urbanization, smaller living spaces, and rising disposable income, which drive the demand for space-saving and convenient drying solutions.
Technological Innovation to Boost Competition during the Forecast Period
Prominent players in the electric clothes drying rack market include Household Essentials LLC, Leifheit AG, Brabantia, Greenway Home Products Beijing-Tokyo Manufacturing Company, Bell-Bro, CasaOmnia, Foxydry, Hooeasy Electric, Koninklijke Philips N.V., Lakeland, Lenoxx Electronics, and Xiaomi Mijia. These companies offer a variety of electric drying rack solutions to cater to different customer needs. Their key strategies involve product innovation, expanding distribution networks, and emphasizing the energy-efficient and space-saving advantages of their products. In 2022, these players collectively contributed to the market's revenue growth. As the market progresses from 2023 to 2031, these companies are expected to continue investing in research and development to introduce more advanced and efficient electric drying rack models, in line with evolving consumer demands for convenience and sustainability.
Historical & Forecast Period
This study report represents analysis of each segment from 2021 to 2031 considering 2022 as the base year. Compounded Annual Growth Rate (CAGR) for each of the respective segments estimated for the forecast period of 2023 to 2031.
The current report comprises of quantitative market estimations for each micro market for every geographical region and qualitative market analysis such as micro and macro environment analysis, market trends, competitive intelligence, segment analysis, porters five force model, top winning strategies, top investment markets, emerging trends and technological analysis, case studies, strategic conclusions and recommendations and other key market insights.
Research Methodology
The complete research study was conducted in three phases, namely: secondary research, primary research, and expert panel review. key data point that enables the estimation of Electric Clothes Drying Rack market are as follows:
Research and development budgets of manufacturers and government spending
Revenues of key companies in the market segment
Number of end users and consumption volume, price and value.
Geographical revenues generate by countries considered in the report
Micro and macro environment factors that are currently influencing the Electric Clothes Drying Rack market and their expected impact during the forecast period.
Market forecast was performed through proprietary software that analyzes various qualitative and quantitative factors. Growth rate and CAGR were estimated through intensive secondary and primary research. Data triangulation across various data points provides accuracy across various analyzed market segments in the report. Application of both top down and bottom-up approach for validation of market estimation assures logical, methodical and mathematical consistency of the quantitative data.
ATTRIBUTE
DETAILS
Research Period
2021-2031
Base Year
2022
Forecast Period
2023-2031
Historical Year
2021
Unit
USD Million
Segmentation
Product


Freestanding
Hanging
Ceiling Mounted
Foldable
Others



Material


Plastic
Stainless steel
Steel
Aluminum
ABS+ABS flame retardant



End-Use


Residential
Commercial

Hotels
Restaurants
Hospitals
Others



Price Range


Under US$ 5.0 - US$ 15.0
US$ 15.0 - US$ 30.0
US$ 30.0 - US$ 45.0
US$ 45.0 and Above



Distribution Channel


Supermarkets/hypermarkets
Specialty Stores
Gifts Stores
Multi-brand Stores
Online Retailers
Others distribution Channel




Region Segment (2021-2031; US$ Million)

North America

U.S.
Canada
Rest of North America

UK and European Union

UK
Germany
Spain
Italy
France
Rest of Europe

Asia Pacific

China
Japan
India
Australia
South Korea
Rest of Asia Pacific

Latin America

Brazil
Mexico
Rest of Latin America

Middle East and Africa

GCC
Africa
Rest of Middle East and Africa
Key questions answered in this report
What are the key micro and macro environmental factors that are impacting the growth of Electric Clothes Drying Rack market?
What are the key investment pockets with respect to product segments and geographies currently and during the forecast period?
Estimated forecast and market projections up to 2031.
Which segment accounts for the fastest CAGR during the forecast period?
Which market segment holds a larger market share and why?
Are low and middle-income economies investing in the Electric Clothes Drying Rack market?
Which is the largest regional market for Electric Clothes Drying Rack market?
What are the market trends and dynamics in emerging markets such as Asia Pacific, Latin America, and Middle East & Africa?
Which are the key trends driving Electric Clothes Drying Rack market growth?
Who are the key competitors and what are their key strategies to enhance their market presence in the Electric Clothes Drying Rack market worldwide?