During the forecast period of 2023 to 2031, the global ergonomic chair market is projected to expand at a CAGR of 7.5%. As businesses regularly renovate commercial and residential workspaces to include cutting-edge design elements such as ergonomic and multifunctional seating systems, a significant increase in office remodeling activities would further stimulate market expansion. Manufacturers exert a great deal of effort to design ergonomic chairs with multiple functions that enhance comfort during long workdays and maximize space utilization. Modern ergonomic chairs are in greater demand as businesses seek to increase productivity by fostering employee collaboration. In recent years, office furniture and interior layouts have evolved in response to the demand for affordable and comfortable amenities in economies.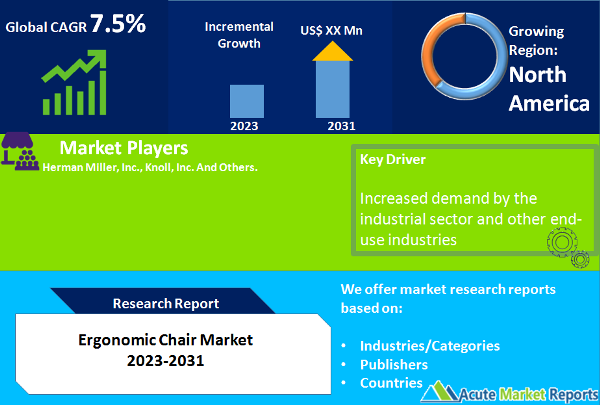 Increasing Investments in Capital
Increasing capital investments in office infrastructure, primarily driven by the development of corporate hubs in the regions, are anticipated to increase the demand for office furniture such as ergonomic chairs over the forecast period. The Economic Impact Study commissioned by the Building Owners and Managers Association of the United States (BOMA) indicates that the establishment of business offices in the United States will increase by 2020. In addition, the study revealed that nearly 25,000 square feet of private office space are served by BOMA's local associations in the United States.
Expanding Distribution Channel Scope to Promote Market Expansion
Although foreign manufacturers may be more competitive in terms of price, domestic manufacturers offer significant advantages, such as shorter lead times and product customization. However, imports have come to dominate the market for made-to-stock office furniture sold by retailers, as the price is one of the most significant factors influencing purchasing decisions in this industry. Exclusive stores, retail outlets, and other types of brick-and-mortar stores owned by the company contribute significantly to the market's total product sales. However, online sales are increasing as a result of the increasing influence of social media, through which opinions and experiences are rapidly shared digitally. Consequently, manufacturers are focusing on enhancing their online presence and providing valuable after-sales services to improve the online shopping experience of consumers.
Customers favor more convenient methods of purchasing ergonomic office chairs by shifting to e-commerce. A consumer's purchasing decision is hindered by a lack of detail transparency and inconsistent pricing. As the world shifts toward digital business, the majority of transactions now take place on digital platforms. It is an opportunity for businesses to interact with consumers and identify their desires. The customer will be encouraged to make a purchase if the product's specifications and price are clearly communicated, with no hidden fees.
Partnerships With Multinational Corporations to Increase Market Opportunities
The production companies collaborate with multinational corporations to increase sales. It is a method by which employees utilize office chairs, and if they experience the benefits, they may decide to purchase ergonomic office chairs for their homes. As a result of the emergence of the COVID-19 pandemic, remote work has become widespread and an integral part of the employee's daily routine.
Innovations to Enhance Market Traction
The advent of ergonomic office chairs with additional functions, such as large armrests, massage vibration, heated pads, and others, can benefit employees in every way possible. These new features are likely to change the game in the ergonomic office chair market, resulting in increased demand. All employees enjoy comfort, which contributes to their productivity.
Swivel Chair Segment Took Over 50% of the Market in 2022
In 2022, the swivel chair segment commanded approximately 50% of the market's total revenue. Swivel chairs greatly facilitate social interaction. With an ergonomic swivel chair, one can swivel and interact in their home office or workplace without putting undue strain on their necks. The swivel chair is the best option for expansive rooms. Adjustable ergonomic chairs are anticipated to grow at a CAGR of 8% between 2023 and 2031. Adjustable office chairs allow customers to tailor their sitting experience to their preferences, ensuring their comfort throughout the day. With proper ergonomics, you can avoid aches in the neck, shoulders, and lower back, among other types of pain caused by prolonged inactivity.
Steel Segment to be the Fastest Growing Market
The steel segment is anticipated to grow at a CAGR of approximately 8.3% in terms of revenue over the forecast period of 2023 to 2031. Numerous companies provide an extensive selection of stainless-steel outdoor seating, which simplifies the fitting requirements for residential and commercial outdoor seating. These items come in a variety of lengths, styles, finishes, diameters, qualities, and price points. Stainless steel is an alloy of carbon, iron, and other metals that is low-maintenance. Due to a thin oxide layer on its surface, chromium protects against rust and corrosion, contributing significantly to its strength.
It is anticipated that the plastic segment will have a CAGR greater than 7.5% over the forecast period. Due to the apparent increase in single-use plastic waste, there has been an increase in the use of recycled plastic from ocean waste in the production of outdoor furniture. Plastic waste production peaked in 2020 at 367 million metric tonnes and is expected to skyrocket in the coming years. As a result, numerous furniture manufacturers incorporate recycled plastic into their products in order to achieve sustainable goals.
Commercial Segment Takes the Lion's Share
In terms of revenue, the commercial segment accounted for more than 60% of the market in 2022 and is anticipated to positively influence the market expansion. As a result of the implementation of this new method of working, individuals have been prompted to create a work environment comparable to that of an office. This is anticipated to have a positive impact on the growth of the home office furniture industry in the coming years. In recent years, the number of people working from home has increased, which has increased the demand for home offices. The residential segment is expected to grow at the fastest rate over the forecast period, with a CAGR of over 8%. Strong growth in commercial and office building construction and remodeling is anticipated to increase product demand in the United States. Due to product durability and lack of innovation, replacement activities have historically played a minor role in boosting product demand. Nonetheless, as the trend toward more open, collaborative workspaces continues to grow, replacements are expected to increase significantly during the forecast period.
North America Remains as the Global Leader
In 2022, North America held the largest revenue share at 32%. In recent years, the increasing population and improved standard of living have boosted the construction industry's growth prospects in the region. In addition, the growing awareness of the impact of consumer decisions on individual health, sitting habits, and the environment are steadily driving up the demand for ergonomic chairs in the region. The Asia-Pacific region is projected to grow at a CAGR of 9.5% between 2023 and 2031. In the coming years, it is anticipated that increased investment in the construction sector and the development of smart city initiatives will generate new opportunities for the ergonomic chair market. In addition, the rising per capita income in developing Asia-Pacific nations would increase demand.
Innovation is the Key to Enhance Market Share
The market is comprised of a small number of established companies and new entrants. In order to meet consumers' growing demand for ergonomic chairs, the market's dominant players are undertaking significant efforts to introduce new varieties. In addition, showcasing their portfolios on e-commerce and online websites has become one of the core business strategies of major corporations. In order to maintain market share, market participants are diversifying their services.
Some market participants design innovative and appealing ergonomic chairs and have a large customer base, resulting in intense competition. In order to meet consumers' growing demand for ergonomic chairs, the market's dominant players are undertaking significant efforts to introduce new varieties. In addition, showcasing their portfolios on e-commerce and online websites has become one of the core business strategies of major corporations.
Numerous market participants collaborate with other market leaders in order to gain a competitive advantage. Herman Miller, Inc. and Knoll, Inc. announced today that they have entered into a definitive agreement under which Herman Miller will acquire Knoll in April 2021.
A number of companies are strengthening their partnerships with other significant industry participants in order to provide ergonomic chair furnishings. For instance, BoConcept and Haworth entered a long-term partnership in March 2021 to expand their product line.
Historical & Forecast Period
This study report represents analysis of each segment from 2021 to 2031 considering 2022 as the base year. Compounded Annual Growth Rate (CAGR) for each of the respective segments estimated for the forecast period of 2022 to 2031.
The current report comprises of quantitative market estimations for each micro market for every geographical region and qualitative market analysis such as micro and macro environment analysis, market trends, competitive intelligence, segment analysis, porters five force model, top winning strategies, top investment markets, emerging trends and technological analysis, case studies, strategic conclusions and recommendations and other key market insights.
Research Methodology
The complete research study was conducted in three phases, namely: secondary research, primary research, and expert panel review. key data point that enables the estimation of Ergonomic Chair market are as follows:
Research and development budgets of manufacturers and government spending
Revenues of key companies in the market segment
Number of end users and consumption volume, price and value.
Geographical revenues generate by countries considered in the report
Micro and macro environment factors that are currently influencing the Ergonomic Chair market and their expected impact during the forecast period.
Market forecast was performed through proprietary software that analyzes various qualitative and quantitative factors. Growth rate and CAGR were estimated through intensive secondary and primary research. Data triangulation across various data points provides accuracy across various analyzed market segments in the report. Application of both top down and bottom-up approach for validation of market estimation assures logical, methodical and mathematical consistency of the quantitative data.
ATTRIBUTE
DETAILS
Research Period
2021-2031
Base Year
2022
Forecast Period
2023-2031
Historical Year
2021
Unit
USD Million
Segmentation
Product


Swivel Chair
Adjustable Chair
Fixed Chair



Material


Plastic
Steel
Others (Vinyl, Leather, Mesh)



End-user



Region Segment (2021–2031; US$ Million)

North America

U.S.
Canada
Rest of North America

UK and European Union

UK
Germany
Spain
Italy
France
Rest of Europe

Asia Pacific

China
Japan
India
Australia
South Korea
Rest of Asia Pacific

Latin America

Brazil
Mexico
Rest of Latin America

Middle East and Africa

GCC
Africa
Rest of Middle East and Africa
Key questions answered in this report
What are the key micro and macro environmental factors that are impacting the growth of Ergonomic Chair market?
What are the key investment pockets with respect to product segments and geographies currently and during the forecast period?
Estimated forecast and market projections up to 2031.
Which segment accounts for the fastest CAGR during the forecast period?
Which market segment holds a larger market share and why?
Are low and middle-income economies investing in the Ergonomic Chair market?
Which is the largest regional market for Ergonomic Chair market?
What are the market trends and dynamics in emerging markets such as Asia Pacific, Latin America, and Middle East & Africa?
Which are the key trends driving Ergonomic Chair market growth?
Who are the key competitors and what are their key strategies to enhance their market presence in the Ergonomic Chair market worldwide?