The ferrocene market is expected to grow at a CAGR of 6% during the forecast period of 2023 to 2031. Growing environmental consciousness and stringent environmental regulations are increasing the use of fuel additives and, consequently, ferrocene market demand. The pharmaceutical industry's demand for ferrocene has increased due to its anticancer, antibacterial, and antifungal properties. The global demand for ferrocene, particularly for anti-cancer drugs, is increasing due to the growing demand for cancer treatment. It is anticipated that this will increase the global ferrocene market's revenue. Ferrocene manufacturers and suppliers, such as Tanyun and Dubi Chem, are aggressively focusing on R&D in order to meet the evolving needs of the pharmaceutical and environmental industries. To increase their market share, market leaders are emphasizing the introduction of innovative Ferrocene derivatives and following the most recent ferrocene market trends. There has been a steady increase in the number of small players concentrating on the creation of innovative products. However, there are numerous alternatives to ferrocene on the market. In order to increase their ferrocene market share and generate more revenue, manufacturers should concentrate on implementing competitive pricing strategies.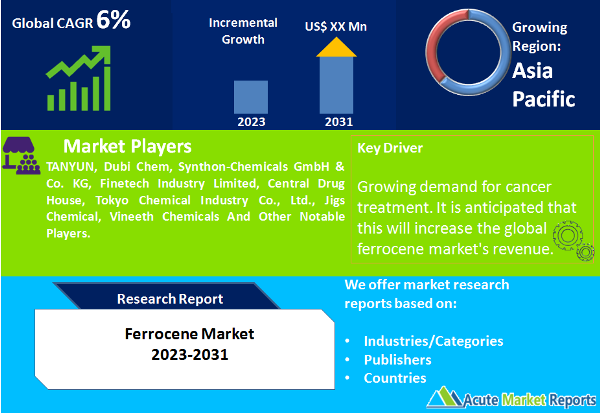 The complex molecule of the organometallic substance ferrocene contains two cyclopentadienyl rings that are bonded to an iron atom. It is an orange solid with a camphor-like odor that evaporates at temperatures above room temperature and is soluble in most organic solvents. A group of acetate has been attached to one of the cyclopentadienyl rings. An acetyl group is merely a methyl group that is covalently bonded to a carbonyl group (carbon-oxygen double bond), resulting in acetylated ferrocene. It is renowned for its durability, as it can withstand temperatures up to 400 degrees Celsius without decomposing. Ferrocene is resistant to air, water, and powerful bases. It can react reversibly with strong acids in oxidizing conditions to form ferrocenium cation Fe (C5H5). Using ethynyl ferrocene as a versatile raw material, a variety of more complex ferrocene derivatives, many of which have specialized properties, can be prepared. As a catalyst, ferrocene is utilized in carbon nanotubes and rocket propellants. Ferrocene functions as a photosensitive catalyst that promotes the photochemical degradation of plastic films and sheets. Ferrocene as a fuel catalyst for rocket (or aircraft) propellant can increase combustion speed by a factor of one to four, reduce exhaust pipe temperatures, and prevent infrared chase.
Increase In Chronic Diseases Will Drive Market Growth
Chronic diseases necessitate ongoing medical care and limit daily activities or both. Existing treatments for these diseases are plagued by drug toxicity and drug resistance. Ferrocene has numerous applications in material science, medicinal chemistry, and diagnostics, making it valuable in the field of contemporary organometallic chemistry. In addition to being a useful intermediate in the production of potential anticancer drugs, amino ferrocene is an important electron source in model photosynthetic systems.
According to the World Health Organization, cancer is the second-leading cause of death worldwide. Lung, breast, colorectal, stomach, and liver cancers, which account for nearly 92% of all cancer-related deaths, are the most lethal and prevalent cancers. In recent years, ferrocene-based compounds have gained popularity in cancer treatment due to their cost-effective synthesis and lower toxicity. However, these compounds are not abundant in nature, and the synthesis of thianes containing ferrocene is uncommon.
The increasing demand for ferrocene in the treatment of chronic diseases due to its anticancer, antimalarial, antibacterial, and antifungal properties is one of the key factors driving the global ferrocene market.
Significant Ferrocene Demand as a Fuel Additive to Drive Market Growth
Ferrocene's use as an additive to promote the smokeless combustion of fuels represents a highly lucrative potential application. Reduced ferrocene concentrations aid in preventing carbon formation. In addition, ferrocene has antiknock properties and is therefore used in spark-ignition engine fuels.
Ferrocene is accessible in both liquid and solid states. Metal-based fuel additives include aluminum, copper, iron, magnesium, and manganese, among others. Ferrocene is added to diesel fuel to increase brake thermal efficiency and reduce brake-specific fuel consumption (BSFC). In addition to having a significant effect on carbon production, ferrocene catalyzes the oxidation of soot at extremely low concentrations.
Ferrocene offers antiknock properties for use in spark-ignition engine fuels. Ferrocene is an inexpensive and miscible gasoline anti-knock performance enhancer. Ferrocene replaces lead alkyls as an antiknock additive. Ferrocene is used as a fuel additive and burn rate catalyst in propellants. It also functions as a ligand for transition metal-catalyzed reactions. Significant opportunities for manufacturers to increase their ferrocene market share have been created by developments and enhancements in the chemistry of fuel additives intended for use in diesel engines.
Powder Ferrocene is a Significant Segment of the Ferrocene Market Development
According to the segment outlook for the global ferrocene market, the powder ferrocene segment held a 62% share in 2022. Due to the high demand for powder ferrocene because of its anti-knocking properties, this segment is likely to maintain its dominance throughout the forecast period. As an antiknock additive, powder ferrocene has the opposite effect of what is required for efficient compression ignition, where rapid flame formation and propagation are essential.
By absorbing heat from the flame front, an antiknock compound would retard flame development, which is undesirable and detrimental to fuel efficiency in a heavy-duty diesel engine. This effect may cause the engine to consume more gasoline to produce the required amount of power.
APAC Remains as the Global Leader
According to the most recent regional ferrocene market data, Asia Pacific is a substantial ferrocene market. In the near future, China is anticipated to be a significant consumer of ferrocene due to its expanding automotive and pharmaceutical industries. In addition, the Asia-Pacific market is anticipated to grow at a healthy CAGR of 6% over the forecast period. Europe is an attractive market, accounting for 26% of the global ferrocene market in 2021. Germany is a key market growth driver in the region due to the country's increasing investment in the automotive industry. In 2022, Latin America and Middle East & Africa accounted for 10% and 8%, respectively, of the global ferrocene market. The escalating demand for renewable energy and the expansion of research and development efforts in Asia-Pacific and Europe are likely to propel the global ferrocene market forward.
Market to Remain Fragmented
According to the most recent analysis of the ferrocene market, a small number of large-scale vendors control the vast majority of the market share. The majority of businesses are investing significantly in extensive research and development, primarily to develop eco-friendly products. Market Expansion of Ferrocene considers product portfolios, mergers, and acquisitions to be the primary strategies adopted by dominant market participants. The market is dominated by TANYUN, Dubi Chem, Synthon-Chemicals GmbH & Co. KG, Finetech Industry Limited, Central Drug House, Tokyo Chemical Industry Co., Ltd., Jigs Chemical, and Vineeth Chemicals.
In April 2022, a team from China and Germany synthesized the closest equivalent of inorganic ferrocene in the form of a red cyclotetraphosphate iron sandwich complex.
Historical & Forecast Period
This study report represents analysis of each segment from 2021 to 2031 considering 2022 as the base year. Compounded Annual Growth Rate (CAGR) for each of the respective segments estimated for the forecast period of 2023 to 2031.
The current report comprises of quantitative market estimations for each micro market for every geographical region and qualitative market analysis such as micro and macro environment analysis, market trends, competitive intelligence, segment analysis, porters five force model, top winning strategies, top investment markets, emerging trends and technological analysis, case studies, strategic conclusions and recommendations and other key market insights.
Research Methodology
The complete research study was conducted in three phases, namely: secondary research, primary research, and expert panel review. key data point that enables the estimation of Ferrocene market are as follows:
Research and development budgets of manufacturers and government spending
Revenues of key companies in the market segment
Number of end users and consumption volume, price and value.
Geographical revenues generate by countries considered in the report
Micro and macro environment factors that are currently influencing the Ferrocene market and their expected impact during the forecast period.
Market forecast was performed through proprietary software that analyzes various qualitative and quantitative factors. Growth rate and CAGR were estimated through intensive secondary and primary research. Data triangulation across various data points provides accuracy across various analyzed market segments in the report. Application of both top down and bottom-up approach for validation of market estimation assures logical, methodical and mathematical consistency of the quantitative data.
ATTRIBUTE
DETAILS
Research Period
2021-2031
Base Year
2022
Forecast Period
2023-2031
Historical Year
2021
Unit
USD Million
Segmentation
Form


Application


Anti-Cancer Agent
Catalyst
Additive
Others



End-Use


Pharmaceutical
Automotive
Agriculture
Aerospace
Chemical
Others




Region Segment (2021-2031; US$ Million)

North America

U.S.
Canada
Rest of North America

UK and European Union

UK
Germany
Spain
Italy
France
Rest of Europe

Asia Pacific

China
Japan
India
Australia
South Korea
Rest of Asia Pacific

Latin America

Brazil
Mexico
Rest of Latin America

Middle East and Africa

GCC
Africa
Rest of Middle East and Africa
Key questions answered in this report
What are the key micro and macro environmental factors that are impacting the growth of Ferrocene market?
What are the key investment pockets with respect to product segments and geographies currently and during the forecast period?
Estimated forecast and market projections up to 2031.
Which segment accounts for the fastest CAGR during the forecast period?
Which market segment holds a larger market share and why?
Are low and middle-income economies investing in the Ferrocene market?
Which is the largest regional market for Ferrocene market?
What are the market trends and dynamics in emerging markets such as Asia Pacific, Latin America, and Middle East & Africa?
Which are the key trends driving Ferrocene market growth?
Who are the key competitors and what are their key strategies to enhance their market presence in the Ferrocene market worldwide?