The floor coatings market is expected to grow at a CAGR of 6.5% during the forecast period of 2023 to 2031, due to its role in enhancing the durability, aesthetics, and functionality of various surfaces. The Floor Coatings Market is driven by factors such as infrastructure development, aesthetics, and protection. While challenges related to surface preparation pose a restraint, the market is poised for growth due to the benefits that floor coatings offer. Established players are expected to maintain their focus on innovation and expansion to meet the evolving needs of various industries seeking durable, customizable, and efficient flooring solutions. As the market continues to evolve, floor coatings are expected to play a pivotal role in enhancing the functionality and aesthetics of diverse spaces.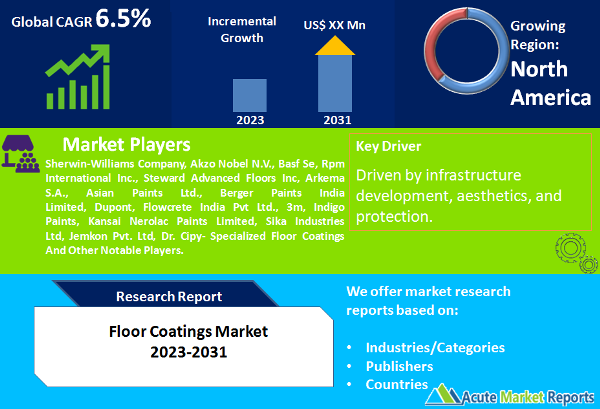 Increased Focus on Infrastructure Development
The global surge in infrastructure development projects, including residential, commercial, and industrial spaces, has fueled the demand for floor coatings. These coatings provide enhanced protection to floors, extending their lifespan and minimizing maintenance costs. In the wake of rapid urbanization and construction activities, floor coatings have become essential to safeguard surfaces from heavy foot traffic, vehicular movement, and exposure to various elements. The expansion of industries such as manufacturing, automotive, and warehousing has further contributed to the growing demand for floor coatings, as they are crucial for maintaining safe and durable workspaces.
Aesthetics and Customization
Floor coatings offer a wide range of design possibilities, allowing users to customize the appearance of floors to suit their preferences and branding needs. This versatility has garnered interest from commercial spaces, hospitality sectors, and retail establishments that prioritize creating visually appealing environments. The ability to incorporate colors, patterns, and logos into the flooring adds an element of uniqueness to spaces, enhancing their overall aesthetics and customer experience. For instance, restaurants and retail stores often use floor coatings to differentiate their spaces and create memorable atmospheres.
Protection and Longevity
Floor coatings are designed to provide an additional layer of protection against abrasion, chemicals, moisture, and other forms of damage. Industries that deal with corrosive substances or heavy machinery rely on these coatings to safeguard their floors and prevent costly repairs. The durability and longevity offered by floor coatings make them a cost-effective solution for various sectors. In industrial settings, for example, coatings can resist the impact of chemicals and heavy equipment, resulting in reduced downtime and maintenance expenses.
Surface Preparation Challenges
A notable restraint in the floor coatings market is the complexity of surface preparation before applying the coatings. Achieving optimal adhesion and performance of floor coatings requires thorough surface cleaning, repair, and profiling. Inadequate preparation can lead to issues such as delamination, uneven coatings, and reduced durability. The surface preparation process can be time-consuming, labor-intensive, and may require specific expertise and equipment. Overcoming this restraint necessitates educating end-users about the importance of proper surface preparation and providing guidance on best practices to ensure successful coating application.
Polyurethane Segment Dominates the Market by Product Type
The floor coatings market is segmented by product type into Epoxy, Polyaspartic, Polyurethane, Acrylic, and Methyl Methacrylate coatings. In 2022, the Polyurethane segment witnessed the highest revenue due to its versatility, excellent chemical resistance, and durability. However, during the forecast period of 2023 to 2031, the Polyaspartic segment is expected to achieve the highest CAGR. This growth can be attributed to the rapid curing properties of Polyaspartic coatings, reducing downtime during application and making them suitable for industries that require quick turnarounds.
Industrial Segment Dominates the Market by End-Use
The market can be segmented by end-use into Residential, Industrial, and Commercial applications. In 2022, the Industrial segment dominated the market in terms of revenue due to the extensive use of floor coatings in manufacturing plants, warehouses, and processing facilities. However, from 2023 to 2031, the Commercial segment is projected to exhibit the highest CAGR. This growth can be attributed to the increasing adoption of floor coatings in retail spaces, healthcare facilities, and hospitality establishments, where aesthetics and durability are paramount.
North America Remains as the Global Leader
In terms of geographic trends, North America held the highest revenue share in 2022, driven by the robust construction industry and the stringent regulations for workplace safety. However, the Asia-Pacific region is expected to exhibit the highest CAGR during the forecast period. This growth can be attributed to rapid urbanization, infrastructure development projects, and the expansion of manufacturing and industrial sectors in countries like China and India.
Market Competition to Intensify during the Forecast Period
Prominent players in the floor coatings market include PPG Industries, Inc., The Sherwin-Williams Company, Akzo Nobel N.V., Basf Se, Rpm International Inc., Steward Advanced Floors Inc, Arkema S.A., Asian Paints Ltd., Berger Paints India Limited, Dupont, Flowcrete India Pvt Ltd., 3m, Indigo Paints, Kansai Nerolac Paints Limited, Sika Industries Ltd, Jemkon Pvt. Ltd, and Dr. Cipy- Specialized Floor Coatings These companies offer a range of innovative floor coatings catering to different end-user requirements. Their key strategies involve continuous research and development to introduce advanced formulations, expand distribution networks, and offer comprehensive solutions that include surface preparation and application guidance. In 2022, these players collectively contributed to the market's revenue growth. As the market progresses from 2023 to 2031, these companies are expected to leverage technological advancements to develop eco-friendly and high-performance floor coatings, aligning with increasing environmental concerns and the demand for sustainable solutions.
Historical & Forecast Period
This study report represents analysis of each segment from 2021 to 2031 considering 2022 as the base year. Compounded Annual Growth Rate (CAGR) for each of the respective segments estimated for the forecast period of 2023 to 2031.
The current report comprises of quantitative market estimations for each micro market for every geographical region and qualitative market analysis such as micro and macro environment analysis, market trends, competitive intelligence, segment analysis, porters five force model, top winning strategies, top investment markets, emerging trends and technological analysis, case studies, strategic conclusions and recommendations and other key market insights.
Research Methodology
The complete research study was conducted in three phases, namely: secondary research, primary research, and expert panel review. key data point that enables the estimation of Floor Coatings market are as follows:
Research and development budgets of manufacturers and government spending
Revenues of key companies in the market segment
Number of end users and consumption volume, price and value.
Geographical revenues generate by countries considered in the report
Micro and macro environment factors that are currently influencing the Floor Coatings market and their expected impact during the forecast period.
Market forecast was performed through proprietary software that analyzes various qualitative and quantitative factors. Growth rate and CAGR were estimated through intensive secondary and primary research. Data triangulation across various data points provides accuracy across various analyzed market segments in the report. Application of both top down and bottom-up approach for validation of market estimation assures logical, methodical and mathematical consistency of the quantitative data.
ATTRIBUTE
DETAILS
Research Period
2021-2031
Base Year
2022
Forecast Period
2023-2031
Historical Year
2021
Unit
USD Million
Segmentation
Product


Epoxy
Polyaspartic
Polyurethane
Acrylic
Methyl Methacrylate



Component


Single Component
Double Component
Triple Component
Others



Application


Concrete
Wood
Terrazzo
Others



End-User


Residential
Industrial
Commercial




Region Segment (2021-2031; US$ Million)

North America

U.S.
Canada
Rest of North America

UK and European Union

UK
Germany
Spain
Italy
France
Rest of Europe

Asia Pacific

China
Japan
India
Australia
South Korea
Rest of Asia Pacific

Latin America

Brazil
Mexico
Rest of Latin America

Middle East and Africa

GCC
Africa
Rest of Middle East and Africa
Key questions answered in this report
What are the key micro and macro environmental factors that are impacting the growth of Floor Coatings market?
What are the key investment pockets with respect to product segments and geographies currently and during the forecast period?
Estimated forecast and market projections up to 2031.
Which segment accounts for the fastest CAGR during the forecast period?
Which market segment holds a larger market share and why?
Are low and middle-income economies investing in the Floor Coatings market?
Which is the largest regional market for Floor Coatings market?
What are the market trends and dynamics in emerging markets such as Asia Pacific, Latin America, and Middle East & Africa?
Which are the key trends driving Floor Coatings market growth?
Who are the key competitors and what are their key strategies to enhance their market presence in the Floor Coatings market worldwide?