Growing need to streamline day-to-day operations for curtailing overhead expenses and deliver quality care to patients are the major factors driving adoption of technologies across the healthcare domain. The use of sophisticated technologies has enabled medical community to not only adopt an efficient patient-centric approach, but also limit adverse impacts associated with the limited nursing staff and service expenses. In addition, proliferation of mobile devices and introduction of mHealth applications is collectively favoring market adoption. These factors are expected to contribute towards a compounded annual growth rate (CAGR) of 13.1% during the forecast period 2021 – 2029. However, complexity associated with the installation and use coupled with privacy issues is expected to pose moderate challenge to the market growth during the forecast period.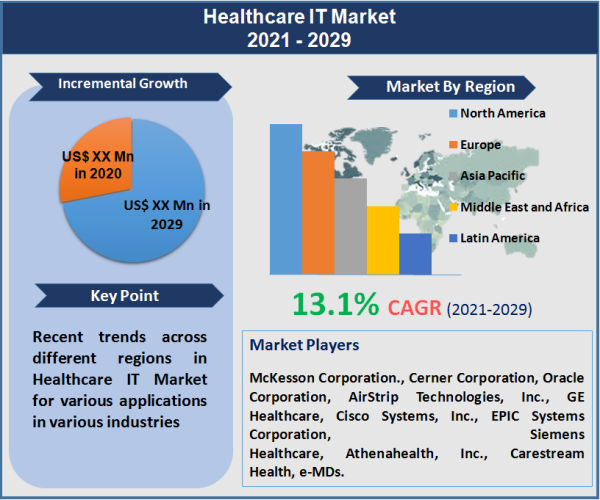 Report Scope
This report analyzes the global healthcare IT market in terms of application, component, end-user, and geography. On the basis of applications, the global healthcare IT market is segmented into electronic health record, computerized provider order entry system, electronic prescribing system, clinical information system, telemedicine and Tele-health, and others (PACS, lab information systems, etc.). Based on component, the market is classified into two major segments, namely hardware and software. Similarly, on the basis of end-use, the market for healthcare IT is segmented into providers and payers. The geographical distribution of the global healthcare IT market considered in this study encompasses regional markets such as North America, Europe, Asia Pacific, Middle East and Africa, and Latin America.
1.2 Report Description
Purpose of the Report
The purpose of this strategic research study titled "Global Healthcare IT Market - Growth, Share, Opportunities, and Competitive Analysis, 2021 – 2029" is to offer industry investors, company executives, and industry participants with in-depth insights to enable them make informed strategic decisions related to the opportunities in the global healthcare IT market.
Target Audience
Industry Investors
Connected Medical Device Manufacturers
Medical Device Manufacturers
Enterprise Platform Providers
Mobile Health Application Developers
Healthcare IT Solution Providers
End-users
USP and Key Offerings
The report titled "Global Healthcare IT Market- Growth, Share, Opportunities, and Competitive Analysis, 2021 – 2029" offers strategic insights into the global healthcare IT market along with the market size and estimates for the duration 2019 to 2029. The said research study covers in-depth analysis of multiple market segments based on end-use, application, component, and cross-sectional study across different geographies. In order to help strategic decision makers, the report also includes competitive profiling of the leading healthcare IT solution providers, their SCOT (Strength, Challenges, Opportunities, and Weaknesses) analysis, market positioning, and key developments. Other in-depth analysis provided in the report includes:
An overview of the global healthcare IT market
Current and future market trends to justify the forthcoming attractive sub-markets within the healthcare IT market
Qualitative assessment tools such as market drivers, challenges and future prospects, value chain, and attractive investment proposition.
Focus on each level of market segmentation based on product approvals, launch, and current and anticipated market dynamics.
A general overview of the industry structure
Company profiles highlighting key information about the major players operating in the global healthcare IT market
Market competition scrutiny tools such as market share analysis, fractal map, etc.
SRC (Segment-Region-Country) Analysis
Overall, the research study provides a holistic view of the global healthcare IT market, offering market size and estimates for the period from 2019 to 2029, keeping in mind the above-mentioned factors.
Historical & Forecast Period
This study report represents analysis of each segment from 2020 to 2030 considering 2021 as the base year. Compounded Annual Growth Rate (CAGR) for each of the respective segments estimated for the forecast period of 2022 to 2030.
The current report comprises of quantitative market estimations for each micro market for every geographical region and qualitative market analysis such as micro and macro environment analysis, market trends, competitive intelligence, segment analysis, porters five force model, top winning strategies, top investment markets, emerging trends and technological analysis, case studies, strategic conclusions and recommendations and other key market insights.
Research Methodology
The complete research study was conducted in three phases, namely: secondary research, primary research, and expert panel review. key data point that enables the estimation of Healthcare IT market are as follows:
Research and development budgets of manufacturers and government spending
Revenues of key companies in the market segment
Number of end users and consumption volume, price and value.
Geographical revenues generate by countries considered in the report
Micro and macro environment factors that are currently influencing the Healthcare IT market and their expected impact during the forecast period.
Market forecast was performed through proprietary software that analyzes various qualitative and quantitative factors. Growth rate and CAGR were estimated through intensive secondary and primary research. Data triangulation across various data points provides accuracy across various analyzed market segments in the report. Application of both top down and bottom-up approach for validation of market estimation assures logical, methodical and mathematical consistency of the quantitative data.
ATTRIBUTE
DETAILS
Research Period
2020-2030
Base Year
2021
Forecast Period
2022-2030
Historical Year
2020
Unit
USD Million
Segmentation
End-user


Component


Application


Electronic Health Records
Computerized Provider Order Entry Systems
Electronic Prescribing Systems
Clinical Information Systems
Telemedicine and Tele-health
Others (PACS, Lab Information Systems, etc.)




Region Segment (2020–2030; US$ Million)

North America

U.S.
Canada
Rest of North America

UK and European Union

UK
Germany
Spain
Italy
France
Rest of Europe

Asia Pacific

China
Japan
India
Australia
South Korea
Rest of Asia Pacific

Latin America

Brazil
Mexico
Rest of Latin America

Middle East and Africa

GCC
Africa
Rest of Middle East and Africa

Global Impact of Covid-19 Segment (2020-2021; US$ Million )

Pre Covid-19 situation
Post Covid-19 situation
Key questions answered in this report
What are the key micro and macro environmental factors that are impacting the growth of Healthcare IT market?
What are the key investment pockets with respect to product segments and geographies currently and during the forecast period?
Estimated forecast and market projections up to 2030.
Which segment accounts for the fastest CAGR during the forecast period?
Which market segment holds a larger market share and why?
Are low and middle-income economies investing in the Healthcare IT market?
Which is the largest regional market for Healthcare IT market?
What are the market trends and dynamics in emerging markets such as Asia Pacific, Latin America, and Middle East & Africa?
Which are the key trends driving Healthcare IT market growth?
Who are the key competitors and what are their key strategies to enhance their market presence in the Healthcare IT market worldwide?