The HVAC (Heating, Ventilation, and Air Conditioning) systems market is a vital component of modern infrastructure, ensuring comfort and air quality in residential, commercial, and industrial spaces. The HVAC systems market is expected to grow at a CAGR of 6.5% during the forecast period of 2023 to 2031. The HVAC systems market is driven by increasing demand for energy-efficient solutions, urbanization, and technological advancements. While the high initial cost remains a challenge, the market is poised for growth, with VRF systems and retrofit projects leading in terms of CAGR. The Asia-Pacific region is expected to play a significant role in the market's expansion. Leading companies are focusing on innovation, global expansion, sustainability, and digitalization to maintain their competitive edge in this dynamic industry.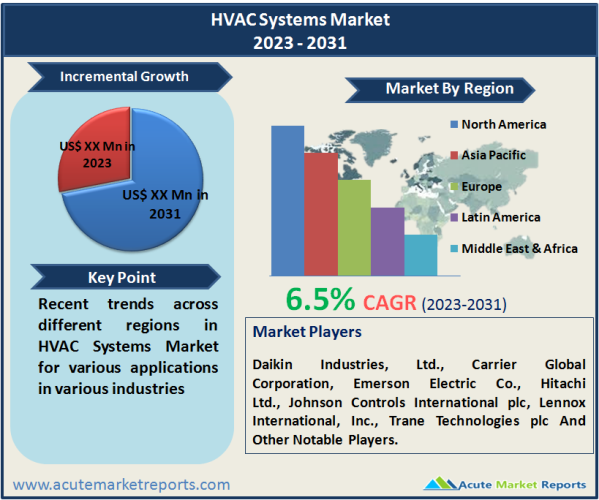 Rising Demand for Energy-Efficient Solutions
One of the primary drivers of the HVAC systems market is the increasing demand for energy-efficient solutions. As global awareness of climate change and energy conservation grows, there is a heightened emphasis on reducing energy consumption in buildings. Evidence of this trend can be observed in the implementation of stringent energy efficiency regulations and building codes worldwide. Consequently, HVAC systems equipped with advanced technologies, such as variable-speed compressors and smart controls, are gaining popularity for their ability to reduce energy consumption while maintaining indoor comfort.

Urbanization and Infrastructure Development
The ongoing trend of urbanization and infrastructure development, particularly in emerging economies, is driving the HVAC market. Rapid urbanization leads to the construction of new residential and commercial buildings, as well as the retrofitting of existing structures. These developments require efficient HVAC systems to ensure occupant comfort and productivity. Evidence of this growth can be seen in the increasing number of construction projects in urban centers and the integration of HVAC systems into smart city infrastructure.

Technological Advancements in HVAC Systems
Advancements in HVAC technology are revolutionizing the industry. Cutting-edge innovations include the integration of Internet of Things (IoT) sensors and artificial intelligence (AI) for predictive maintenance and autonomous control of HVAC systems. Evidence of this progress can be observed in the development of self-learning HVAC algorithms that optimize energy usage based on real-time data and occupant behavior. As technology continues to evolve, HVAC systems are becoming more efficient, sustainable, and user-friendly.

Restraint of the HVAC Systems Market
While the HVAC systems market presents significant growth opportunities, a significant restraint is the high initial cost of advanced HVAC solutions. Evidence of this challenge can be observed in the reluctance of some building owners and developers to invest in premium HVAC systems due to budget constraints. The upfront costs for energy-efficient and technologically advanced HVAC systems can be substantial. To address this restraint, stakeholders must emphasize the long-term cost savings and return on investment offered by these systems, as well as explore financing options and incentives to make advanced HVAC solutions more accessible.

Market Segmentation by Cooling Equipment (Unitary Air Conditioners, VRF Systems, Chillers, Room Air Conditioners, Coolers, Cooling Towers): Chillers Dominate the Market
In 2022, the highest revenue within the HVAC systems market was generated by chillers, reflecting their widespread use in commercial and industrial applications. However, during the forecast period from 2023 to 2031, variable refrigerant flow (VRF) systems are expected to exhibit the highest compound annual growth rate (CAGR). This growth is driven by their energy-efficient and flexible design, making them ideal for both new construction and retrofit projects.

Market Segmentation by Implementation Type (New Construction, Retrofit): new construction projects Dominate the Market
In 2022, new construction projects accounted for the highest revenue within the HVAC systems market, given the demand for HVAC systems in newly developed buildings. However, during the forecast period from 2023 to 2031, retrofit projects are expected to experience the highest CAGR. This shift is attributed to the increasing need to upgrade existing buildings with energy-efficient HVAC systems to meet sustainability goals and comply with stricter environmental regulations.

North America Remains as the Global Leader
Geographically, the HVAC systems market displays diverse trends. North America and Europe have traditionally held significant revenue shares due to their mature markets and stringent energy efficiency regulations. However, the Asia-Pacific region is expected to demonstrate the highest CAGR during the forecast period. This growth is driven by factors such as rapid urbanization, infrastructure development, and increasing awareness of energy conservation. The region with the highest revenue percentage in 2022 was North America, reflecting its established HVAC market. However, the Asia-Pacific region is poised to surpass North America in terms of CAGR. As urban populations expand and demand for energy-efficient solutions rises, the Asia-Pacific region presents substantial growth opportunities for HVAC systems.

Market Competition to Intensify during the Forecast Period
The HVAC systems market is highly competitive, with several key players striving to innovate and maintain their market positions. Leading companies, including Daikin Industries, Ltd., Carrier Global Corporation, Emerson Electric Co., Hitachi Ltd., Johnson Controls International plc, Lennox International, Inc. and Trane Technologies plc, employ various strategies to stay competitive in the market. Leading companies are investing in research and development to introduce innovative HVAC products that prioritize energy efficiency, sustainability, and user comfort. These innovations include smart HVAC systems, modular designs, and low-GWP (Global Warming Potential) refrigerants. Companies are expanding their global footprint through mergers, acquisitions, and partnerships to gain access to new markets and customers. This strategy allows them to diversify their customer base and strengthen their supply chain capabilities. Companies are increasingly focusing on sustainability by offering eco-friendly HVAC solutions and adopting green practices in manufacturing and operations. Sustainability efforts align with global environmental goals and appeal to environmentally conscious customers. Leading players are integrating digital technologies and IoT capabilities into their HVAC systems. This enables remote monitoring, predictive maintenance, and real-time data analytics to enhance system performance and reduce downtime.
Historical & Forecast Period
This study report represents analysis of each segment from 2021 to 2031 considering 2022 as the base year. Compounded Annual Growth Rate (CAGR) for each of the respective segments estimated for the forecast period of 2023 to 2031.
The current report comprises of quantitative market estimations for each micro market for every geographical region and qualitative market analysis such as micro and macro environment analysis, market trends, competitive intelligence, segment analysis, porters five force model, top winning strategies, top investment markets, emerging trends and technological analysis, case studies, strategic conclusions and recommendations and other key market insights.
Research Methodology
The complete research study was conducted in three phases, namely: secondary research, primary research, and expert panel review. key data point that enables the estimation of HVAC Systems market are as follows:
Research and development budgets of manufacturers and government spending
Revenues of key companies in the market segment
Number of end users and consumption volume, price and value.
Geographical revenues generate by countries considered in the report
Micro and macro environment factors that are currently influencing the HVAC Systems market and their expected impact during the forecast period.
Market forecast was performed through proprietary software that analyzes various qualitative and quantitative factors. Growth rate and CAGR were estimated through intensive secondary and primary research. Data triangulation across various data points provides accuracy across various analyzed market segments in the report. Application of both top down and bottom-up approach for validation of market estimation assures logical, methodical and mathematical consistency of the quantitative data.
ATTRIBUTE
DETAILS
Research Period
2021-2031
Base Year
2022
Forecast Period
2023-2031
Historical Year
2021
Unit
USD Million
Segmentation
Cooling Equipment


Unitary Air Conditioners
Variable Refrigerant Flow Systems (VRF)
Chillers
Room Air Conditioners
Coolers
Cooling Towers



Heating Equipment


Heat Pumps
Furnaces
Unitary Heaters
Boilers



Ventilation Equipment


Air-handling Units (AHUs)
Air Filters
Dehumidifiers
Ventilation Fans
Humidifiers
Air Purifiers



Implementation Type


New construction
Retrofit



Application


Residential
Commercial
Industrial




Region Segment (2021-2031; US$ Million)

North America

U.S.
Canada
Rest of North America

UK and European Union

UK
Germany
Spain
Italy
France
Rest of Europe

Asia Pacific

China
Japan
India
Australia
South Korea
Rest of Asia Pacific

Latin America

Brazil
Mexico
Rest of Latin America

Middle East and Africa

GCC
Africa
Rest of Middle East and Africa
Key questions answered in this report
What are the key micro and macro environmental factors that are impacting the growth of HVAC Systems market?
What are the key investment pockets with respect to product segments and geographies currently and during the forecast period?
Estimated forecast and market projections up to 2031.
Which segment accounts for the fastest CAGR during the forecast period?
Which market segment holds a larger market share and why?
Are low and middle-income economies investing in the HVAC Systems market?
Which is the largest regional market for HVAC Systems market?
What are the market trends and dynamics in emerging markets such as Asia Pacific, Latin America, and Middle East & Africa?
Which are the key trends driving HVAC Systems market growth?
Who are the key competitors and what are their key strategies to enhance their market presence in the HVAC Systems market worldwide?