The global market for kids' storage furniture is projected to expand at a CAGR of 20% during the forecast period of 2023 to 2031. In lieu of purchasing new homes, customers are increasingly engaging in home maintenance and remodeling projects as property prices rise. As a result of increased property values, homeowner equity has doubled, indicating a trend of homeowners being wealthier and more likely to invest in home repair projects. According to the online site for house remodeling Houzz, the number of the project leads for home specialists increased by 58% from June 2019 to June 2020. In addition, leading manufacturers are prioritizing the expansion of their product portfolios through the introduction of numerous new goods. As the novel coronavirus began to spread, government officials urged residents to spend as much time as possible at home. In response, schools were closed for greater periods of time and adopted a paradigm of remote learning. People grew more conscientious of their household spaces, ensuring that there is sufficient space for children to play, study, etc. This created new opportunities for the application of children's furniture. The demand for products in the household segment is being driven by the fact that manufacturers are producing items that help create an appropriate atmosphere for studying, working, playing, sleeping, or unwinding.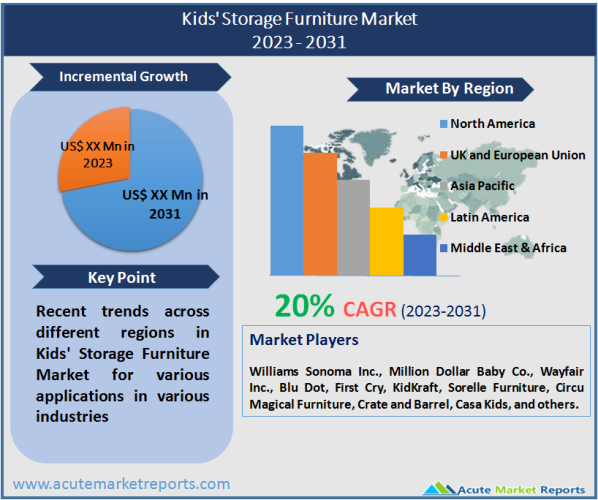 As a result of rising real estate prices, the size of homes and children's rooms are expected to alter, creating growth opportunities for firms that provide lightweight, portable, and easy-to-assemble furniture for children's rooms. In addition, the rising number of renovation projects has led to an increase in expenditures for baby rooms, playrooms, and study rooms. Parents are introducing multifunctional furniture to store clothing, books, toys, etc. in a single location. These trends are anticipated to further stimulate industrial expansion. In addition, there has been an increasing market preference for 3D-printed furniture. 3D printing is the optimal answer for consumers seeking personalized furniture that is better suited to their specific décor preferences. This sort of material is constructed faster than with conventional methods, as the technology can concretize even the most intricate designs in less time. In addition to reducing the waste of raw materials, this efficiency reduces the overall cost. Consequently, this approach is gaining favor among both customers and producers. Most manufacturers are placing a greater emphasis on producing ecologically safe children's furniture. Numerous clients prefer exterior solutions that complement the architectural types and layouts of living areas and backyards.
As a result, manufacturers are placing a greater emphasis on developing innovative, luxurious, and appealing items. In addition, firms are building internet websites to extend their industry presence in response to numerous advances. In August 2019, for instance, Ashley HomeStore worked with Delta Children to launch children's furniture exclusively on the website former. The collection comprises storage pieces, ribs, changing tables, gliders, and a variety of products suited to the needs of infants, preteens, and adolescents.
Bookshelves Dominated the Market by Type
The global industry has been subdivided into wardrobes, toy storage, bookshelves, chests, boxes & baskets, and hooks & hangers based on product type. In 2022, the bookshelves segment held a greater than 32% share of the industry. In classrooms, libraries, labs, learning areas, offices, and cafeterias, bookshelves designed to protect schoolbooks and instructional resources are utilized. Consequently, each thing has a designated location. In classes with a large number of students, shelves are regularly utilized.
Additionally, they can be utilized as standalone shelves. From 2023 to 2030, the wardrobes segment is anticipated to record the highest growth rate. Rooms with limited space necessitate the introduction of novel products, which are likely to entice more clients to purchase them, hence promoting industry expansion. Manual wardrobes are anticipated to grow in popularity due to their lower maintenance and repair costs. In addition, fast globalization and urbanization have increased the need for a comfortable and opulent lifestyle, which has increased the demand for multifunctional wardrobes.
Wood Segment Dominated the Market by Material
The global industry has been further subdivided by material into wood, metal, and plastic. In 2022, the wood material segment led the industry and accounted for more than 47.35 percent of total sales. Depending on the type of furniture, shoppers favor a variety of materials. Wood is an advantageous material among these others. This area will expand due to the growing popularity of contemporary furniture in children's rooms.
Wooden furniture can withstand heavier loads without degrading. The plastic segment is projected to have the highest CAGR during the projection period. Plastic furniture's great tensile strength and durability are the primary drivers driving the segment's expansion. The increased availability of novel furniture designs and the movement in customer preferences toward lightweight and multifunctional furniture assist to sustain the plastic children's storage furniture industry.

Offline Channel Dominating the Market by Distribution Channel
Based on distribution channels, the sector has been subdivided into offline and online segments. In 2022, the offline distribution channel segment dominated the market and contributed to more than 55% of the total revenue. Companies are also spending extensively in offering consumers with an offline shopping experience by constructing physical storefronts. For example, FirstCry is Asia's largest online store for children. It has more than 300 franchise locations in over 100 cities around India.
It is anticipated that the online category will experience the highest CAGR during the forecast period. The expansion is attributable to the increasing popularity of e-commerce platforms for shopping. In addition, the availability of a variety of products from local and international firms on online platforms is projected to improve consumer preference for online shopping. By developing online websites, manufacturers are capitalizing on a variety of market-expansion-related trends. For example, in August 2019, Ashley HomeStore teamed with Delta Children to exclusively launch children's furniture on its website.
North America Remains as the Global Leader
Geographically, the industry is subdivided into North America, Asia Pacific, the Middle East, Africa, South America, and Europe. In 2022, North America dominated the industry with a share of over 33,20%. The expansion of the regional market is fueled by the presence of significant product manufacturers, the increasing customer preference for personalized children's furniture, and the recent trend of house renovation.
Manufacturers have designed goods that help provide a conducive environment for studying, working, playing, sleeping, and resting, fueling demand for children's furniture in the region's household sector. Asia-Pacific is projected to have the highest CAGR between 2023 and 2031. Urban parents between the ages of 28 and 40 spend a significant portion of their discretionary income on high-quality furnishings and storage for their children. In addition, it has been noted that the furniture market for infants and children has undergone a rise in recent years.
Competition to Intensify during the Forecast Period
The industry is comprised of a handful of established companies and new entrants. Numerous large corporations are focusing more on growing market trends. They are diversifying their product offerings in order to preserve their market share. The key companies that are active in the market include Williams Sonoma Inc., Million Dollar Baby Co., Wayfair Inc., Blu Dot, First Cry, KidKraft, Sorelle Furniture, Circu Magical Furniture, Crate and Barrel, Casa Kids, and others.
Historical & Forecast Period
This study report represents analysis of each segment from 2021 to 2031 considering 2022 as the base year. Compounded Annual Growth Rate (CAGR) for each of the respective segments estimated for the forecast period of 2022 to 2031.
The current report comprises of quantitative market estimations for each micro market for every geographical region and qualitative market analysis such as micro and macro environment analysis, market trends, competitive intelligence, segment analysis, porters five force model, top winning strategies, top investment markets, emerging trends and technological analysis, case studies, strategic conclusions and recommendations and other key market insights.
Research Methodology
The complete research study was conducted in three phases, namely: secondary research, primary research, and expert panel review. key data point that enables the estimation of Kids' Storage Furniture market are as follows:
Research and development budgets of manufacturers and government spending
Revenues of key companies in the market segment
Number of end users and consumption volume, price and value.
Geographical revenues generate by countries considered in the report
Micro and macro environment factors that are currently influencing the Kids' Storage Furniture market and their expected impact during the forecast period.
Market forecast was performed through proprietary software that analyzes various qualitative and quantitative factors. Growth rate and CAGR were estimated through intensive secondary and primary research. Data triangulation across various data points provides accuracy across various analyzed market segments in the report. Application of both top down and bottom-up approach for validation of market estimation assures logical, methodical and mathematical consistency of the quantitative data.
ATTRIBUTE
DETAILS
Research Period
2021-2031
Base Year
2022
Forecast Period
2023-2031
Historical Year
2021
Unit
USD Million
Segmentation
Type


Wardrobes
Toy Storage
Bookshelves
Chests
Boxes & Baskets
Hooks & Hangers



Material


Distribution Channel



Region Segment (2021–2031; US$ Million)

North America

U.S.
Canada
Rest of North America

UK and European Union

UK
Germany
Spain
Italy
France
Rest of Europe

Asia Pacific

China
Japan
India
Australia
South Korea
Rest of Asia Pacific

Latin America

Brazil
Mexico
Rest of Latin America

Middle East and Africa

GCC
Africa
Rest of Middle East and Africa
Key questions answered in this report
What are the key micro and macro environmental factors that are impacting the growth of Kids' Storage Furniture market?
What are the key investment pockets with respect to product segments and geographies currently and during the forecast period?
Estimated forecast and market projections up to 2031.
Which segment accounts for the fastest CAGR during the forecast period?
Which market segment holds a larger market share and why?
Are low and middle-income economies investing in the Kids' Storage Furniture market?
Which is the largest regional market for Kids' Storage Furniture market?
What are the market trends and dynamics in emerging markets such as Asia Pacific, Latin America, and Middle East & Africa?
Which are the key trends driving Kids' Storage Furniture market growth?
Who are the key competitors and what are their key strategies to enhance their market presence in the Kids' Storage Furniture market worldwide?