The marker pen market has experienced significant growth in recent years, driven by its wide-ranging applications across various industries, including education, art, and office work. Marker pens offer convenience, versatility, and vibrant color options, making them a popular choice among consumers. The market is projected to witness continued growth, with a forecasted CAGR of 4% during the period from 2023 to 2031. Several key drivers have contributed to the market's expansion, including the growing demand for creative and artistic expression, increasing adoption in the corporate sector for presentations and brainstorming, and the availability of eco-friendly and refillable marker pens. However, the market faces a restraint in the form of increasing competition from digital alternatives.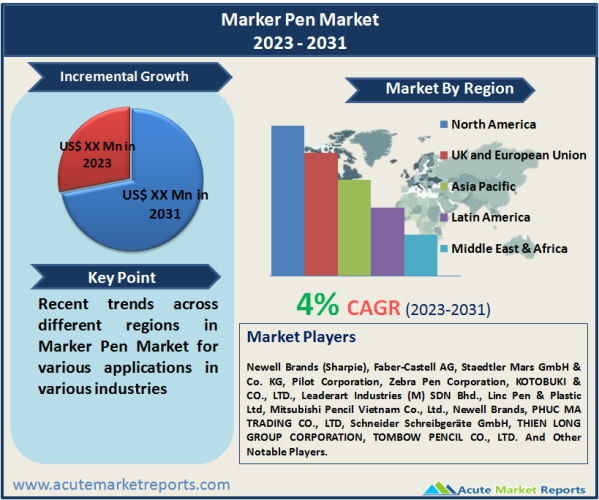 Growing Demand for Creative and Artistic Expression
The marker pen market has been fueled by the rising demand for creative and artistic expression among individuals, students, and hobbyists. Marker pens offer a wide spectrum of colors, including vibrant shades and various tip sizes, enabling users to create detailed and visually appealing artwork. The markers' ease of use, quick-drying ink, and ability to work on different surfaces, such as paper, canvas, and plastic, have made them a preferred choice for artists and illustrators. Moreover, the increasing popularity of adult coloring books and the trend of DIY crafts have further boosted the demand for marker pens in the art and craft segment.
Adoption in the Corporate Sector for Presentations and Brainstorming
In the corporate sector, marker pens have become indispensable tools for presentations, brainstorming sessions, and project planning. Their versatility in creating bold and visible marks on whiteboards and flip charts makes them ideal for collaborative work environments. The markers' non-permanent ink allows for easy erasing and modification of ideas, fostering dynamic discussions and creative problem-solving. The convenience of marker pens has led to their widespread adoption in conference rooms, classrooms, and corporate offices.
Availability of Eco-friendly and Refillable Marker Pens
With growing environmental consciousness, consumers are increasingly seeking eco-friendly and sustainable products, including marker pens. Manufacturers have responded to this demand by offering refillable marker pens made from recyclable materials. Refillable markers help reduce plastic waste, making them an eco-conscious choice for environmentally aware consumers. The availability of ink refills also translates to cost savings for users, making refillable marker pens an attractive option in the market.
Increasing Competition from Digital Alternatives
The marker pen market faces stiff competition from digital alternatives, particularly in the educational and professional sectors. With the advent of digital whiteboards, stylus pens, and touchscreen devices, some users have shifted towards digital platforms for note-taking, sketching, and presentations. Digital tools offer added functionalities, such as real-time collaboration, cloud storage, and the ability to share content digitally, which has impacted the traditional marker pen market to some extent.
Market Segmentation by Type: Non-Permanent Marker Pens Dominate the Market
The marker pen market is segmented by type into permanent and non-permanent marker pens. In 2022, the revenue generated from non-permanent marker pens dominated the market. Non-permanent marker pens, also known as dry-erase markers, are widely used in educational institutions, offices, and conference rooms. These markers feature ink that can be easily wiped off from smooth surfaces, such as whiteboards, glass, and laminated sheets. The convenience of non-permanent markers for temporary markings, note-taking, and presentations has driven their high demand and revenue generation in the market. Permanent marker pens exhibited the highest CAGR during the forecast period of 2023 to 2031. Permanent marker pens are designed to create long-lasting and indelible markings on various surfaces, including paper, plastic, metal, and wood. Their ink is resistant to fading and smudging, making them suitable for labeling, writing on packaging materials, and outdoor use. While non-permanent marker pens dominate the market in terms of revenue, permanent marker pens are expected to witness the highest CAGR during the forecast period. The applications of permanent markers in industrial and commercial settings are anticipated to drive their growth in the coming years.
Market Segmentation by Category: Refillable Marker Pens Dominate the Market
The market is further segmented by category into refillable and disposable marker pens. In 2022, refillable marker pens accounted for the highest revenue. Refillable marker pens allow users to replace the ink cartridge once it is depleted, extending the marker's lifespan. These pens are considered more cost-effective and sustainable than disposable options, as they reduce plastic waste and the need for frequent repurchasing. The cost-saving aspect and eco-friendly appeal of refillable marker pens have made them popular among environmentally-conscious consumers and cost-conscious businesses. Disposable marker pens exhibited the highest CAGR during the forecast period of 2023 to 2031. Disposable marker pens are designed for single use, and once their ink is depleted, they are discarded. These pens are convenient for one-time or short-term use, such as in events, temporary labeling, and quick note-taking. The disposable marker pens segment is expected to exhibit the highest CAGR during the forecast period, driven by their wide availability and affordable pricing, making them a preferred choice for quick and temporary writing needs.
North America Remains as the Global Leader
North America dominated the marker pen market in terms of revenue in 2022, owing to the region's extensive adoption of marker pens in education, corporate, and artistic applications. Moreover, the trend of remote learning and virtual meetings during the COVID-19 pandemic further contributed to the increased demand for marker pens in North America. The Asia-Pacific region is expected to experience the highest CAGR during the forecast period of 2023 to 2031. Factors such as the growing education sector, increasing focus on interactive teaching methods, and rapid urbanization drive the marker pen market's growth in the Asia-Pacific region.
Market Competition to Intensify During the Forecast Period
The marker pen market is highly competitive, with several key players competing for market share. Some of the top players in the market include Newell Brands (Sharpie), Faber-Castell AG, Staedtler Mars GmbH & Co. KG, Pilot Corporation, and Zebra Pen Corporation. To maintain their competitive edge, these players focus on product innovation, expanding their marker pen product lines, and strategic marketing initiatives. Additionally, they invest in research and development to improve marker pen performance and durability. As of 2022, the marker pen market has witnessed substantial growth, and these top players have capitalized on market opportunities. Looking ahead to the forecast period from 2023 to 2031, it is expected that these players will continue to dominate the market and drive its growth through continued innovation and strategic initiatives.
Historical & Forecast Period
This study report represents analysis of each segment from 2021 to 2031 considering 2022 as the base year. Compounded Annual Growth Rate (CAGR) for each of the respective segments estimated for the forecast period of 2023 to 2031.
The current report comprises of quantitative market estimations for each micro market for every geographical region and qualitative market analysis such as micro and macro environment analysis, market trends, competitive intelligence, segment analysis, porters five force model, top winning strategies, top investment markets, emerging trends and technological analysis, case studies, strategic conclusions and recommendations and other key market insights.
Research Methodology
The complete research study was conducted in three phases, namely: secondary research, primary research, and expert panel review. key data point that enables the estimation of Marker Pen market are as follows:
Research and development budgets of manufacturers and government spending
Revenues of key companies in the market segment
Number of end users and consumption volume, price and value.
Geographical revenues generate by countries considered in the report
Micro and macro environment factors that are currently influencing the Marker Pen market and their expected impact during the forecast period.
Market forecast was performed through proprietary software that analyzes various qualitative and quantitative factors. Growth rate and CAGR were estimated through intensive secondary and primary research. Data triangulation across various data points provides accuracy across various analyzed market segments in the report. Application of both top down and bottom-up approach for validation of market estimation assures logical, methodical and mathematical consistency of the quantitative data.
ATTRIBUTE
DETAILS
Research Period
2021-2031
Base Year
2022
Forecast Period
2023-2031
Historical Year
2021
Unit
USD Million
Segmentation
Type


Permanent Marker
Non-permanent Marker



Category


Tip Shape


Bold Tip
Brush Tip
Chisel Tip
Fine Tip
Bullet Tip
Double-ended Tip



Tip Thickness


Below 1 mm
1 mm to 5 mm
5 mm to 10 mm
Above 10 mm



Price


End-Use


Residential
Commercial

Corporate Offices
Educational Institutes
Others (Laboratories, Hospitals, etc.)



Distribution Channel


Online

E-commerce Websites
Company-owned Websites

Offline

Hypermarkets/Supermarkets
Stationery Stores
Other Retail Stores

Direct Sales




Region Segment (2021-2031; US$ Million)

North America

U.S.
Canada
Rest of North America

UK and European Union

UK
Germany
Spain
Italy
France
Rest of Europe

Asia Pacific

China
Japan
India
Australia
South Korea
Rest of Asia Pacific

Latin America

Brazil
Mexico
Rest of Latin America

Middle East and Africa

GCC
Africa
Rest of Middle East and Africa
Key questions answered in this report
What are the key micro and macro environmental factors that are impacting the growth of Marker Pen market?
What are the key investment pockets with respect to product segments and geographies currently and during the forecast period?
Estimated forecast and market projections up to 2031.
Which segment accounts for the fastest CAGR during the forecast period?
Which market segment holds a larger market share and why?
Are low and middle-income economies investing in the Marker Pen market?
Which is the largest regional market for Marker Pen market?
What are the market trends and dynamics in emerging markets such as Asia Pacific, Latin America, and Middle East & Africa?
Which are the key trends driving Marker Pen market growth?
Who are the key competitors and what are their key strategies to enhance their market presence in the Marker Pen market worldwide?