The global metal spring market is expected to grow at a CAGR of 5.5 %. Springs are mechanical devices that can store potential energy because of their property of elasticity. The metal spring market in 2029 is expected to reach about US$ 25 billion. Significant rise in the demand, adoption of technology, and introduction of new and customized products has accelerated the market growth. There is no alternative solution for the spring in various devices hence it proves to be the key driver for the market growth. The application in various sectors such as automobile, construction, medical, government, aerospace, agriculture, and other industrial sectors has led to high volume market revenues. The use of various alloys enables efficient functioning. The metal spring market is expected to grow with the increasing demand for automation.
Wide Range of Applications Ensure the Market Growth
There is significant growth in various sectors such as manufacturing and processing, automobile industry, agricultural instruments, constructions vehicles and devices, automotive sector, and others. The industrial sectors accounted for the largest share. Springs can be classified as fabricated products, light gauge, and heavy gauge. Spring products are found in various forms such as micro, compression, extension, torsion they are used in heavy machinery and equipment. Springs are also classified based on their size as per application and demand.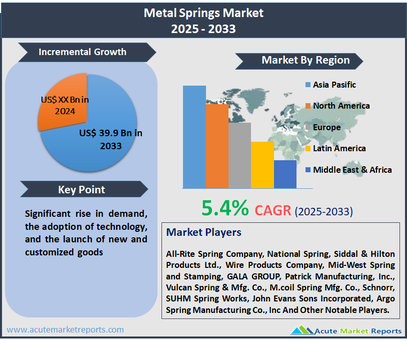 Asia Pacific is emerging
The countries such as China, Korea and India are emerging in automation across various sectors. North America and Europe are dominating other regions in the metal sector as well as metal spring market. The metal market is booming as result of industrialization and technology advancement. The metal sector has a consistent growth in the market across various regions as a parent industry and consequently the metal spring market is also growing. Innovation in alloy ensures application in new sectors and devices.
Pandemic effect on the market
The pandemic had negative impact on the economy worldwide. The government restrictions on manufacturing and transport also affected the metal spring market. Post pandemic the sales of metal springs are expected to resume across various sectors. Automobile, construction and industrial sector played vital role in ensuring growth in post pandemic period.
Key Players
Key players in the market include All-Rite Spring Company, Bridon International Ltd, National Spring, Siddal& Hilton Products Ltd, Wire Products Company, Mid-West Spring and Stamping, GALA GROUP, Argo Spring Manufacturing Co., Inc, Patrick Manufacturing, Inc, Vulcan Spring & Mfg. Co, M.coil Spring Mfg. Co, Schnorr, SUHM Spring Works. The key focus area of the companies includes ensuring growth and sustaining competition.
Historical & Forecast Period
This research report presents the analysis of each segment from 2019 to 2029 considering 2020 as the base year for the research. Compounded annual growth rate (CAGR) for each respective segment is calculated for the forecast period from 2021 to 2029.
Report Methodology
Market revenues and CAGR were derived from primary and secondary research. Both quantitative and qualitative trends were considered for extrapolation of market revenues. The derived market estimates were further validated from top down, bottom strategies and primary research. The scope of the market is limited to the following segments of product categories and region.
ATTRIBUTE
DETAILS

Research Period

2019-2029

Base Year

2020

Forecast Period

2021-2029

Historical Year

2019

Unit

USD Million

Segmentation

Type Segment (2019-2029; US$ Mn)

Helical springs
Leaf springs
Others

Material Segment (2019-2029; US$ Mn)

Carbon steel
Stainless steel
Copper
Bronze
Brass
Others

Application area Segment (2019-2029; US$ Mn)

Aerospace
Automotive
Agriculture
Medical
Others

Region type Segment (2019-2029; US$ Mn)

North America
Europe
Asia Pacific
Latin America
Africa

Global Impact of Covid-19 Segment (2020-2021; US$ Mn)

Pre Covid-19 situation
Post Covid-19 situation
Key questions answered in this report
What are the key market segments in current scenario and in the future by product categories?
What are the key market segments in current scenario and in the future by regions?
What is the key impact of Covid-19 over market revenues and market determinants in the Metal Spring market?
What are the primary and secondary macro and micro factors influencing the market growth currently and during the forecast period?
What are the primary and secondary macro and micro factors deterring the market growth currently and during the forecast period?
How to overcome the current market challenges and leverage the opportunities in each of the market segments?
Who are the key players in the Metal Spring market and what are their key product categories and strategies?
What are the key strategies – mergers/acquisitions/R&D/strategic partnerships etc that companies are deploying to enhance market revenues and growth?
TABLE 1 Market Snapshot: Global Metal Springs Market
TABLE 2 Impact Indicators
TABLE 3 Impact Analysis of Drivers and Restraints
TABLE 4 North America Metal Springs Market Revenue, By Type, 2019 - 2029 (US$ Mn)
TABLE 5 North America Metal Springs Market Revenue, By Material, 2019 - 2029 (US$ Mn)
TABLE 6 North America Metal Springs Market Revenue, By Application Area, 2019 - 2029 (US$ Mn)
TABLE 7 North America Metal Springs Market Revenue, By Country, 2019 - 2029 (US$ Mn)
TABLE 8 U.S. Metal Springs Market Revenue, By Type, 2019 - 2029 (US$ Mn)
TABLE 9 U.S. Metal Springs Market Revenue, By Material, 2019 - 2029 (US$ Mn)
TABLE 10 U.S. Metal Springs Market Revenue, By Application Area, 2019 - 2029 (US$ Mn)
TABLE 11 Rest of North America Metal Springs Market Revenue, By Type, 2019 - 2029 (US$ Mn)
TABLE 12 Rest of North America Metal Springs Market Revenue, By Application Area, 2019 - 2029 (US$ Mn)
TABLE 13 Europe Metal Springs Market Revenue, By Type, 2019 - 2029 (US$ Mn)
TABLE 14 Europe Metal Springs Market Revenue, By Material, 2019 - 2029 (US$ Mn)
TABLE 15 Europe Metal Springs Market Revenue, By Application Area, 2019 - 2029 (US$ Mn)
TABLE 16 Europe Metal Springs Market Revenue, By Country, 2019 - 2029 (US$ Mn)
TABLE 17 U.K. Metal Springs Market Revenue, By Type, 2019 - 2029 (US$ Mn)
TABLE 18 U.K. Metal Springs Market Revenue, By Material, 2019 - 2029 (US$ Mn)
TABLE 19 U.K. Metal Springs Market Revenue, By Application Area, 2019 - 2029 (US$ Mn)
TABLE 20 France Metal Springs Market Revenue, By Type, 2019 - 2029 (US$ Mn)
TABLE 21 France Metal Springs Market Revenue, By Material, 2019 - 2029 (US$ Mn)
TABLE 22 France Metal Springs Market Revenue, By Application Area, 2019 - 2029 (US$ Mn)
TABLE 23 Germany Metal Springs Market Revenue, By Type, 2019 - 2029 (US$ Mn)
TABLE 24 Germany Metal Springs Market Revenue, By Material, 2019 - 2029 (US$ Mn)
TABLE 25 Germany Metal Springs Market Revenue, By Application Area, 2019 - 2029 (US$ Mn)
TABLE 26 Rest of Europe Metal Springs Market Revenue, By Type, 2019 - 2029 (US$ Mn)
TABLE 27 Rest of Europe Metal Springs Market Revenue, By Material, 2019 - 2029 (US$ Mn)
TABLE 28 Rest of Europe Metal Springs Market Revenue, By Application Area, 2019 - 2029 (US$ Mn)
TABLE 29 Asia Pacific Metal Springs Market Revenue, By Type, 2019 - 2029 (US$ Mn)
TABLE 30 Asia Pacific Metal Springs Market Revenue, By Material, 2019 - 2029 (US$ Mn)
TABLE 31 Asia Pacific Metal Springs Market Revenue, By Application Area, 2019 - 2029 (US$ Mn)
TABLE 32 Asia Pacific Metal Springs Market Revenue, By Country, 2019 - 2029 (US$ Mn)
TABLE 33 China Metal Springs Market Revenue, By Type, 2019 - 2029 (US$ Mn)
TABLE 34 China Metal Springs Market Revenue, By Material, 2019 - 2029 (US$ Mn)
TABLE 35 China Metal Springs Market Revenue, By Application Area, 2019 - 2029 (US$ Mn)
TABLE 36 Japan Metal Springs Market Revenue, By Type, 2019 - 2029 (US$ Mn)
TABLE 37 Japan Metal Springs Market Revenue, By Material, 2019 - 2029 (US$ Mn)
TABLE 38 Japan Metal Springs Market Revenue, By Application Area, 2019 - 2029 (US$ Mn)
TABLE 39 India Metal Springs Market Revenue, By Type, 2019 - 2029 (US$ Mn)
TABLE 40 India Metal Springs Market Revenue, By Material, 2019 - 2029 (US$ Mn)
TABLE 41 India Metal Springs Market Revenue, By Application Area, 2019 - 2029 (US$ Mn)
TABLE 42 Rest of Asia Pacific Metal Springs Market Revenue, By Type, 2019 - 2029 (US$ Mn)
TABLE 43 Rest of Asia Pacific Metal Springs Market Revenue, By Material, 2019 - 2029 (US$ Mn)
TABLE 44 Rest of Asia Pacific Metal Springs Market Revenue, By Application Area, 2019 - 2029 (US$ Mn)
TABLE 45 Rest of World Metal Springs Market Revenue, By Type, 2019 - 2029 (US$ Mn)
TABLE 46 Rest of World Metal Springs Market Revenue, By Material, 2019 - 2029 (US$ Mn)
TABLE 47 Rest of World Metal Springs Market Revenue, By Application Area, 2019 - 2029 (US$ Mn)
TABLE 48 Rest of World Metal Springs Market Revenue, By Region, 2019 - 2029 (US$ Mn)
TABLE 49 Latin America Metal Springs Market Revenue, By Type, 2019 - 2029 (US$ Mn)
TABLE 50 Latin America Metal Springs Market Revenue, By Material, 2019 - 2029 (US$ Mn)
TABLE 51 Latin America Metal Springs Market Revenue, By Application Area, 2019 - 2029 (US$ Mn)
TABLE 52 Middle-East and Africa Metal Springs Market Revenue, By Type, 2019 - 2029 (US$ Mn)
TABLE 53 Middle-East and Africa Metal Springs Market Revenue, By Material, 2019 - 2029 (US$ Mn)
TABLE 54 Middle-East and Africa Metal Springs Market Revenue, By Application Area, 2019 - 2029 (US$ Mn)
TABLE 55 All-Rite Spring Company.: Company Snapshot (Company Details, Geographical Presence, Product Portfolio, Recent Developments)
TABLE 56 Bridon International Ltd.: Company Snapshot (Company Details, Geographical Presence, Product Portfolio, Recent Developments)
TABLE 57 National Spring.: Company Snapshot (Company Details, Geographical Presence, Product Portfolio, Recent Developments)
TABLE 58 Siddal& Hilton Products Ltd.: Company Snapshot (Company Details, Geographical Presence, Product Portfolio, Recent Developments)
TABLE 59 Wire Products Company.: Company Snapshot (Company Details, Geographical Presence, Product Portfolio, Recent Developments)
TABLE 60 Mid-West Spring and Stamping.: Company Snapshot (Company Details, Geographical Presence, Product Portfolio, Recent Developments)
TABLE 61 GALA GROUP.: Company Snapshot (Company Details, Geographical Presence, Product Portfolio, Recent Developments)
TABLE 62 Argo Spring Manufacturing Co.: Company Snapshot (Company Details, Geographical Presence, Product Portfolio, Recent Developments)
TABLE 63 Patrick Manufacturing, Inc.: Company Snapshot (Company Details, Geographical Presence, Product Portfolio, Recent Developments)
TABLE 64 Vulcan Spring & Mfg. Co.: Company Snapshot (Company Details, Geographical Presence, Product Portfolio, Recent Developments)
TABLE 65 M.coil Spring Mfg. Co.: Company Snapshot (Company Details, Geographical Presence, Product Portfolio, Recent Developments)
TABLE 66 Schnorr.: Company Snapshot (Company Details, Geographical Presence, Product Portfolio, Recent Developments)
TABLE 67 SUHM Spring Works.: Company Snapshot (Company Details, Geographical Presence, Product Portfolio, Recent Developments)