The global micro irrigation market is expected to grow at a CAGR of 18.1% during the forecast period of 2022 to 2030. There are large number of factors driving the micro irrigation market such as large range of benefits provided by the micro irrigation system such as high degree of uniformity provided by the system, excellent performance in irregular terrain, simple installation and use etc. North America shares the largest pie of the global micro irrigation system market; Although APAC is expected to be the fastest growing region.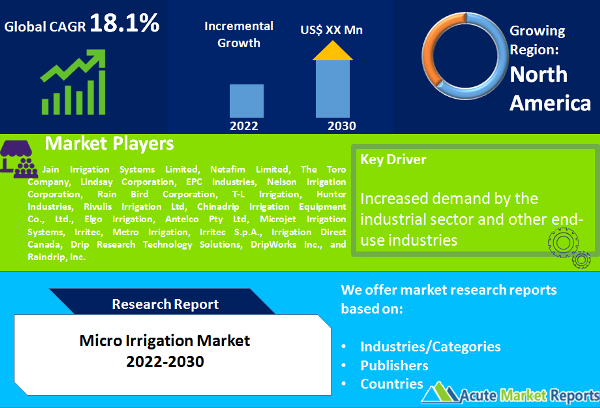 Micro Irrigation Addresses Current Need of the Hour by effective Utilization of Waste Water
As the populations grow, the burden to local streams and rivers is also on its rise. Reusing the wastewater for irrigating land can help to protect precious surface water resources by preventing pollution as well as conserving potable water for other uses. Another benefit of applying wastewater for irrigation is that the soil provides additional treatment through naturally occurring biological, physical and chemical processes. Micro-irrigation with the help of wastewater helps in adding nutrients and minerals to soil that are proved to be good for plants, and on the other hand it also helps to replenish groundwater resources. Micro irrigation techniques sometimes are permitted as an alternative wastewater disposal method for areas with slowly permeable soils, shallow soils, or complex topographies. In region having arid climates such as in New Mexico, Arizona, and parts of California, for example, or the regions where the demand for water exceed then its supply, as it is in various parts of Florida, many farms and businesses could not afford to use much amount of the water supply without reusing wastewater. In Hawaii, treated wastewater is used to irrigate sugar cane and pineapples in order to save money and conserve fresh water for other uses.
Micro-sprinklers Takes Lion's Share of Market Revenues
The micro-irrigation system is an approach that keeps the use of water at minimum level in agriculture. The various techniques that are mainly used in the micro-irrigation system are micro-sprayers/sprinklers, bubblers, drippers and drip tubing. Amongst all, micro-sprinklers dominate the market in the functioning segment by holding a market share of 69.80% in 2021. Micro irrigation saves fertilizer and water. Governments of various regions across the globe are investing in the micro irrigation technology. Also, the capability of the technology to use the waste water is expected to be one of the prime opportunities for the industry in the coming times. These irrigation systems also play a vital role in increasing the yield of the fields.
Field Crops Generate the Largest Revenues, While Orchards Promise Long Term Opportunities
Micro-Irrigation System is mainly used in various field crops, plantations, forage and turf grasses and also in orchard crops. The main aim to apply this technique is to increase the crops yields also with proper usage of water. Field crops dominate the micro-irrigation system market in crop type segment by holding the market share of 40% in 2021. Orchards crops are expected to be the fastest growing segment with a CAGR of 20.4% during the forecast period of 2022 to 2030.
NA Accounts to Highest Revenues, while APAC Accounts to The Fastest Growth
North America remains as the largest market during the base year 2021 and all through the forecast period. Micro irrigation is the fastest growing irrigation system in the U.S. APAC is the fastest growing region in the world for the global micro irrigation market. The APAC market is growing with a CAGR of 23.7% for the forecasted period 2022-2030. The APAC region is majorly dominated by India and China. India is the leader across the globe in irrigation as India is known for its agriculture across the world. In India 60% of total irrigation is done by ground water resources which accounts to approx. 39 million hectares. The growth in APAC region is majorly dominated by increasing population, and the increasing prevalence of micro irrigation system to fight with the water scarcity problem and enhance the yield capacity of crops.
Product Innovation and Quality Remains as the Key Buying Criteria
The research concludes that Quality remains as the prime priority of the suppliers. Generally, manufacturers tend to finalize suppliers possessing good track record in quality assurance and on-time delivery. Suppliers with qualified R&D teams and quality of work are on prime demand. Top winning strategies in the market include product launch, expansions and technological agreements. Key players include Jain Irrigation Systems Limited (India), Netafim Limited (Israel), The Toro Company (US), Lindsay Corporation (US), EPC Industries (India), Nelson Irrigation Corporation (US), Rain Bird Corporation (US), T-L Irrigation (US), Hunter Industries (US), Rivulis Irrigation Ltd (Israel), Chinadrip Irrigation Equipment Co., Ltd. (China), Elgo Irrigation (Israel), Antelco Pty Ltd (Australia), Microjet Irrigation Systems (South Africa), Irritec (US), Metro Irrigation (India), Irritec S.p.A. (Italy), Irrigation Direct Canada (Canada), Drip Research Technology Solutions (Turkey), DripWorks Inc. (US), and Raindrip, Inc. (US) and others.
Historical & Forecast Period
This study report represents analysis of each segment from 2020 to 2030 considering 2021 as the base year. Compounded Annual Growth Rate (CAGR) for each of the respective segments estimated for the forecast period of 2022 to 2030.
The current report comprises of quantitative market estimations for each micro market for every geographical region and qualitative market analysis such as micro and macro environment analysis, market trends, competitive intelligence, segment analysis, porters five force model, top winning strategies, top investment markets, emerging trends and technological analysis, case studies, strategic conclusions and recommendations and other key market insights.
Research Methodology
The complete research study was conducted in three phases, namely: secondary research, primary research, and expert panel review. key data point that enables the estimation of Micro Irrigation market are as follows:
Research and development budgets of manufacturers and government spending
Revenues of key companies in the market segment
Number of end users and consumption volume, price and value.
Geographical revenues generate by countries considered in the report
Micro and macro environment factors that are currently influencing the Micro Irrigation market and their expected impact during the forecast period.
Market forecast was performed through proprietary software that analyzes various qualitative and quantitative factors. Growth rate and CAGR were estimated through intensive secondary and primary research. Data triangulation across various data points provides accuracy across various analyzed market segments in the report. Application of both top down and bottom-up approach for validation of market estimation assures logical, methodical and mathematical consistency of the quantitative data.
ATTRIBUTE
DETAILS
Research Period
2020-2030
Base Year
2021
Forecast Period
2022-2030
Historical Year
2020
Unit
USD Million
Segmentation
Functioning


Micro-Sprayers/Sprinklers
Micro-Bubblers
Drippers
Drip Tubing



Crop Type


Fields Micro Irrigation System
Plantation Micro Irrigation System
Forage and Turf Grasses Micro Irrigation System
Orchard Crops Micro Irrigation System




Region Segment (2020–2030; US$ Million)

North America

U.S.
Canada
Rest of North America

UK and European Union

UK
Germany
Spain
Italy
France
Rest of Europe

Asia Pacific

China
Japan
India
Australia
South Korea
Rest of Asia Pacific

Latin America

Brazil
Mexico
Rest of Latin America

Middle East and Africa

GCC
Africa
Rest of Middle East and Africa

Global Impact of Covid-19 Segment (2020-2021; US$ Million )

Pre Covid-19 situation
Post Covid-19 situation
Key questions answered in this report
What are the key micro and macro environmental factors that are impacting the growth of Micro Irrigation market?
What are the key investment pockets with respect to product segments and geographies currently and during the forecast period?
Estimated forecast and market projections up to 2030.
Which segment accounts for the fastest CAGR during the forecast period?
Which market segment holds a larger market share and why?
Are low and middle-income economies investing in the Micro Irrigation market?
Which is the largest regional market for Micro Irrigation market?
What are the market trends and dynamics in emerging markets such as Asia Pacific, Latin America, and Middle East & Africa?
Which are the key trends driving Micro Irrigation market growth?
Who are the key competitors and what are their key strategies to enhance their market presence in the Micro Irrigation market worldwide?