The polyurea coatings market is on track to experience remarkable growth, with an expected CAGR of 9.5% during the forecast period from 2023 to 2031. This growth is attributed to a convergence of factors that have shaped the market landscape. The market for polyurea coatings has witnessed substantial expansion due to its superior protective properties, increasing demand in various industries, and advancements in application technology. However, environmental concerns and fluctuating raw material prices pose challenges to sustained market growth. Collaborative efforts between industry stakeholders and regulatory bodies are crucial to address these challenges and ensure the continued utilization of polyurea coatings as a versatile protective solution across diverse applications.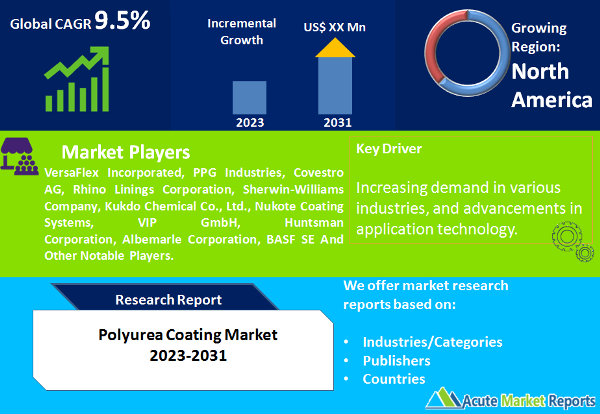 Superior Protective Properties
Polyurea coatings have gained significant traction due to their exceptional protective properties. These coatings offer a seamless, waterproof, and highly durable barrier against corrosion, abrasion, chemicals, and extreme weather conditions. The ability of polyurea coatings to provide rapid curing and seamless application makes them an attractive choice for protective coatings in industrial, commercial, and residential settings.
Diverse Industry Demand
The growing demand for polyurea coatings across a wide range of industries has fueled market expansion. Industries such as construction, automotive, infrastructure, marine, and oil & gas rely on polyurea coatings to enhance the longevity and performance of their assets. In the construction sector, polyurea coatings are used for waterproofing, floor protection, and concrete repair. Similarly, the automotive industry utilizes polyurea coatings for corrosion protection and aesthetics.
Advancements in Application Technology
Technological advancements in polyurea application techniques have contributed to market growth. Innovative spray equipment and formulation techniques have streamlined the application process, enabling precise and efficient coating deployment. These advancements have led to increased adoption of polyurea coatings by industries seeking enhanced protection without compromising on application speed and accuracy.
Environmental Impact to Constrain the Market Growth
One significant restraint in the polyurea coatings market is the environmental impact associated with some formulation components. While polyurea coatings are known for their durability and protective properties, certain formulations may contain isocyanates, which can be hazardous to health and the environment. Proper handling, application, and disposal measures are required to minimize potential risks. Additionally, the fluctuating prices of raw materials used in polyurea coatings formulations can affect production costs and pricing strategies.
Market Segmentation by Type: Pure Polyurea Coatings Dominates the Market
The polyurea coatings market is segmented by type, categorizing coatings based on their specific attributes and applications. In 2022, pure polyurea coatings generated the highest revenue, driven by their superior chemical resistance, elongation properties, and rapid curing times. Pure polyurea coatings are widely used in industrial, marine, and infrastructure applications due to their ability to provide robust protection against harsh conditions. However, during the forecast period of 2023 to 2031, hybrid polyurea coatings are expected to exhibit the highest CAGR. Hybrid formulations, combining polyurea with other polymers, offer enhanced flexibility, adhesion, and UV resistance, making them suitable for applications where a balance between protection and aesthetics is crucial.
Market Segmentation by Application: Construction Industry Dominates the Market
The polyurea coatings market is further segmented by application, highlighting the diverse uses of polyurea coatings across various industries. In 2022, the construction industry dominated the market in terms of revenue, utilizing polyurea coatings for waterproofing, roof coatings, and concrete protection. The ability of polyurea coatings to provide seamless and long-lasting protection in construction applications has contributed to their widespread adoption. Additionally, the automotive and marine industries have showcased significant demand for polyurea coatings, driven by their corrosion-resistant properties and aesthetic appeal.
North America Remains as the Global Leader
North America: North America led the polyurea coatings market in terms of revenue in 2022. The region's dominance is attributed to its robust industrial and infrastructure sectors, where polyurea coatings are extensively used for corrosion protection, waterproofing, and concrete repair. Additionally, stringent environmental regulations and growing awareness about protective coatings contribute to market growth in North America. Europe is another significant player in the polyurea coatings market, with countries like Germany, France, and the United Kingdom at the forefront. The region's emphasis on sustainable construction practices and increasing infrastructure investments has driven the demand for polyurea coatings. The Asia-Pacific region is poised to experience the highest CAGR during the forecast period of 2023 to 2031. Rapid urbanization, industrialization, and infrastructure development in countries like China, India, and Southeast Asian nations are fueling the adoption of polyurea coatings. Latin America is witnessing increased adoption of polyurea coatings, particularly in the construction and automotive sectors. The region's focus on improving infrastructure and urban development contributes to market growth. The Middle East & Africa region is also showcasing growing demand for polyurea coatings, driven by expanding construction projects and the need for protective coatings in extreme weather conditions.
Market Competition to Intensify during the Forecast Period
The polyurea coatings market features active participation from key players striving to enhance their market presence. Top companies in this market include VersaFlex Incorporated, PPG Industries, Covestro AG, Rhino Linings Corporation, and others. Companies are investing in research and development to introduce advanced formulations that address specific industry needs. Focus on enhancing protective properties, durability, and environmental sustainability is driving innovation. Collaborations between manufacturers, application equipment suppliers, and end-users facilitate technology exchange and foster the development of optimized application processes. Market players are expanding their geographic presence through partnerships, acquisitions, and distribution agreements to tap into emerging markets and capitalize on growing demand. Companies are actively engaging with customers through training programs, seminars, and workshops to educate them about the benefits of polyurea coatings and proper application techniques.
Historical & Forecast Period
This study report represents analysis of each segment from 2021 to 2031 considering 2022 as the base year. Compounded Annual Growth Rate (CAGR) for each of the respective segments estimated for the forecast period of 2023 to 2031.
The current report comprises of quantitative market estimations for each micro market for every geographical region and qualitative market analysis such as micro and macro environment analysis, market trends, competitive intelligence, segment analysis, porters five force model, top winning strategies, top investment markets, emerging trends and technological analysis, case studies, strategic conclusions and recommendations and other key market insights.
Research Methodology
The complete research study was conducted in three phases, namely: secondary research, primary research, and expert panel review. key data point that enables the estimation of Polyurea Coatings market are as follows:
Research and development budgets of manufacturers and government spending
Revenues of key companies in the market segment
Number of end users and consumption volume, price and value.
Geographical revenues generate by countries considered in the report
Micro and macro environment factors that are currently influencing the Polyurea Coatings market and their expected impact during the forecast period.
Market forecast was performed through proprietary software that analyzes various qualitative and quantitative factors. Growth rate and CAGR were estimated through intensive secondary and primary research. Data triangulation across various data points provides accuracy across various analyzed market segments in the report. Application of both top down and bottom-up approach for validation of market estimation assures logical, methodical and mathematical consistency of the quantitative data.
ATTRIBUTE
DETAILS
Research Period
2021-2031
Base Year
2022
Forecast Period
2023-2031
Historical Year
2021
Unit
USD Million
Segmentation
Raw Material


Aromatic-based
Aliphatic-based



Type


Technology


Spraying
Pouring
Hand Mixing



End-Use


Building & Construction
Transportation
Industrial
Landscape




Region Segment (2021-2031; US$ Million)

North America

U.S.
Canada
Rest of North America

UK and European Union

UK
Germany
Spain
Italy
France
Rest of Europe

Asia Pacific

China
Japan
India
Australia
South Korea
Rest of Asia Pacific

Latin America

Brazil
Mexico
Rest of Latin America

Middle East and Africa

GCC
Africa
Rest of Middle East and Africa
Key questions answered in this report
What are the key micro and macro environmental factors that are impacting the growth of Polyurea Coatings market?
What are the key investment pockets with respect to product segments and geographies currently and during the forecast period?
Estimated forecast and market projections up to 2031.
Which segment accounts for the fastest CAGR during the forecast period?
Which market segment holds a larger market share and why?
Are low and middle-income economies investing in the Polyurea Coatings market?
Which is the largest regional market for Polyurea Coatings market?
What are the market trends and dynamics in emerging markets such as Asia Pacific, Latin America, and Middle East & Africa?
Which are the key trends driving Polyurea Coatings market growth?
Who are the key competitors and what are their key strategies to enhance their market presence in the Polyurea Coatings market worldwide?