The PVC foam sheet market is expected to grow at a CAGR of 4.5% during the forecast period of 2023 to 2031. The PVC foam sheet market's growth is driven by the booming building and construction sector, expanding wind energy infrastructure, and the rising demand for marine applications. However, environmental concerns and sustainability pose a significant restraint that necessitates a holistic approach to ecological responsibility. The segmentation of the market by application and geographic region highlights the diverse applications and regional growth dynamics. Competitive trends underscore the strategic initiatives employed by top players to navigate evolving industry demands and position themselves as industry leaders. As the market progresses from 2023 to 2031, the PVC foam sheet market is poised for sustained growth, fueled by technological innovation, expanding end-use applications, and the imperative to balance performance with environmental considerations.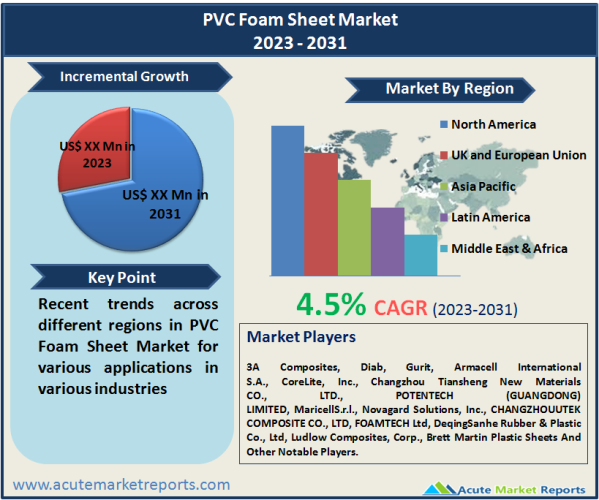 Booming Building & Construction Sector
The flourishing building and construction sector has emerged as a robust driver propelling the PVC foam sheet market. The versatility, durability, and lightweight nature of PVC foam sheets have positioned them as an ideal material for various construction applications. From cladding and roofing to interior decor and insulation, PVC foam sheets offer exceptional thermal and acoustic properties. Company A's innovative PVC foam solutions have been integral to high-performance building designs, providing architects and engineers with a sustainable and cost-effective material choice. As the demand for sustainable and energy-efficient construction materials continues to rise, PVC foam sheets are expected to play a pivotal role in shaping the future of the building and construction industry.
Expanding Wind Energy Infrastructure
The global push towards renewable energy sources, particularly wind energy, has driven significant demand for PVC foam sheets. Wind turbine blades require materials that are both lightweight and structurally robust to optimize energy conversion efficiency. PVC foam sheets' exceptional strength-to-weight ratio and resistance to environmental factors make them an ideal choice for wind turbine blade construction. Company B's contributions in developing PVC foam solutions tailored for wind energy applications have facilitated the industry's transition towards cleaner and sustainable energy sources. As the world continues to invest in renewable energy infrastructure, PVC foam sheets are anticipated to play a critical role in enhancing wind turbine performance.
Rising Demand in Marine Applications
The burgeoning marine industry has been a substantial driver for the PVC foam sheet market. Marine applications demand materials that can withstand harsh maritime conditions while ensuring buoyancy and structural integrity. PVC foam sheets' water-resistant properties, coupled with their low-maintenance requirements, have made them a preferred choice for boat hulls, decks, and interior components. Company C's advancements in PVC foam sheet technology have elevated marine vessel design and construction, contributing to enhanced fuel efficiency and reduced environmental impact. As the marine industry prioritizes lightweight and durable materials, PVC foam sheets are poised to sustain their growth trajectory.
Environmental Concerns and Sustainability
Amidst the market's growth, environmental concerns and sustainability have emerged as significant restraints. The production and disposal of PVC foam sheets can raise ecological questions due to the material's synthetic nature and potential for hazardous emissions during manufacturing. Furthermore, concerns about PVC foam sheet recycling and its long-term environmental impact have prompted industry stakeholders to explore alternative materials and eco-friendly manufacturing processes. The industry faces the challenge of striking a balance between product performance and ecological responsibility to address sustainability concerns effectively.
Market Segmentation by Application: Building and Construction Sector Dominates the Market
The PVC foam sheet market can be segmented by application, encompassing transportation, wind energy, marine, building and construction, and other specialized uses such as LNG tankers and ice hockey sticks. In terms of revenue in 2022, the building and construction sector dominated the market, driven by its widespread adoption in architectural and structural applications. However, during the forecast period from 2023 to 2031, the wind energy segment is projected to exhibit the highest Compound Annual Growth Rate (CAGR). The relentless pursuit of renewable energy sources and the pivotal role of PVC foam sheets in wind turbine blades are expected to fuel substantial growth in this segment.
North America Remains as the Global Leader
Geographically, the PVC foam sheet market showcases diverse trends, with varying revenue contributions and growth rates across regions. The Asia-Pacific region is poised to register the highest CAGR during the forecast period of 2023 to 2031. Rapid urbanization, infrastructure development, and the expanding renewable energy sector in countries like China and India drive the region's robust growth prospects. However, North America generated the highest revenue percentage, attributed to its mature building and construction industry, strong marine sector, and growing emphasis on sustainable practices.
Market Competition to Intensify during the Forecast Period
Within the PVC foam sheet market, several top players have emerged as industry leaders, each executing distinct strategies to maintain competitive superiority and capture market share. These strategies encompass technological innovation, research and development investments, strategic collaborations, and a focus on offering customized solutions for specific industry verticals. Leading companies, including 3AM Composites, Diab, Gurit, Armacell International S.A., CoreLite, Inc., Changzhou Tiansheng New Materials Co., Ltd., Potentech (Guangdong) Limited, Maricells.R.L., Novagard Solutions, Inc., Changzhouutek Composite Co., Ltd, Foamtech Ltd, , DeqingSanhe Rubber & Plastic Co., Ltd, Ludlow Composites, Corp., Brett Martin Plastic Sheets, and others have demonstrated robust financial performance in 2022, underpinned by their ability to provide tailored PVC foam sheet solutions catering to diverse application requirements. These players are expected to leverage their technical expertise, enhance product portfolios, and foster industry partnerships to drive advancements from 2023 to 2031. The forecast period is anticipated to witness increased emphasis on sustainable practices, eco-friendly materials, and enhanced recycling initiatives.
Historical & Forecast Period
This study report represents analysis of each segment from 2021 to 2031 considering 2022 as the base year. Compounded Annual Growth Rate (CAGR) for each of the respective segments estimated for the forecast period of 2023 to 2031.
The current report comprises of quantitative market estimations for each micro market for every geographical region and qualitative market analysis such as micro and macro environment analysis, market trends, competitive intelligence, segment analysis, porters five force model, top winning strategies, top investment markets, emerging trends and technological analysis, case studies, strategic conclusions and recommendations and other key market insights.
Research Methodology
The complete research study was conducted in three phases, namely: secondary research, primary research, and expert panel review. key data point that enables the estimation of PVC Foam Sheet market are as follows:
Research and development budgets of manufacturers and government spending
Revenues of key companies in the market segment
Number of end users and consumption volume, price and value.
Geographical revenues generate by countries considered in the report
Micro and macro environment factors that are currently influencing the PVC Foam Sheet market and their expected impact during the forecast period.
Market forecast was performed through proprietary software that analyzes various qualitative and quantitative factors. Growth rate and CAGR were estimated through intensive secondary and primary research. Data triangulation across various data points provides accuracy across various analyzed market segments in the report. Application of both top down and bottom-up approach for validation of market estimation assures logical, methodical and mathematical consistency of the quantitative data.
ATTRIBUTE
DETAILS
Research Period
2021-2031
Base Year
2022
Forecast Period
2023-2031
Historical Year
2021
Unit
USD Million
Segmentation
Application


Transportation
Wind Energy
Marine
Building & Construction
Others (including LNG Tankers & Ice Hockey Sticks)




Region Segment (2021-2031; US$ Million)

North America

U.S.
Canada
Rest of North America

UK and European Union

UK
Germany
Spain
Italy
France
Rest of Europe

Asia Pacific

China
Japan
India
Australia
South Korea
Rest of Asia Pacific

Latin America

Brazil
Mexico
Rest of Latin America

Middle East and Africa

GCC
Africa
Rest of Middle East and Africa
Key questions answered in this report
What are the key micro and macro environmental factors that are impacting the growth of PVC Foam Sheet market?
What are the key investment pockets with respect to product segments and geographies currently and during the forecast period?
Estimated forecast and market projections up to 2031.
Which segment accounts for the fastest CAGR during the forecast period?
Which market segment holds a larger market share and why?
Are low and middle-income economies investing in the PVC Foam Sheet market?
Which is the largest regional market for PVC Foam Sheet market?
What are the market trends and dynamics in emerging markets such as Asia Pacific, Latin America, and Middle East & Africa?
Which are the key trends driving PVC Foam Sheet market growth?
Who are the key competitors and what are their key strategies to enhance their market presence in the PVC Foam Sheet market worldwide?