The global residential air purifier market is estimated to witness strong growth, offering immense growth opportunities for all participants involved across the value chain. This trend is expected to be more prevalent among emerging economies like India, China, and Korea owing to the latent potential and underpenetrated nature of the market in these countries. Furthermore, the air quality in these countries has been remarkably poor, posing a substantial economic and health burden on billions of people. According to recent statistics, the average exposure to particulate pollutants in China was five times greater than that in the U.S. in 2020. Thus, rising pollution levels, related health concerns, and growing awareness regarding the benefits offered by purifiers is collectively encouraging people to install advanced air purifiers at homes. The rising demand for HEPA technology-based and energy-efficient air purifiers is another key factor shaping the dynamics of the residential air purifier market. In view of move towards green building, desire to save energy costs and reduce carbon footprint, the manufacturers are increasingly developing energy efficient water purifiers. The future demand is expected to be driven by energy efficiency. All these aforementioned factors are expected to contribute towards a double digit compounded annual growth rate (CAGR) during the forecast period 2017 – 2029.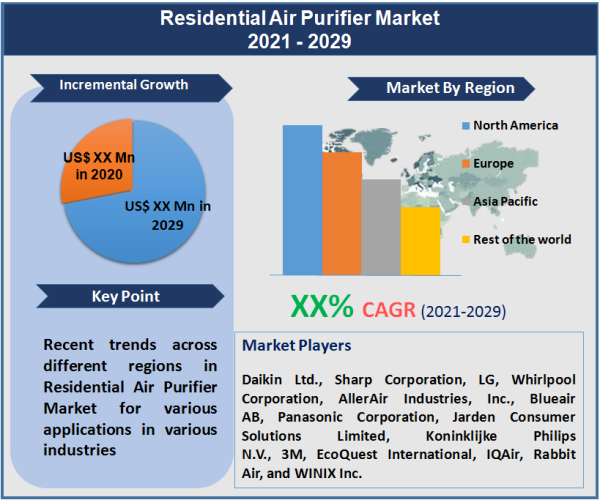 In order to help strategic decision makers, the report also includes competitive profiling of the leading residential air purifiers manufacturers, their business strategy analysis, market positioning, and key developments. Some of the major players profiled in the report include Daikin Industries, Ltd., Sharp Corporation, Honeywell International, Inc., LG Electronics Inc., Camfil AB, Whirlpool Corporation, AllerAir Industries, Inc., Blueair AB, Panasonic Corporation, Jarden Consumer Solutions (Europe) Limited, Koninklijke Philips N.V., 3M, EcoQuest International, IQAir, Rabbit Air, and WINIX Inc. among others. Apart from the company profiles, the report includes a section covering the competitive landscape wherein the market positioning of the companies has been discussed. The section also provides a view of key business strategies adopted by the leading market players.
Other in-depth analysis provided in the report includes:
Current and future market trends to justify the forthcoming attractive markets within the global residential air purifier industry
Comparative analysis for different segments for the years 2020 & 2029
Market fuelers, market impediments, and their impact on the market growth
In-depth competitive environment analysis including the positioning of market players and their business strategy analysis
Trailing 2-Year market size data (2019 – 2020)
SRC (Segment-Region-Country) Analysis
Overall, the research study provides a holistic view of the global residential air purifiers market, offering market size and estimates for the period from 2017 to 2029, keeping in mind the above mentioned factors
In order to better push their product across end-use segments, the air purifier manufacturers are focusing on strengthening their distribution, marketing, and sales channels across the globe. Evolving digital habits of consumers have forced manufacturers and retailers to use multiple channels to ensure better market penetration.
In terms revenue generation, the direct retail sales channel covering sales of residential air purifiers through supermarkets, hypermarkets, department stores, etc. is the largest segment in the global residential air purifier market in the base year 2020. The segment accounted for over two-third of the global market revenue in the same year. Although direct retail sales channel plays a key role in the sale of residential air purifiers, it is estimated that the sale of residential air purifiers is most likely to improve through online channel. The anticipated growth in sale of air purifiers through online channel will be driven by the proliferation of e-commerce.
In the base year 2020, North America comprising the U.S., Canada, and Caribbean Islands led the global residential air purifiers market worldwide. The United States represents the largest residential air purifiers market in North America and worldwide. The dominance of the region can be largely credited to the increasing demand for advanced HEPA filtration-based water purifiers capable of effectively removing contaminants like dust, smoke, pollens, etc. from the indoor air. Relatively greater awareness regarding benefits offered by air purifiers coupled with preference for energy efficient variants is further boosting demand for air purifiers in the region. On the other hand, Asia Pacific is anticipated to witness maximum growth in the coming years on account of rising pollution levels leading to deteriorating in-house air quality and rising incidences of respiratory diseases in the region.
Historical & Forecast Period
This study report represents analysis of each segment from 2020 to 2030 considering 2021 as the base year. Compounded Annual Growth Rate (CAGR) for each of the respective segments estimated for the forecast period of 2022 to 2030.
The current report comprises of quantitative market estimations for each micro market for every geographical region and qualitative market analysis such as micro and macro environment analysis, market trends, competitive intelligence, segment analysis, porters five force model, top winning strategies, top investment markets, emerging trends and technological analysis, case studies, strategic conclusions and recommendations and other key market insights.
Research Methodology
The complete research study was conducted in three phases, namely: secondary research, primary research, and expert panel review. key data point that enables the estimation of Residential Air Purifier market are as follows:
Research and development budgets of manufacturers and government spending
Revenues of key companies in the market segment
Number of end users and consumption volume, price and value.
Geographical revenues generate by countries considered in the report
Micro and macro environment factors that are currently influencing the Residential Air Purifier market and their expected impact during the forecast period.
Market forecast was performed through proprietary software that analyzes various qualitative and quantitative factors. Growth rate and CAGR were estimated through intensive secondary and primary research. Data triangulation across various data points provides accuracy across various analyzed market segments in the report. Application of both top down and bottom-up approach for validation of market estimation assures logical, methodical and mathematical consistency of the quantitative data.
ATTRIBUTE
DETAILS
Research Period
2020-2030
Base Year
2021
Forecast Period
2022-2030
Historical Year
2020
Unit
USD Million
Segmentation
Type


Stand-alone Residential Air Purifiers
In-duct Residential Air Purifiers



Sales Channel


Technology


HEPA
Electrostatic Precipitators
Ionizers & Ozone Generators




Region Segment (2020–2030; US$ Million)

North America

U.S.
Canada
Rest of North America

UK and European Union

UK
Germany
Spain
Italy
France
Rest of Europe

Asia Pacific

China
Japan
India
Australia
South Korea
Rest of Asia Pacific

Latin America

Brazil
Mexico
Rest of Latin America

Middle East and Africa

GCC
Africa
Rest of Middle East and Africa

Global Impact of Covid-19 Segment (2020-2021; US$ Million )

Pre Covid-19 situation
Post Covid-19 situation
Key questions answered in this report
What are the key micro and macro environmental factors that are impacting the growth of Residential Air Purifier market?
What are the key investment pockets with respect to product segments and geographies currently and during the forecast period?
Estimated forecast and market projections up to 2030.
Which segment accounts for the fastest CAGR during the forecast period?
Which market segment holds a larger market share and why?
Are low and middle-income economies investing in the Residential Air Purifier market?
Which is the largest regional market for Residential Air Purifier market?
What are the market trends and dynamics in emerging markets such as Asia Pacific, Latin America, and Middle East & Africa?
Which are the key trends driving Residential Air Purifier market growth?
Who are the key competitors and what are their key strategies to enhance their market presence in the Residential Air Purifier market worldwide?