Key Market Insights
"Robotic process automation (RPA) aiding value to the businesses worldwide"
Robotic process automation (RPA) is the use of software bots to automate highly repetitive, routine tasks normally performed by knowledge workers. Automating repetitive tasks saves time and money. Robotic process automation bots expand the value of an automation platform by completing tasks faster, allowing employees to perform higher-value work. It helps in carrying out high-volume and repetitive tasks that take a lot of time for humans to accomplish, and which are typically monotonous to perform in the robotic process automation market.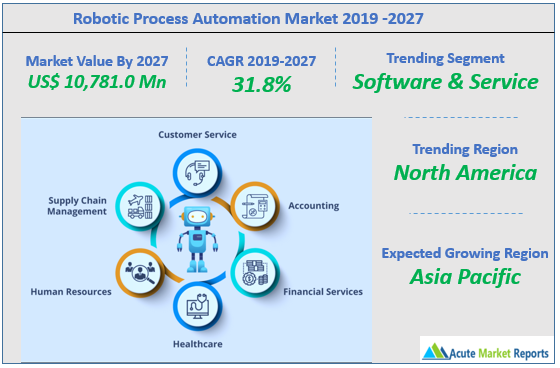 Technological advancements have influenced businesses across the world to overcome new challenges aimed to cope with changing consumer demand and requirements. Also, it is helping these businesses to be competitive in the global market. RPA has the ability to deliver seamless operation coupled with significant value addition from the resources. These organizations worldwide are continually looking to identify processes that can be automated to accelerate productivity. In the recent past, large enterprises, as well as SMEs, are increasingly adopting robotic process automation, considering the benefits it is providing to their businesses.
With the increasing competitiveness among the market players, there is a decreasing cost of automation software and services. In addition, a surge in demand for virtual workforce also supporting the growth of the market across the globe. Overall, the global robotic process automation market was US$ 898.3 Mn in 2018 and expected to reach US$ 10,781.0 Mn by 2027, growing at a CAGR of 31.8% from 2019 to 2027.
RPA Type Segment Analysis
"Service segment dominating the market"
The RPA type segment is segmented into software and service. The service segment accounted for the largest share in the RPA market size in 2018. The service segment accounted for around 60% of the overall revenue share of the market for robotic process automation in 2018. The growing competition among the service providers is continuously enhancing advisory, consulting, and training services. This, in turn, helping the software user and service takers to achieve reduced costs and increased scalability. During the forecast period, it is estimated that the service segment will keep its dominance.
Regional Analysis
"North America dominating the global market by region"
The North American region dominated the market for robotic process automation in 2018, and it is expected to continue its dominance over the forecast period. The increased penetration of automation and process management solutions across the well-established and technologically advanced industries present in the region have added advantages to the market. Furthermore, SMEs are increasingly adopting RPA technology within their business functions such as accounting/finance, human resource-related processes, and procurement. In addition, strong support from the U.S. government has encouraged all other state governments' agencies to implement robotic process automation, which has fostered market growth.
The Asia Pacific region is expected to witness the fastest CAGR over the forecast period. Rising awareness about automation in the region is also expected to boost demand. Strong industrial growth and increasing investment from global players have added advantages to the adoption of RPA in the region. Furthermore, increasing demand for business process automation solutions in the BPO sector in China and India is contributing to regional growth. However, lack of trained and skilled employees is the major concern in the region and that is obstructing the regional market growth. Furthermore, those SMEs having budget constraints are having affordability issues that prove to the challenges for the RPA vendors.
"Growing partnerships is keeping the market competitive"
The global robotic process automation market is competitive. Prominent players operating in the robotic process automation market are adopting strategies such as a partnership with other companies, acquisition of smaller players to increase their client base and geographical reach. Following is the list of players included in the published reports.
List of Companies Covered:
UiPath
Automation Anywhere Inc.
Blue Prism Ltd.
NICE
Pegasystems Inc.
Kofax Inc.
NTT Advanced Technology Corporation
EdgeVerve Systems Ltd.
ActiveOps Ltd.
HelpSystems
Others
Key Industry Development:
In May 2019, UiPath and Mannai Trading Co. WLL, the largest Systems Integrator & leading provider for Business Process Management (BPM) automation in Qatar, announced a technological partnership to drive a new level of integration of RPA to organizations in Qatar. This partnership with UiPath will provide customers in Qatar with access to best-of-breed implementation and management services along with industry-leading RPA and Intelligent Automation technology.
In May 2019, UiPath, the leading enterprise Robotic Process Automation (RPA) software company, announced that it has partnered with PFS Tech, a boutique IT company offering digital consultancy, technology, and outsourcing services to provide solutions that increase operational efficiency and improve business performance using RPA to automate repetitive, time-consuming tasks. Through this partnership, PFS Tech will enlist its extensive experience in the digital transformation and process automation fields and utilize UiPath's AI-powered RPA platform towards delivering fully integrated solutions to PFS Tech clients.
Historical & Forecast Period
The research report presents the analysis of each segment from 2017 to 2027 considering 2018 as the base year for the research. Compounded annual growth rate (CAGR) for each respective segment calculated for the forecast period from 2019 to 2027.
Market Segmentation
ATTRIBUTE
DETAILS
Research Period
2017-2027
Base Year
2018
Forecast Period
2019-2027
Historical Year
2017
Unit
US$ Million
Segmentation

Solution Segment (2017-2027; US$ Mn)
• Software
• Services
o Consulting
o Implementation
o Training

Automation Type Segment (2017-2027; US$ Mn)
• Attended
• Un-attended
• Hybrid

Deployment Type Segment (2017-2027; US$ Mn)
• On-cloud
• On-premise

Enterprise Size Segment (2017-2027; US$ Mn)
• Large
• SMEs

Industry Verticals Segment (2017-2027; US$ Mn)
• BFSI
• Telecom
• Retail
• Healthcare
• Manufacturing
• Others

Geography Segment (2017–2027; US$ Mn)
• North America (U.S. and Rest of North America)
• Europe (U.K., Germany, France, and Rest of Europe)
• Asia Pacific (Japan, China, India, and Rest of Asia Pacific)
• Rest of World (Middle East & Africa (MEA), Latin America)
The current report also comprehends qualitative market valuation factors such as key market drivers, market trends, restraints, and opportunities that give a better market understanding of the global robotic process automation market. Additionally, the global report also comprises a graphical representation of a competitive landscape based on their market initiatives and strategies, product portfolio, and business strengths.
Unique data points of this report
Recent trends across different regions in terms of the development of robotic process automation market
Attractive investment proposition for application segment as well as geography
Key questions answered in this report
What was the market size of the robotic process automation market in 2018 and forecast up to 2027?
What are the key factors driving the global robotic process automation market?
What are the key market trends and high-growth opportunities observed in the robotic process automation market?
Which is the largest regional market for the robotic process automation market?
Which segment will grow at a faster pace? Why?
Which region will drive the market growth? Why?
Which players are leading the robotic process automation market?
What are the key strategies adopted by the leading players operating in the market?
TABLE 1 Market Snapshot: Global Robotic Process Automation (RPA) Market Value
TABLE 2 Impact Indicators
TABLE 3 Impact Analysis of Drivers and Restraints
TABLE 4 Global RPA Market, by Solution, 2017-2027, (US$ Mn)
TABLE 5 Global RPA Market, by Automation Type, 2017-2027, (US$ Mn)
TABLE 6 Global RPA Market, by Process, 2017-2027, (US$ Mn)
TABLE 7 Global RPA Market, by Deployment Type, 2017-2027, (US$ Mn)
TABLE 8 Global RPA Market, by Enterprise Size, 2017-2027, (US$ Mn)
TABLE 9 Global RPA Market, by Industry Vertical, 2017-2027, (US$ Mn)
TABLE 10 Global RPA Market Value, by Region/Country, 2017 - 2027, (US$ Mn)
TABLE 11 North America RPA Market, by Solution, 2017-2027, (US$ Mn)
TABLE 12 North America RPA Market, by Automation Type, 2017-2027, (US$ Mn)
TABLE 13 North America RPA Market, by Process, 2017-2027, (US$ Mn)
TABLE 14 North America RPA Market, by Deployment Type, 2017-2027, (US$ Mn)
TABLE 15 North America RPA Market, by Enterprise Size, 2017-2027, (US$ Mn)
TABLE 16 North America RPA Market, by Industry Vertical, 2017-2027, (US$ Mn)
TABLE 17 North America RPA Market Value, by Region/Country, 2017 - 2027, (US$ Mn)
TABLE 18 Europe RPA Market, by Solution, 2017-2027, (US$ Mn)
TABLE 19 Europe RPA Market, by Automation Type, 2017-2027, (US$ Mn)
TABLE 20 Europe RPA Market, by Process, 2017-2027, (US$ Mn)
TABLE 21 Europe RPA Market, by Deployment Type, 2017-2027, (US$ Mn)
TABLE 22 Europe RPA Market, by Enterprise Size, 2017-2027, (US$ Mn)
TABLE 23 Europe RPA Market, by Industry Vertical, 2017-2027, (US$ Mn)
TABLE 24 Europe RPA Market Value, by Region/Country, 2017 - 2027, (US$ Mn)
TABLE 25 Asia Pacific RPA Market, by Solution, 2017-2027, (US$ Mn)
TABLE 26 Asia Pacific RPA Market, by Automation Type, 2017-2027, (US$ Mn)
TABLE 27 Asia Pacific RPA Market, by Process, 2017-2027, (US$ Mn)
TABLE 28 Asia Pacific RPA Market, by Deployment Type, 2017-2027, (US$ Mn)
TABLE 29 Asia Pacific RPA Market, by Enterprise Size, 2017-2027, (US$ Mn)
TABLE 30 Asia Pacific RPA Market, by Industry Vertical, 2017-2027, (US$ Mn)
TABLE 31 Asia Pacific RPA Market Value, by Region/Country, 2017 - 2027, (US$ Mn)
TABLE 32 Rest of the World RPA Market, by Solution, 2017-2027, (US$ Mn)
TABLE 33 Rest of the World RPA Market, by Automation Type, 2017-2027, (US$ Mn)
TABLE 34 Rest of the World RPA Market, by Process, 2017-2027, (US$ Mn)
TABLE 35 Rest of the World RPA Market, by Deployment Type, 2017-2027, (US$ Mn)
TABLE 36 Rest of the World RPA Market, by Enterprise Size, 2017-2027, (US$ Mn)
TABLE 37 Rest of the World RPA Market, by Industry Vertical, 2017-2027, (US$ Mn)
TABLE 38 Rest of the World RPA Market Value, by Region/Country, 2017 - 2027, (US$ Mn)
TABLE 39 UiPath: Company Snapshot (Business Description; Profile Type Portfolio; Financial Information; Business Overview and Recent Development)
TABLE 40 Automation Anywhere Inc.: Company Snapshot (Business Description; Profile Type Portfolio; Financial Information; Business Overview and Recent Development)
TABLE 41 Blue Prism Ltd.: Company Snapshot (Business Description; Profile Type Portfolio; Financial Information; Business Overview and Recent Development)
TABLE 42 NICE: Company Snapshot (Business Description; Profile Type Portfolio; Financial Information; Business Overview and Recent Development)
TABLE 43 Pegasystems Inc.: Company Snapshot (Business Description; Profile Type Portfolio; Financial Information; Business Overview and Recent Development)
TABLE 44 Kofax Inc.: Company Snapshot (Business Description; Profile Type Portfolio; Financial Information; Business Overview and Recent Development)
TABLE 45 NTT Advanced Technology Corp.: Company Snapshot (Business Description; Profile Type Portfolio; Financial Information; Business Overview and Recent Development)
TABLE 46 EdgeVerve Systems Ltd.: Company Snapshot (Business Description; Profile Type Portfolio; Financial Information; Business Overview and Recent Development)
TABLE 47 ActiveOps Ltd.: Company Snapshot (Business Description; Profile Type Portfolio; Financial Information; Business Overview and Recent Development)
TABLE 48 HelpSystems: Company Snapshot (Business Description; Profile Type Portfolio; Financial Information; Business Overview and Recent Development)