The global market is anticipated to expand at a CAGR of 6.5% during the forecast period of 2023 to 2031. The adoption of titanium fluoride phosphate (KTiPO4F) in potassium-ion batteries may contribute to enhanced energy performance and stable operation at high discharge currents. Shortly, the market expansion is anticipated to be fuelled by the expansion of the renewable energy industry. The titanium fluoride phosphate market is in its infancy. Titanium is a viable alternative to lithium because it is readily available. Shortly, the demand for commercially viable and secure energy storage solutions is likely to contribute to market expansion. The Lithium-ion Battery (LIB) is a globally utilized energy storage system. It is utilized in a variety of industries. However, the production and application of LIBs are hampered by numerous obstacles, such as temperature sensitivity and inherent flammability. Numerous studies have attempted to address these limitations.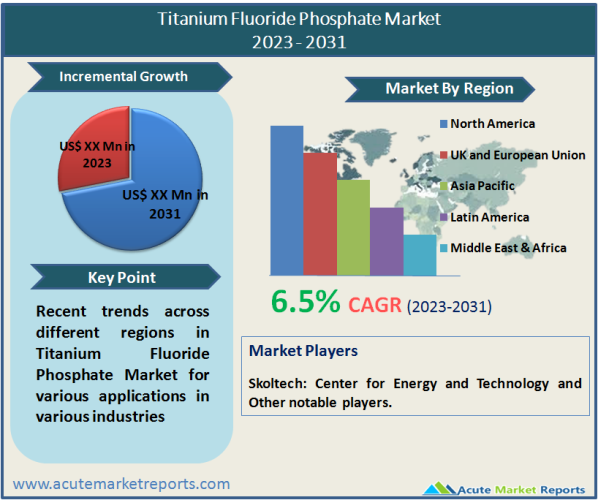 In 2020, scientists at the SkoltechCenter for Energy Science and Technology (CEST) in Russia announced the creation of potassium titanyl phosphate, an inorganic compound with respectable electronic properties. KTiPO4F can serve as the cathode in a variety of energy storage systems. It can be used to create batteries with complete symmetry. These batteries use KTiPO4F coated with carbon for both the negative and positive electrodes. Accelerating Titanium Fluoride Phosphate Market Growth. KTiPO4F has potential applications in numerous industries, including energy, automotive, and electronics. This is due to potassium-ion batteries' superior energy performance and stable operation at high discharge currents. Shortly, the rising demand for high-performance energy systems is expected to contribute to the growth of the titanium fluoride phosphate market.
Numerous types of batteries are utilized in the energy, automotive, and electronic industries. Nonetheless, the production of LIBs is likely to decline due to critical material shortages and weakened supply chains. This has resulted in increased investment in the development of commercially viable electrodes made from abundantly available materials on Earth. This is likely to enhance market dynamics for titanium fluoride phosphate in the coming years.
The Surge in Electric Vehicle Adoption (EVs)
LIBs are used to power the majority of electric vehicles worldwide. These batteries are also used in the majority of energy storage systems for the grid. Shortly, the supply of lithium is anticipated to decline significantly. As governments around the world work to reduce carbon emissions, the adoption of electric vehicles (EVs) is accelerating.
Lithium and cobalt are used to produce cathodes, which determine the functional capabilities of the battery. Cobalt is extremely rare and expensive. Unethical mining practices plague the cobalt mining industry. Titanium fluoride phosphate is less expensive and more ethically sourced than cobalt and other cathode materials.
The implementation of stringent energy regulations has prompted automakers to seek LIB substitutes. Several governments around the world offer tax rebates and subsidies for the purchase and registration of electric vehicles. Additionally, they are making substantial investments in the development of EV charging infrastructure.
In several cities, the manufacture and sale of automobiles with internal combustion engines are prohibited. It is anticipated that these regulations will increase the demand for electric vehicles, which will drive titanium fluoride phosphate market statistics in the coming years.
Expansion of the Renewable Energy Industry
Batteries play a significant role in renewable energy storage. As fossil fuel is replaced by electricity generated from wind, sun, and nuclear fusion, these technologies facilitate the global energy transition. Global energy demand growth has increased the demand for superior energy storage systems. LIBs are widely employed for energy storage. However, the dwindling supply of lithium has shifted attention to alternative energy storage options. Shortly, the market is anticipated to be driven by the rapid adoption of renewable energy and the rising demand for energy globally.
Growth in the Automotive Industry
According to the most recent market analysis of titanium fluoride phosphate, the automotive end-use segment is projected to lead the market during the forecast period. Governments worldwide are committed to reducing carbon emissions. This has led to an increase in EV production and adoption. Batteries are an essential component of electric vehicles and enable sustainable transportation. In these batteries, KTiPO4F can serve as both the negative and positive electrodes.
APAC to be the Global Leader
According to the most recent market forecast for titanium fluoride phosphate, Asia Pacific is anticipated to hold the largest share during the forecast period. Shortly, the implementation of stringent energy regulations, government support to promote the adoption of electric vehicles, and a rise in demand for energy storage systems are likely to stimulate regional market revenue. During the forecast period, the demand for titanium fluoride phosphate is anticipated to increase due to the expansion of the automotive, electronics, and energy industries, as well as the growing preference for batteries over fossil fuels.
R&D Investments to Impact the Market Share of Top Companies
The titanium fluoride phosphate market is in its infancy. Skoltech: Center for Energy Science and Technology (CEST) is one of the very few organizations conducting research and development on KTiPO4F. Thus, new entrants are anticipated to enjoy vast growth opportunities in this industry. In October 2022, Pacific Gas and Electric Company, a provider of natural gas and electric services, announced that it had received approval to establish a vehicle-to-grid (V2G) export compensation mechanism for commercial electric vehicle (EV) charging customers in its California service area.
Historical & Forecast Period
This study report represents analysis of each segment from 2021 to 2031 considering 2022 as the base year. Compounded Annual Growth Rate (CAGR) for each of the respective segments estimated for the forecast period of 2022 to 2031.
The current report comprises of quantitative market estimations for each micro market for every geographical region and qualitative market analysis such as micro and macro environment analysis, market trends, competitive intelligence, segment analysis, porters five force model, top winning strategies, top investment markets, emerging trends and technological analysis, case studies, strategic conclusions and recommendations and other key market insights.
Research Methodology
The complete research study was conducted in three phases, namely: secondary research, primary research, and expert panel review. key data point that enables the estimation of Titanium Fluoride Phosphate market are as follows:
Research and development budgets of manufacturers and government spending
Revenues of key companies in the market segment
Number of end users and consumption volume, price and value.
Geographical revenues generate by countries considered in the report
Micro and macro environment factors that are currently influencing the Titanium Fluoride Phosphate market and their expected impact during the forecast period.
Market forecast was performed through proprietary software that analyzes various qualitative and quantitative factors. Growth rate and CAGR were estimated through intensive secondary and primary research. Data triangulation across various data points provides accuracy across various analyzed market segments in the report. Application of both top down and bottom-up approach for validation of market estimation assures logical, methodical and mathematical consistency of the quantitative data.
ATTRIBUTE
DETAILS
Research Period
2021-2031
Base Year
2022
Forecast Period
2023-2031
Historical Year
2021
Unit
USD Million
Segmentation
Battery Type


Lithium-ion Battery
Aluminum-ion Battery
Magnesium-ion Battery
Others



Application


Electric Vehicles
Mobile Phones
Portable Computers
Smart Grids
Cameras
Critical Care Equipment
Blood Pressure Monitors
Glucometers
Others



End-use


Automotive
Industrial
Electronics
Power
Medical
Others




Region Segment (2021–2031; US$ Million)

North America

U.S.
Canada
Rest of North America

UK and European Union

UK
Germany
Spain
Italy
France
Rest of Europe

Asia Pacific

China
Japan
India
Australia
South Korea
Rest of Asia Pacific

Latin America

Brazil
Mexico
Rest of Latin America

Middle East and Africa

GCC
Africa
Rest of Middle East and Africa
Key questions answered in this report
What are the key micro and macro environmental factors that are impacting the growth of Titanium Fluoride Phosphate market?
What are the key investment pockets with respect to product segments and geographies currently and during the forecast period?
Estimated forecast and market projections up to 2031.
Which segment accounts for the fastest CAGR during the forecast period?
Which market segment holds a larger market share and why?
Are low and middle-income economies investing in the Titanium Fluoride Phosphate market?
Which is the largest regional market for Titanium Fluoride Phosphate market?
What are the market trends and dynamics in emerging markets such as Asia Pacific, Latin America, and Middle East & Africa?
Which are the key trends driving Titanium Fluoride Phosphate market growth?
Who are the key competitors and what are their key strategies to enhance their market presence in the Titanium Fluoride Phosphate market worldwide?