The defense sector has always been a front-runner in adoption of advanced defense technologies. Embracing latest technologies not only helps various countries to reduce fatalities but also to gain a competitive edge over other countries. The undersea warfare space has witnessed drastic technological developments in the recent past. Technologies which were earlier just prototypes have now been turned into actual defense systems. With evolution of combat technologies, countermeasure systems too have evolved in defense sector. Amongst these, sonar has been one of the most remarkable areas witnessing attention from numerous manufacturers and R&D agencies.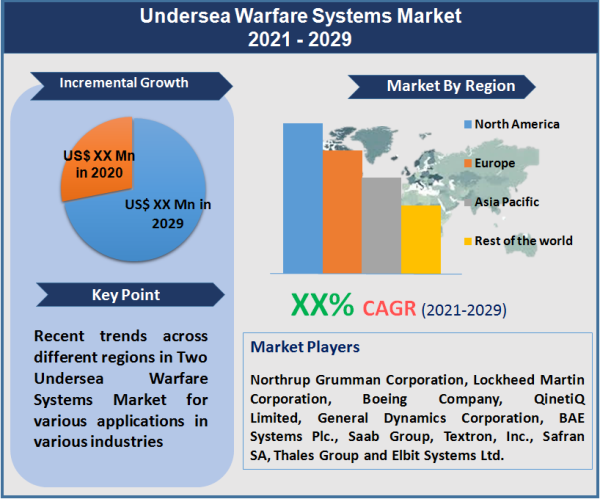 Growing disputes between countries over maritime borders is one of the primary factors driving undersea warfare systems market growth. The magnitude of these conflicts can be understood from the fact that out of over 500 potential maritime boundaries, less than half of them have been agreed upon.
These growing tensions have resulted in various countries to invest heavily in acquiring the latest of undersea warfare systems, thus spurring the market growth. Moreover, defense modernization programs is another important factor driving the undersea warfare systems market growth. Countries such as the U.S., Germany, the U.K and China have been consistent in spending over modernization of their navies. This is expected to continue having positive impact on undersea warfare systems market in the following years.
The report titled "Undersea Warfare Systems Market – Growth, Future Prospects and Competitive Analysis, 2021 – 2029" presents an in depth analysis of the dynamics existing in the undersea warfare systems market. The market size in terms of value (US$ Bn) has been provided for the period starting from 2019 to 2029. The research study extensively covers the market segments based on system type and further analyses different geographies and sub-geographical regions. In addition, the study covers a section on market dynamics including major market drivers, restraints and opportunities impacting the market. A section pertaining to current trends has also been included in the report.
The competitive analysis section covers profiles of the leading undersea warfare system vendors, the business strategies adopted by them, key developments and their market positioning. Some of the leading players profiled in the report are Northrup Grumman Corporation, Lockheed Martin Corporation, Boeing Company, QinetiQ Limited, General Dynamics Corporation, BAE Systems Plc., Saab Group, Textron, Inc., Safran SA, Thales Group and Elbit Systems Ltd. among others. The in-depth analysis covered in the report focuses on:
Latest and future market trends impacting the global undersea warfare systems market
Extensive coverage of the different segments and their comparative analysis
Market drivers, restraints and opportunities
Market positioning of the leading undersea warfare system players and their business strategies
Historic 2 years market size data (2019 – 2020)
Overall, the research study holistically covers the global undersea warfare systems market and offers market size and forecast estimation for the period from 2021 to 2029, with respect to the above mentioned factors.
In 2020, detection systems segment led the overall undersea warfare systems market worldwide. The segment contributed to more than 45% of the total market value, in 2020. Detection systems such as Sonars, which are widely used to detect objects on or under the water surface, have gained substantial attention from manufacturers. Its use in undersea warfare is expected to rise drastically in coming years owing to the vital role it plays in alarming naval forces about enemy submarines or weapons. Manufacturers are investing substantial amount of money towards R&D activities for advanced detection systems. Some of the R&D efforts are directed towards increasing the range and reliability of sonars. For instance, recently, Thales Australia was awarded a contract from Australian Government to develop sonar systems with improved signal processing systems for the Collins submarines.
Weapons segment follow detection systems segment, in terms of value. Torpedoes are one of the most used undersea weapons. Technological advancements in recent years have resulted in their increased destruction capability and speed. Moreover, modern generation torpedoes are lightweight and capable of covering a larger distance. Government organizations and defense agencies have been investing heavily in manufacturing and development of advanced and efficient undersea weaponries.
North America dominated the global undersea warfare systems market in 2020 and accounted for more than 40% of the overall market value generated worldwide. The dominance of the region is mostly due to highly advanced defense sector coupled with heavy expenditure in the U.S. The country has enjoyed status of the world's only hyper power for nearly a generation and has always embraced the most advanced and latest technologies. This factor is complimented by the fact that the U.S. has the largest defense budget in the world. Some of the largest undersea warfare system companies such as Northrup Grumman Corporation, Lockheed Martin Corporation and Textron, Inc. are headquartered in the region, thereby supporting the market growth here.
Asia Pacific is another important undersea warfare systems market and is expected to witness a high growth during the forecast period. China accounts for the largest market size in the region owing to its huge defense budget. The defense budget of the country grew by 7% in 2021 over 2020. A significant portion of this budget is allocated towards the advancement of naval technologies. Moreover, in recent years, China has had maritime disputes with several countries on claims over the East and South China Seas. This has led to higher attention towards developing naval systems. Other prominent markets for undersea warfare systems include India, Japan and South Korea among others.
Historical & Forecast Period
This study report represents analysis of each segment from 2021 to 2031 considering 2022 as the base year. Compounded Annual Growth Rate (CAGR) for each of the respective segments estimated for the forecast period of 2023 to 2031.
The current report comprises of quantitative market estimations for each micro market for every geographical region and qualitative market analysis such as micro and macro environment analysis, market trends, competitive intelligence, segment analysis, porters five force model, top winning strategies, top investment markets, emerging trends and technological analysis, case studies, strategic conclusions and recommendations and other key market insights.
Research Methodology
The complete research study was conducted in three phases, namely: secondary research, primary research, and expert panel review. key data point that enables the estimation of Undersea Warfare Systems market are as follows:
Research and development budgets of manufacturers and government spending
Revenues of key companies in the market segment
Number of end users and consumption volume, price and value.
Geographical revenues generate by countries considered in the report
Micro and macro environment factors that are currently influencing the Undersea Warfare Systems market and their expected impact during the forecast period.
Market forecast was performed through proprietary software that analyzes various qualitative and quantitative factors. Growth rate and CAGR were estimated through intensive secondary and primary research. Data triangulation across various data points provides accuracy across various analyzed market segments in the report. Application of both top down and bottom-up approach for validation of market estimation assures logical, methodical and mathematical consistency of the quantitative data.
ATTRIBUTE
DETAILS
Research Period
2021-2031
Base Year
2022
Forecast Period
2023-2031
Historical Year
2021
Unit
USD Million
Segmentation
System


Detection Systems
Weapons
Communication Systems
Counter Measure Systems




Region Segment (2021-2031; US$ Million)

North America

U.S.
Canada
Rest of North America

UK and European Union

UK
Germany
Spain
Italy
France
Rest of Europe

Asia Pacific

China
Japan
India
Australia
South Korea
Rest of Asia Pacific

Latin America

Brazil
Mexico
Rest of Latin America

Middle East and Africa

GCC
Africa
Rest of Middle East and Africa
Key questions answered in this report
What are the key micro and macro environmental factors that are impacting the growth of Undersea Warfare Systems market?
What are the key investment pockets with respect to product segments and geographies currently and during the forecast period?
Estimated forecast and market projections up to 2031.
Which segment accounts for the fastest CAGR during the forecast period?
Which market segment holds a larger market share and why?
Are low and middle-income economies investing in the Undersea Warfare Systems market?
Which is the largest regional market for Undersea Warfare Systems market?
What are the market trends and dynamics in emerging markets such as Asia Pacific, Latin America, and Middle East & Africa?
Which are the key trends driving Undersea Warfare Systems market growth?
Who are the key competitors and what are their key strategies to enhance their market presence in the Undersea Warfare Systems market worldwide?