Key Market Insights
"Rapid Growth in Real-time Sales Tracking predicted to uplift the Global Warehouse Management Systems Market"
The global warehouse management systems market was stood at US$ 3.41 Bn in the year 2018 and expected to reach US$ 12.53 Bn by the year 2027, expanding at a CAGR of 15.6% during the forecast from 2019 to 2027.
Increasing complexity in the supply chain has stressed distribution management. Furthermore, volatility in demand and supply along with ever-changing consumer preference has significantly affected the warehouse operations. Warehouse Management System (WMS) helps in maintaining inventory with live tracking of sales and production to meet consumer demand in less possible time. This system also provides flexibility to work adjacently in changing business and market conditions. In other words, a warehouse management system is a combination of hardware, software, and services that reduces human effort in inventory management smartly.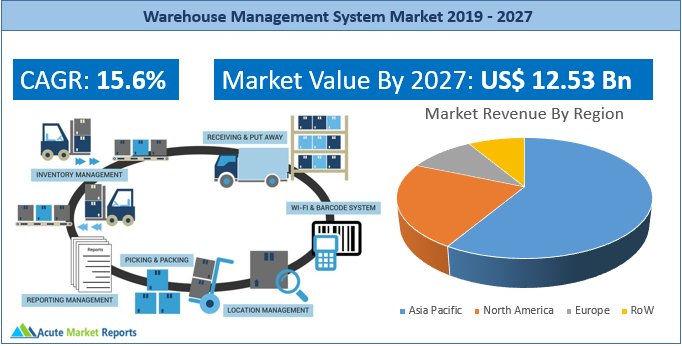 Component Analysis
"Warehouse Management Services expected to witness a Flourishing Growth during the Forecast Period"
Software expected to dominate the global warehouse management systems market during the forecast period owing to increasing awareness of WMS software in small & medium enterprises. In addition, a trend shift from an on-premise system to a cloud-based system has proliferated the WMS software demand magnificently. However, the integration of artificial intelligence with WMS software enhances the consumer experience to another level. They help in the management of inbound & outbound operation, order & fulfillment management, sales tracking, and many more.
On the contrary, services expected to witness escalating growth during the forecast period. The prime factors attributed to the segment growth is mainly due to the prominent rise in third-party inventory management services due to lack of sufficient warehouse space available with the companies. In addition, these services seek circulation in demand from different small and medium enterprises.
End-use Industry Analysis
"Food & Beverage Captured Lucrative Market Revenue Share in the year 2018"
Food & beverage industry witnesses lucrative growth over the forecast period along with significant revenue share in the year 2018. The burgeoning growth of the segment is mainly due to the volatility in demand & sales coupled with rapidly changing consumer preference over a minor time frame. Furthermore, the rising trend of packaged & processed food, increasing concern of food safety, and a surge in the number of online retail companies have transformed the food & beverage industry largely and developed impulsive pressure in fulfilling the consumer demand on time. Inventory management helps in optimizing food safety along with reduces the wastage of perishable goods. Also, optimizes the packaging and transit process that reduces the cost.
Regional Analysis
"The Asia Pacific registered the fastest growth over the Forecast Period"
The Asia Pacific projected to flourish prominently between 2018 & 2027. The regional growth is attributed to the rapid growth in e-commerce, manufacturing, and retail sectors especially in developing nations such as India, China, and Indonesia. China is one of the major revenue contributors in the retail and e-commerce industry. In addition, the country has a huge manufacturing sector along with rising preference for domestic production. Therefore, the above factors are burgeoning the warehouse management systems trend in the Asia Pacific significantly.
Key Players & Competitive Landscape:
"Rising Investment on Research & Development expected to sour the Warehouse Management System Demand in the Coming Years"
The global warehouse management systems market is highly competitive and still reflects nascent behavior due to on-going innovation and integration in the software and solutions. Market players are largely focused on expanding their portfolio and global reach by merger and acquisition of warehouse management solution providers.
List of Companies Covered:
Epicor Software
Manhattan Associates
JDA Software Group Inc.
PSI Logistics GmbH
HighJump Software
Blujay Solutions Ltd.
Oracle Corp.
Softeon
SAP SE
Infor
Tecsys
Synergy Ltd
IBM Corp.
PTC
Key Industry Development:
On March 05, 2020, Softeon introduced a breakthrough in warehouse management solutions. The company has integrated the warehouse management system and execution system capabilities. The powerful solution provides enhances visibility, optimization, and orchestration for order picking and material handling processes.
On March 03, 2020, Blujay Solutions Ltd. acquired Expedient Software, a solution provider for customs software in the logistics sector especially in New Zealand and Australia. The acquisition helped the company to expand its functional and regional capabilities in the Asia Pacific.
On May 21, 2019, Manhattan Associates Inc. launched a new program for the speedy development of robotics and modern distribution system in an alliance with leading solution providers for warehouse automation. The inaugural members of the program include Locus Robotics, Kindred AI, Matthews Automation Solutions, VCO Systems, and RightHand Robotics.
On July 03, 2019, Epicor Software acquired Majure Data, a warehouse management solution provider. The company helps the company to expand its portfolio in the lumber and building materials market.
Historical & Forecast Period
This research study provides qualitative as well as quantitative insights for each segment and sub-segment from 2017 to 2027, considering 2018 as the base year for the research. CAGR (Compounded Annual Growth Rate) for each segment and sub-segment calculated for the forecast period from 2019 to 2027.
Report Scope by Segments
The research study titled warehouse management systems market offers market size and forecasts based on market dynamics and predominant trends shaping the industry. The report provides an all-round view of the global warehouse management systems market based on component, deployment, function, end-use industry, and geography. Key segments covered in the report are as follows:
ATTRIBUTE
DETAILS
Research Period
2017-2027
Base Year
2018
Forecast Period
2019-2027
Historical Year
2017
Unit
US$ Billion
Segmentation

Component Segment (2017–2027; US$ Bn)
• Hardware
o Mobile Computers
o Barcode Scanners
o Automated Storage & Retrieval System (ASRS)
o Conveyor & Sortation System
o Automated Guided Vehicle (AGV)
o Others (Smartphone, wireless solutions, etc.)
• Software
• Services
o Testing
o Maintenance & Training
o Consulting & Installation

Deployment Segment (2017–2027; US$ Bn)
• On-Premise
• Cloud

Function Segment (2017–2027; US$ Bn)
• Analytics & Optimization
• Labor Management System
• Billing & Yard Management
• Consulting Services
• Systems Integration & Maintenance

End-use Industry Segment (2017–2027; US$ Bn)
• Transportation & Logistics
• Consumer Goods
• Chemicals
• Food & Beverage
• Manufacturing
• Electrical & Electronics
• Healthcare
• Retail
• Others (textile & clothing, paper & printing, etc.)

Geography Segment (2017–2027; US$ Bn)
• North America (U.S., Rest of North America)
• Europe (U.K., Germany, France, Rest of Europe)
• Asia Pacific (China, Japan, India, Rest of Asia Pacific)
• Rest of the World (Middle East & Africa, Latin America)
Key questions answered in this report
What was the global market size of warehouse management systems in 2017 & 2018?
What are the estimated forecast and market projections up to 2027?
Which is the largest regional market for warehouse management systems?
Which sensing technique of warehouse management systems is largely preferred on a global scale?
Which is the most lucrative application of warehouse management systems?
Which are the predominant trends shaping the global warehouse management systems market?
Which is the most promising, attractive, and less-explored region in the global warehouse management systems market?
Who are the leading players in the global warehouse management systems market?
What are the premiere strategies adopted by the leading players in the global warehouse management systems market?
TABLE 1 Market Snapshot: Global Warehouse Management Systems (WMS) Market
TABLE 2 Impact Indicators
TABLE 3 Impact Analysis of Drivers and Restraints
TABLE 4 Global WMS Market, by Component, 2017–2027 (US$ Bn)
TABLE 5 Global WMS Market, by Deployment, 2017–2027 (US$ Bn)
TABLE 6 Global WMS Market, by Function, 2017–2027 (US$ Bn)
TABLE 7 Global WMS Market, by End-use Industry, 2017–2027 (US$ Bn)
TABLE 8 Global WMS Market, by Geography, 2017–2027 (US$ Bn)
TABLE 9 North America WMS Market, by Component, 2017–2027 (US$ Bn)
TABLE 10 North America WMS Market, by Deployment, 2017–2027 (US$ Bn)
TABLE 11 North America WMS Market, by Function, 2017–2027 (US$ Bn)
TABLE 12 North America WMS Market, by End-use Industry, 2017–2027 (US$ Bn)
TABLE 13 North America WMS Market, by Country/ Region, 2017–2027 (US$ Bn)
TABLE 14 Europe WMS Market, by Component, 2017–2027 (US$ Bn)
TABLE 15 Europe WMS Market, by Deployment, 2017–2027 (US$ Bn)
TABLE 16 Europe WMS Market, by Function, 2017–2027 (US$ Bn)
TABLE 17 Europe WMS Market, by End-use Industry, 2017–2027 (US$ Bn)
TABLE 18 Europe WMS Market, by Country/ Region, 2017–2027 (US$ Bn)
TABLE 19 Asia Pacific WMS Market, by Component, 2017–2027 (US$ Bn)
TABLE 20 Asia Pacific WMS Market, by Deployment, 2017–2027 (US$ Bn)
TABLE 21 Asia Pacific WMS Market, by Function, 2017–2027 (US$ Bn)
TABLE 22 Asia Pacific WMS Market, by End-use Industry, 2017–2027 (US$ Bn)
TABLE 23 Asia Pacific WMS Market, by Country/ Region, 2017–2027 (US$ Bn)
TABLE 24 Rest of the World WMS Market, by Component, 2017–2027 (US$ Bn)
TABLE 25 Rest of the World WMS Market, by Deployment, 2017–2027 (US$ Bn)
TABLE 26 Rest of the World WMS Market, by Function, 2017–2027 (US$ Bn)
TABLE 27 Rest of the World WMS Market, by End-use Industry, 2017–2027 (US$ Bn)
TABLE 28 Rest of the World WMS Market, by Country/ Region, 2017–2027 (US$ Bn)
TABLE 29 Epicor Software: Company Snapshot (Company Overview; Product Portfolio; Financial Information; Key Developments)
TABLE 30 Manhattan Associates: Company Snapshot (Company Overview; Product Portfolio; Financial Information; Key Developments)
TABLE 31 JDA Software Group Inc. : Company Snapshot (Company Overview; Product Portfolio; Financial Information; Key Developments)
TABLE 32 PSI Logistics GmbH: Company Snapshot (Company Overview; Product Portfolio; Financial Information; Key Developments)
TABLE 33 HighJump Software: Company Snapshot (Company Overview; Product Portfolio; Financial Information; Key Developments)
TABLE 34 Blujay Solutions Ltd. : Company Snapshot (Company Overview; Product Portfolio; Financial Information; Key Developments)
TABLE 35 Oracle Corp. : Company Snapshot (Company Overview; Product Portfolio; Financial Information; Key Developments)
TABLE 36 Softeon: Company Snapshot (Company Overview; Product Portfolio; Financial Information; Key Developments)
TABLE 37 SAP SE: Company Snapshot (Company Overview; Product Portfolio; Financial Information; Key Developments)
TABLE 38 Infor : Company Snapshot (Company Overview; Product Portfolio; Financial Information; Key Developments)
TABLE 39 Tecsys : Company Snapshot (Company Overview; Product Portfolio; Financial Information; Key Developments)
TABLE 40 Synergy Ltd: Company Snapshot (Company Overview; Product Portfolio; Financial Information; Key Developments)
TABLE 41 IBM Corp. : Company Snapshot (Company Overview; Product Portfolio; Financial Information; Key Developments)
TABLE 42 PTC: Company Snapshot (Company Overview; Product Portfolio; Financial Information; Key Developments)