The wax emulsion market is expected to grow at a CAGR of 5% during the forecast period of 2023 to 2031. The market has been witnessing growth in recent years due to its widespread applications across industries such as coatings, paints, adhesives, and textiles. The Wax emulsion market is driven by the increasing demand for water-based formulations, construction and infrastructure activities, and automotive production. The limitation of compatibility with certain formulations presents a challenge that manufacturers must address through customization. Distinct trends in wax type and geographic regions are expected to influence the market's trajectory. Established players are poised to drive innovation and collaboration to provide efficient and sustainable wax emulsion solutions that align with evolving industry demands. As the market advances, wax emulsions will continue to play a pivotal role in enhancing product performance and environmental sustainability across various applications.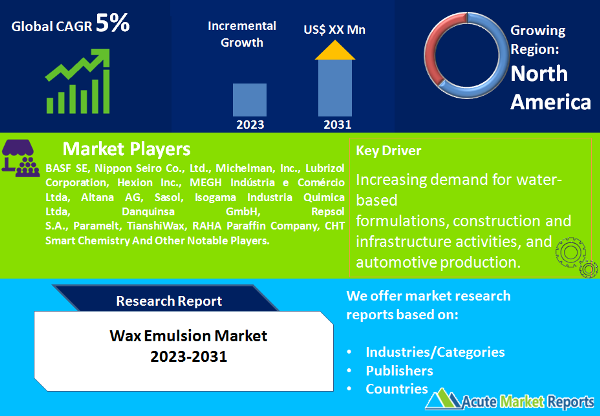 Increasing Demand for Water-based Formulations
One of the primary drivers of the Wax emulsion market is the growing preference for water-based formulations in various industries. Wax emulsions enable the creation of waterborne coatings and adhesives, reducing the need for volatile organic compounds (VOCs) and enhancing environmental friendliness. The shift towards sustainable and eco-friendly products, as indicated by regulations such as REACH (Registration, Evaluation, Authorization, and Restriction of Chemicals), has fueled the adoption of water-based solutions.
Expanding Construction and Infrastructure Activities
The construction industry's boom, coupled with infrastructure development worldwide, has significantly contributed to the demand for wax emulsions. These emulsions are used in various construction materials such as paints, coatings, and concrete additives. The need for durable and weather-resistant surfaces has propelled the use of wax emulsions, which provide protection against moisture, UV radiation, and corrosion. A study published in the Construction and Building Materials journal emphasizes the positive impact of wax emulsions on enhancing construction material performance.
Growing Automotive Production
The automotive sector's growth, driven by rising consumer demand and technological advancements, has led to an increased demand for wax emulsions. These emulsions are utilized in automotive paints, coatings, and polishes to provide gloss, durability, and protection against environmental factors. The automotive industry's emphasis on aesthetics and performance has fueled the adoption of wax emulsions, as highlighted by the International Journal of Automotive Engineering and Technologies.
Limited Compatibility with Some Formulations
A significant restraint in the Wax emulsion market is the limited compatibility of certain wax emulsions with specific formulations. Achieving optimal performance often requires tailoring wax emulsions to suit different applications and formulations. This customization process can increase production costs and complexity. Manufacturers need to carefully evaluate the compatibility of wax emulsions with various systems to ensure desired outcomes.
Paraffin-Based Wax Emulsions Dominate the Market by Wax Type
The market is segmented by wax type into Paraffin, Acrylic Polymer, Carnauba, Polyethylene, Polypropylene, Ester, Ethylene Acrylic Acid Copolymer, Alkali-soluble Resin, and Others. In 2022, Paraffin-based wax emulsions recorded the highest revenue due to their versatile applications across various industries. However, from 2023 to 2031, the Carnauba-based wax emulsion segment is expected to achieve the highest CAGR. The natural origin of Carnauba wax aligns with the increasing consumer demand for sustainable and bio-based products.
Synthetic Wax Emulsions Dominate the Market by Type
The market is further segmented by type into Synthetic Wax Emulsion and Natural Wax Emulsion. In 2022, Synthetic Wax Emulsions dominated the market in terms of revenue, driven by their versatility and customization capabilities. However, the Natural Wax Emulsion segment is projected to exhibit the highest CAGR from 2023 to 2031, driven by the growing preference for natural and biodegradable products.
North America Remains as the Global Leader
Geographically, North America held the highest revenue share in 2022, attributed to the strong presence of industries such as paints and coatings, adhesives, and textiles. The Asia-Pacific region is expected to exhibit the highest CAGR during the forecast period. Rapid urbanization, industrialization, and construction activities in emerging economies are driving the demand for wax emulsions in this region.
Market Competition to Intensify during the Forecast Period
Prominent players in the Wax emulsion market include BASF SE, Nippon Seiro Co., Ltd., Michelman, Inc., Lubrizol Corporation, Hexion Inc., MEGH Indústria e Comércio Ltda, Altana AG, Sasol, Isogama Industria Quimica Ltda, Danquinsa GmbH, Repsol S.A., Paramelt, TianshiWax, RAHA Paraffin Company, and CHT Smart Chemistry, These companies offer a diverse range of wax emulsions catering to various applications. Key strategies involve continuous product innovation, collaboration with end-users to develop tailored solutions and focus on sustainability through bio-based wax emulsions. As of 2022, these players have significantly contributed to market growth, and their strategies are expected to shape the market landscape from 2023 to 2031.
Historical & Forecast Period
This study report represents analysis of each segment from 2021 to 2031 considering 2022 as the base year. Compounded Annual Growth Rate (CAGR) for each of the respective segments estimated for the forecast period of 2023 to 2031.
The current report comprises of quantitative market estimations for each micro market for every geographical region and qualitative market analysis such as micro and macro environment analysis, market trends, competitive intelligence, segment analysis, porters five force model, top winning strategies, top investment markets, emerging trends and technological analysis, case studies, strategic conclusions and recommendations and other key market insights.
Research Methodology
The complete research study was conducted in three phases, namely: secondary research, primary research, and expert panel review. key data point that enables the estimation of Wax Emulsion market are as follows:
Research and development budgets of manufacturers and government spending
Revenues of key companies in the market segment
Number of end users and consumption volume, price and value.
Geographical revenues generate by countries considered in the report
Micro and macro environment factors that are currently influencing the Wax Emulsion market and their expected impact during the forecast period.
Market forecast was performed through proprietary software that analyzes various qualitative and quantitative factors. Growth rate and CAGR were estimated through intensive secondary and primary research. Data triangulation across various data points provides accuracy across various analyzed market segments in the report. Application of both top down and bottom-up approach for validation of market estimation assures logical, methodical and mathematical consistency of the quantitative data.
ATTRIBUTE
DETAILS
Research Period
2021-2031
Base Year
2022
Forecast Period
2023-2031
Historical Year
2021
Unit
USD Million
Segmentation
Wax Type


Paraffin
Acrylic Polymer
Carnauba
Polyethylene
Polypropylene
Ester
Ethylene Acrylic Acid Copolymer
Alkali-soluble Resin
Others



Type


Synthetic Wax Emulsion
Natural Wax Emulsion



Appearance


Translucent
Non-translucent



Application


Cleaning Products
Metal Working
Paints & Coatings
Adhesives & Sealants
Cosmetics
Leather Finishing
Textile Finishing
Paper & Packaging
Others



End-Use


Automotive
Packaging
Textile & Leather
Cosmetics & Personal Care
Printing & Publishing
Food & Beverage
Others (Pharmaceutical, Agriculture, etc.)




Region Segment (2021-2031; US$ Million)

North America

U.S.
Canada
Rest of North America

UK and European Union

UK
Germany
Spain
Italy
France
Rest of Europe

Asia Pacific

China
Japan
India
Australia
South Korea
Rest of Asia Pacific

Latin America

Brazil
Mexico
Rest of Latin America

Middle East and Africa

GCC
Africa
Rest of Middle East and Africa
Key questions answered in this report
What are the key micro and macro environmental factors that are impacting the growth of Wax Emulsion market?
What are the key investment pockets with respect to product segments and geographies currently and during the forecast period?
Estimated forecast and market projections up to 2031.
Which segment accounts for the fastest CAGR during the forecast period?
Which market segment holds a larger market share and why?
Are low and middle-income economies investing in the Wax Emulsion market?
Which is the largest regional market for Wax Emulsion market?
What are the market trends and dynamics in emerging markets such as Asia Pacific, Latin America, and Middle East & Africa?
Which are the key trends driving Wax Emulsion market growth?
Who are the key competitors and what are their key strategies to enhance their market presence in the Wax Emulsion market worldwide?