Key Market Insights
"The emotional influence of foods and drinks is the key trend in the market"
The global relaxation drinks market is expected to grow at a CAGR of 14.06% during the estimated period from 2022 to 2030, starting from US$ 470.3 Mn in 2021.
Relaxation drinks are drinks that contain a blend of various herbs and amino acids. The stressful modern lifestyles create the need for mood-balancing foods and drinks across the world. Rooted stress and limited time available for rest are some of the major causes of the growth of the relaxation drinks market globally. Moreover, manufacturers are focusing on new and improved ways of targeting consumers. Such as to connect colors of drinks with the mood of the consumers. For instance, Sensient Flavors launched a new drink. The drink balance the emotional state of the consumers in a natural and gentle way. The company offers four new color concepts such as calming blue, relaxing green and uplifting yellow.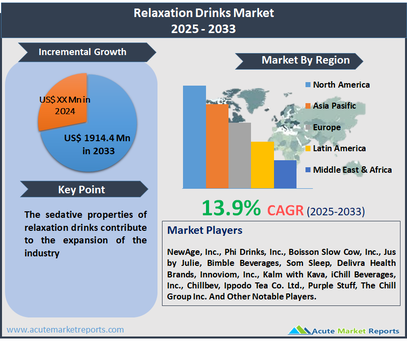 "Sales of relaxation drinks accounts for $100 million industry"
Relaxation drinks began to explode in the market due to many reasons such as the drinks are marketed for reducing anxiety and stress. Thereby, improves sleep and focus. Relaxation drinks are also becoming popular in the UK, the busy and stressful lifestyles of consumers in the UK help the relaxation drinks market to grow. Moreover, manufacturers are offering new and improved products in the market. For instance, Marley's Mellow Mood is a very popular relaxation drink in the UK market. In addition, growing stress among the millennial population is increasing the demand for stress- relieving products globally.
"Calming effects of relaxation drinks contribute to market growth"
Growing stress levels in the urban population is a major factor increasing the demand for relaxation drinks globally. For instance, the Global State of Emotions Report suggests that about one-third of the world's population suffers from chronic pain. In addition, 55% of people in the US are reported to be stressed on a regular basis in 2018. Greece accounts for the most stressed-out country since 2012. Moreover, according to Health Focus International research in 32 countries, stress has become a major health concern that affects people with sleeping problems. Increasing the stress and penetration of customers towards colorful drinks will drive the growth of the market in the forecast period.
Application Analysis
"CDB (cannabidiol) infused relaxation beverage supports the market growth"
The application segment is sub-classified into insomnia, anxiety, and others. Insomnia segment dominated the relaxation drinks market in 2021 and is likely to dominate it in during the forecast period. Insomnia is the most prevalent sleep disorder worldwide. People are faced with regular stress and are opting for products that promote physical and mental relaxation as well as stress relief. For instance, as per the U.S. Department of Health and Human Services, chronic sleep or sleep disorders affects about 70 million Americans. The disorder related to sleep requires about $16 million in annual costs in the health care sector and $50 billion in productivity loss. The aforementioned reasons are a key factor for the dominance of relaxation drinks market globally.
"Shift work sleep disorders drive the market growth"
The working hours of individuals also affect the routine of sleep. For instance, according to the Australian Sleep Association, shift work sleep disorder give rise to symptoms such as insomnia or excessive sleepiness. The report also suggests that 10% of the total shift workers are likely to suffer from shift work sleep disorders. Moreover, the American Academy of Sleep Medicine, suggests that 30% of adults have symptoms of insomnia and about 10% of adults are likely to suffer from chronic insomnia.
Regional Analysis
"North America Dominates relaxation Drinks Market Globally"
The demand for beverages that offer relaxation or stress relief is high in North America. The U.S holds the major part of the relaxation drinks market in the overall share of North America, growing with a CAGR of around 22% during the forecast period. In addition, 350 startup brands offering relaxation and stress or sleep benefits are situated in the U.S. that is worth approximately $10 million. As per the research study, 127 million liters of relaxation drinks were sold in the U.S. in the year 2010, increased to 300 million liters in the year 2014.
The consumption trends of the U.S. and Canada suggest that people in North America are always ready to adapt new beverage brands, and relaxation drink is one of the key trend in the international market. Moreover, the study also suggests that 70 million American faces trouble while sleeping thereby, demanding more products for relaxation. The aforesaid factors support market growth for relaxation drinks market.
List of Companies Covered:
Tranquila
Kalm with Kava
iChill Beverages, Inc.
Purple Stuff
Bimble Beverages
Jus by Julie
Boisson Slow Cow, Inc.
Phi Drinks, Inc.
Key Industry Developments:
In February 2016, the premium beverage brand Tranquini launched a new relaxation drink. Tranquini is a relaxation beverage that contains naturally occurring ingredients such as chamomile, lavender and lemon. The drink helps to reduce stress and relieve anxiety without any drowsiness.
In June 2017, Jus by Julie launched a drinking shot. The Prebiotics Energy & calming shots are manufactured with vegan probiotics and prebiotics. The shots offer natural energy and relaxation benefits and also provides immune and digestive health.
In January 2019, Bimble Beverages, a company based in New York, launched a new drink. Bimble is a stress-relief alternative and can be used regularly. Bimble is derives manufactured from natural products such as mint and grapefruit extracts.
Historical & Forecast Period
This study report represents analysis of each segment from 2020 to 2030 considering 2021 as the base year. Compounded Annual Growth Rate (CAGR) for each of the respective segments estimated for the forecast period of 2022 to 2030.
The current report comprises of quantitative market estimations for each micro market for every geographical region and qualitative market analysis such as micro and macro environment analysis, market trends, competitive intelligence, segment analysis, porters five force model, top winning strategies, top investment markets, emerging trends and technological analysis, case studies, strategic conclusions and recommendations and other key market insights.
Research Methodology
The complete research study was conducted in three phases, namely: secondary research, primary research, and expert panel review. key data point that enables the estimation of Relaxation Drinks market are as follows:
Research and development budgets of manufacturers and government spending
Revenues of key companies in the market segment
Number of end users and consumption volume, price and value.
Geographical revenues generate by countries considered in the report
Micro and macro environment factors that are currently influencing the Relaxation Drinks market and their expected impact during the forecast period.
Market forecast was performed through proprietary software that analyzes various qualitative and quantitative factors. Growth rate and CAGR were estimated through intensive secondary and primary research. Data triangulation across various data points provides accuracy across various analyzed market segments in the report. Application of both top down and bottom-up approach for validation of market estimation assures logical, methodical and mathematical consistency of the quantitative data.
ATTRIBUTE
DETAILS
Research Period
2020-2030
Base Year
2021
Forecast Period
2022-2030
Historical Year
2020
Unit
USD Million
Segmentation
Product


Tea Drinks
Vitamin Drinks
Others (Kava Drinks, Melatonin, etc.)



Application


Insomnia
Anxiety
Others (Physical Stress etc.)




Region Segment (2020–2030; US$ Million)

North America

U.S.
Canada
Rest of North America

UK and European Union

UK
Germany
Spain
Italy
France
Rest of Europe

Asia Pacific

China
Japan
India
Australia
South Korea
Rest of Asia Pacific

Latin America

Brazil
Mexico
Rest of Latin America

Middle East and Africa

GCC
Africa
Rest of Middle East and Africa

Global Impact of Covid-19 Segment (2020-2021; US$ Million )

Pre Covid-19 situation
Post Covid-19 situation
Key questions answered in this report
What are the key micro and macro environmental factors that are impacting the growth of Relaxation Drinks market?
What are the key investment pockets with respect to product segments and geographies currently and during the forecast period?
Estimated forecast and market projections up to 2030.
Which segment accounts for the fastest CAGR during the forecast period?
Which market segment holds a larger market share and why?
Are low and middle-income economies investing in the Relaxation Drinks market?
Which is the largest regional market for Relaxation Drinks market?
What are the market trends and dynamics in emerging markets such as Asia Pacific, Latin America, and Middle East & Africa?
Which are the key trends driving Relaxation Drinks market growth?
Who are the key competitors and what are their key strategies to enhance their market presence in the Relaxation Drinks market worldwide?